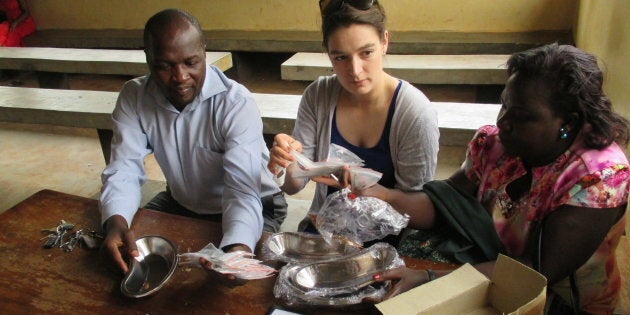 Christina Hassan was on an undergraduate co-op term in Uganda the first time she witnessed a mother die during childbirth.
Hassan, who was 23 years old at the time and a student at the University of Waterloo, was volunteering at a hospital doing simple tasks like counting out pills and taking patients' blood pressure.
During one of her first shifts, a midwife called her into a delivery room as an extra set of hands to help a mother in physical distress.
"I walked into the room and there was a lot of blood. A woman named Alice was on the delivery bed, hemorrhaging. I didn't know what I was supposed to do."
There was nothing anyone could do. Alice passed away, surrounded by plenty of healthcare professionals but a lack of supplies and equipment that could have potentially saved her life.
"I left that hospital room right after she passed away very upset. Very upset with myself," Hassan told HuffPost Canada. "I was so naive to think there was anything I could do."
Watch Hassan speak of Alice's death. Story continues below:
Hassan began to research maternal mortality rates in the African country and was disturbed by her findings — every day 16 Ugandan mothers pass away due to complications in childbirth.
"To put it in perspective, 16 Canadian mothers die every year, on average," said Hassan.
Knowing she had to do something, Hassan got to work. She and Hyder Hassan, her boyfriend at the time and now husband, started the non-for-profit FullSoul Canada.
Hassan has put countless hours into the organization, all while achieving a Master's degree in public health, and, now, studying for her law degree at the University of Calgary while raising her 11-month-old son.
Almost five years later, the organization is helping to save lives of both mothers and newborns in Uganda.
FullSoul has provided more than 450 tools to several Ugandan hospitals, including surgical scissors, artery forceps, and other vaginal birth equipment.
Hassan explained that Ugandan mothers are expected to arrive at the hospital with their own supplies for delivery, including sterile razor blades for episiotomies and cord cutting, soap to wash the baby, medication for post-delivery, and clean sheets for the delivery bed.
"Anything and everything you could possibly need for a delivery and after-care, you need to bring."
If they don't, mothers risk being turned away from the hospital or risking infection from previously used supplies.
What's more, said Hassan, is FullSoul's work is helping to change stigmas and misconceptions about Ugandan hospitals that exist within local populations.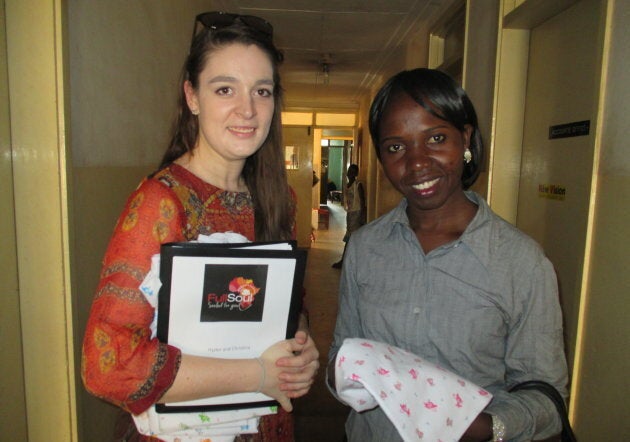 "There's this idea (in Uganda) that only weak women go to hospital, or that if you go to the hospital to deliver, you will die," she said.
"So women hold off on going to the hospital, and end up in emergency situations."
FullSoul's kits have now assisted in more than 65,000 births. The organization also maintains relationships with 10 hospitals, making sure to replace broken or rusted tools, and continues to provide supplies and support.
Each donated tool is engraved with the hospital's name, giving the hospital ownership and agency over their instruments.
For her work, Hassan is being recognized by humanitarian service organization Rotary International as one of six People of Action Young Innovators. She will travel to Nairobi in early November, and present her work at Rotary Day at the United Nations, in front of UN officials, philanthropists, and other Rotary members.
Hassan, who has been a involved with Rotary since she was 15, credits much of FullSoul's success to her local Rotary chapter and other chapters across North America.
"When I came back to Canada and told Rotary about Alice's story, every single one said 'let us help you do something.'"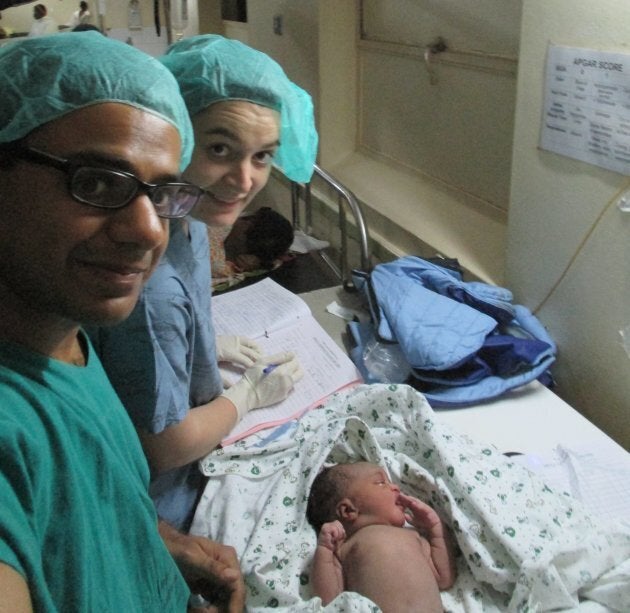 With the help of Rotary and other donors, FullSoul has raised more than $65,000.
"Without Rotary, FullSoul wouldn't be an organization," said Hassan.
In addition to being honoured by Rotary, Hassan has been awarded the YMCA International Peace Medallion, the Terry Fox Humanitarian Award, and just this week was named one of Avenue Magazine Calgary's Top 40 Under 40.
Learn about how other countries are battling infant and maternal mortality:
Popular in the Community