Christine Elliott, the wife and political partner of former finance minister Jim Flaherty, paid tribute to her late husband Wednesday in perhaps the perfect fashion.
At a state funeral in Toronto's St. James Cathedral, where mourners from all political stripes wore green scarves in celebration of Flaherty's Irish heritage, Elliott delivered a touching eulogy explaining what her husband meant to her family.
Elliott, a member of the Ontario legislature, called Flaherty the most intelligent man she had ever met.
"His clarity of thought was unparalleled. He applied those qualities to everything he did from the practice of law to his work at the Ontario legislature and finally to his tenure as minister of finance," she said.
She also briefly addressed her husband's health issues.
"He was a proud Canadian who loved our great country and even when his life became more difficult in the last year or so, he persevered until he was certain he would leave things in order for his successor," she said.
But in perhaps the most emotional moment, with her triplet sons behind her, Elliott closed her speech with a beautiful piece of writing from Henry Scott Holland, titled "Death Is Nothing At All."
Here is the full text of that poem.
Death is nothing at all.

I have only slipped away to the next room.

I am I and you are you.

Whatever we were to each other,

That, we still are.

Call me by my old familiar name.

Speak to me in the easy way

which you always used.

Put no difference into your tone.

Wear no forced air of solemnity or sorrow.

Laugh as we always laughed

at the little jokes we enjoyed together.

Play, smile, think of me. Pray for me.

Let my name be ever the household word

that it always was.

Let it be spoken without effect.

Without the trace of a shadow on it.

Life means all that it ever meant.

It is the same that it ever was.

There is absolute unbroken continuity.

Why should I be out of mind

because I am out of sight?

I am but waiting for you.

For an interval.

Somewhere. Very near.

Just around the corner.

All is well.
Harper, who opened up about losing his own father 11 years ago, closed with a message to Flaherty's sons — John, Galen and Quinn
"Hold on to your mother and to your father's lessons, and know that there are many here and beyond who are there for you," he said.
With files from The Canadian Press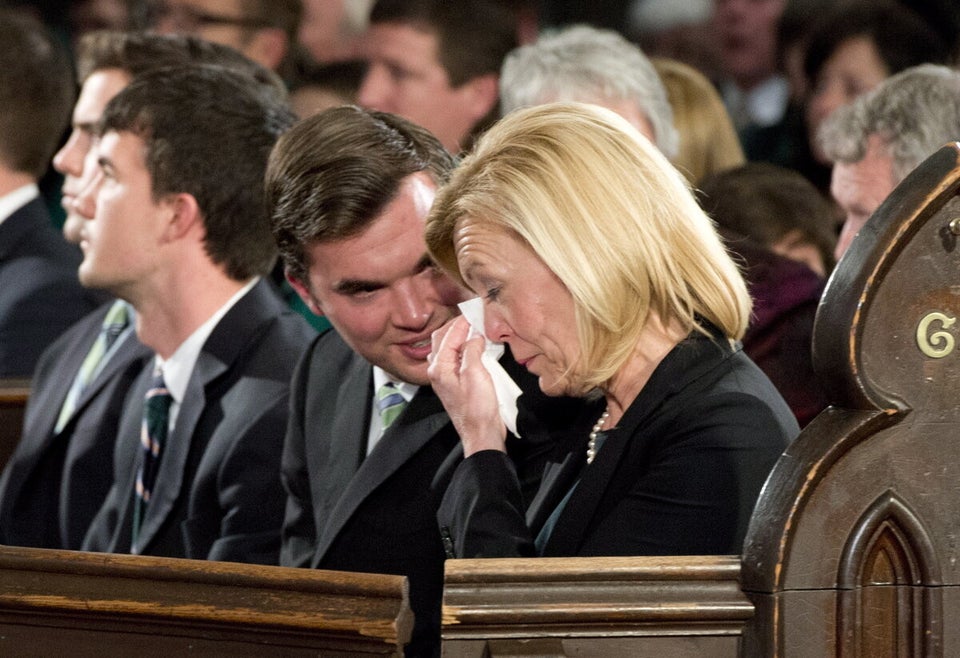 Jim Flaherty's State Funeral