Politicians are known for kissing babies while on the campaign trail. But what happens when Members of Parliament have newborns of their own? Sometimes they bring them to work.
And thanks to MP Christine Moore, the Hill got a whole lot cuter on Tuesday.
Moore is the NDP representative for the Quebec region of Abitibi-Témiscamingue, the critic for rural affairs and a mom. On Twitter, she shared that she brought her daughter to work with her.
Moore included the caption: "First presser for baby Daphnée. I'm ready to take your question." Daphnée definitely looks like she's comfortable with political life. After all, this isn't her first time in the House.
Just four months old, Daphnée regularly accompanies her mom during speaking engagements and community visits.
Born in September, the youngest honourary Parliamentarian is definitely getting an insider's view of Canadian politics.
Daphnée isn't the first baby to accompany her mom in Ottawa, either. That honour belongs to Sheila Copps' daughter, who was in the members' lobby in the '80s.
While there is a daycare on Parliament Hill, MPs can't take parental leave. So there are times they have no choice but to bring their babies to work -- otherwise they miss votes.
In 2012, when former MP Sana Hassainia brought her baby to chambers, a lot of her colleagues started taking pictures. The pages then brought Hassainia a note from the speaker, which she thought was asking her to leave. The speaker later explained he was only concerned with the presence of cameras, which aren't allowed in chambers.
In reference to balancing work and home, Hassainia said: "It's not a privilege... It's an important issue for us. And I will make sure, as an MP, as a mother, to defend it again, until we are able to really talk about reconciling work and family because right now it is not the case at all."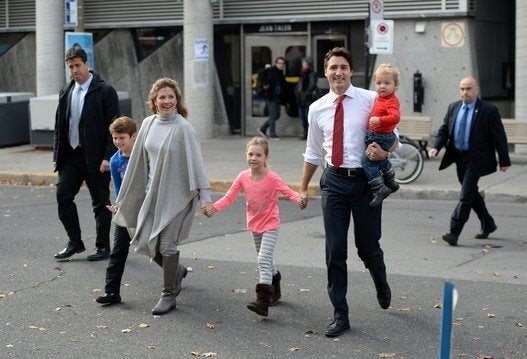 Justin Trudeau's Kids Cheer Him On To Victory