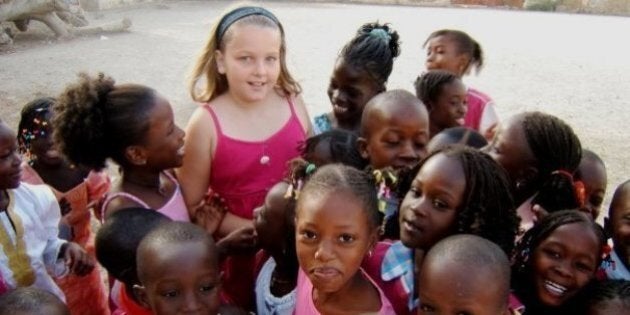 My younger sister, Beth, at a children's Christmas party in Senegal.
By Megan Radford, World Vision Canada
Crashing waves, warm sunshine, palm trees lit up with lights and the sound of children laughing as they play soccer in the street. For many Canadians, this may not sound like a typical Christmas scene. But for six years growing up, it was mine.
I spent part of my childhood in Senegal, West Africa, where my parents were working at the time. During those six years, snowy Christmases were just a dream. For me and for many of the children I now serve through World Vision, Christmas looks very different than it does here in Canada.
I learned that all around the world, Christmas is a time of joy and comfort to children in many different circumstances. These children in the Philippines, for instance, live near the danger zone surrounding a live volcano. But they love making decorations and celebrating Christmas with friends and family.
I learned that in Honduras, World Vision held a party for more than 150 kids, complete with piñatas. In Ethiopia, the pictures and captions I found taught me that children celebrate Christmas on January 7, each with a brand new outfit to wear.
"Gatherings of people from all walks of life taught me that the love of your community is what makes Christmas special."
Some of my other Christmas windows come from personal experience, or those of people close to me. In Egypt, where I lived for a year and a half, families enjoy a meal of Fatta, a dish of bread, garlic, rice and beef, instead of turkey dinner.
While in Tunisia I did my Christmas shopping in the local market -- not the mall. And in Senegal, my family would sometimes spend Christmas day at the beach, playing in the waves the way many here in Canada play on the slopes.
Holiday weather is also completely different, depending on where you live. Here in Canada, many children are crossing fingers for a white Christmas. I'll be dreaming about the warmth and sunshine in Senegal. For my fiancé in Bolivia, Christmas will likely bring torrential El Niño rains instead of snow or sun.
And yet, some things are heart-warmingly similar around the world. The candlelit vigil I attended in Egypt is one of my most special Christmas memories and reminded me of so many church services here in Canada.
In Senegal, the predominantly Muslim population has embraced many of the trappings of Christmas, including Santa Claus, tinsel and bright lights. A few weeks ago I watched my fiancé in Bolivia (over Skype) carefully arrange his nativity scene near the Christmas tree to celebrate the birth of the baby Jesus.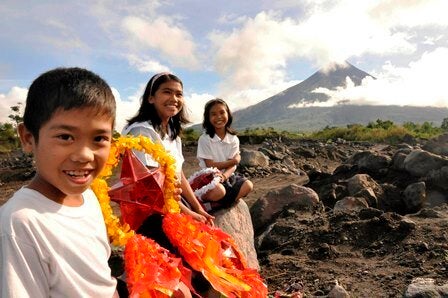 While Canadian kids often celebrate Christmas in the snow, children near the active Mayon Volcano in the Philippines celebrate Christmas under the warmth of the sun. Photo: World Vision
Always, always, there are gatherings with those we love, wherever in the world we may be. When I was overseas, these gatherings of friends old and new were what kept me from drowning in homesickness during the holiday season. There were always wonderful people willing to make me a part of their Christmas celebrations -- or celebrate with me, in the case of my Muslim friends.
In Senegal, my family would do the same for others, inviting friends, family and those who were just passing through to join our joyful occasion. Just like our family "back home" in Canada, we came together with those we loved, read the Christmas story and exchanged gifts. These rag-tag gatherings of people from all walks of life taught me that the love of your community is what makes Christmas special, no matter where you are from or what you believe.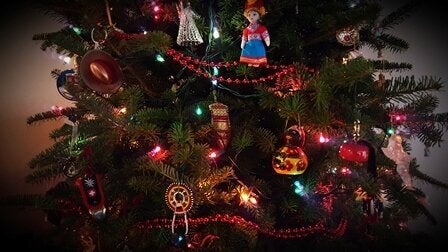 Our tree, with ornaments from all over the world. Photo: Jesse Edward Stewart Radford
I'll be home for Christmas
For the first time in three years, I'm finally having a Canadian Christmas this December. My family will be all together again, with me home from Egypt and my brother back from basic military training here in Canada. With two of my siblings' significant others, as well as an exchange student from Korea in the mix, it will be a full house of nine people -- just the way we like it.
I am looking forward to celebrating the traditions we have practiced since I was born, and sharing them with our guests. And on our Christmas tree I will hang ornaments from the many places my family and I have traveled -- tiny reminders of how close we really are to those far away.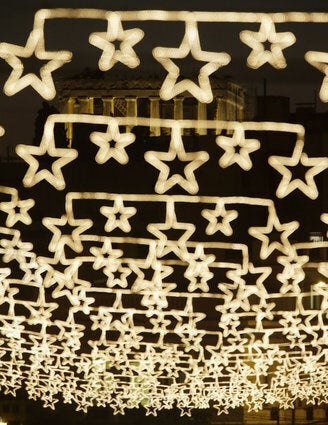 Christmas Around The World 2014
Popular in the Community