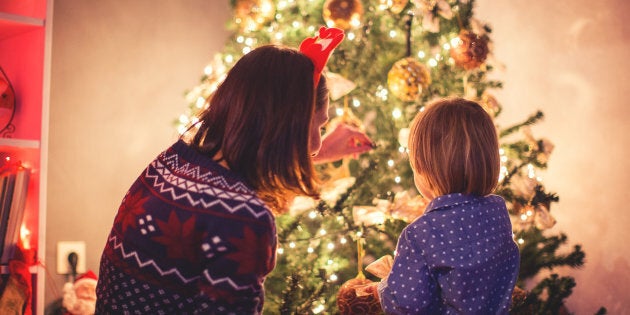 For as long as we can remember, there's been one way and one way only to string those pretty lights on the Christmas tree.
After unravelling them (a huge job in and of itself), we'd start from the bottom of the tree and work our way upwards and horizontally, simultaneously trying to lay the lights on the most prominent branches while trying not to get poked by the needles. It's a tough job but well worth it when you plug the cord in and see your Christmas tree shine bright in all its glory.
But, according to an interior designer, we're doing this completely wrong.
In an interview with Today, Francesco Bilotto claimed that Christmas tree lights should in fact be strung vertically on a tree, as opposed to horizontally.
And you shouldn't start stringing the lights from the bottom, either. Instead, Bilotto says we should start at the top of the tree using the last light on the strand (the one that doesn't have the plug beside it) and work our way down the front in a vertical line, leaving three to four inches between each strand.
"The reason I like doing this is if you go around in a circle, the lights tend to go in," Bilotto said.
"This way every tip of your tree, from branch to branch, will twinkle with delight," Bilotto told HouseBeautiful.com last year, adding that this method will prevent lights from getting covered by other branches.
Bilotto also recommends hanging your shiniest ornaments deep inside the tree so that the lights will reflect off them, making sure the middle of your tree sparkles, too.
But the best part of this method, in our opinion, is that it makes taking apart the tree so much easier come January.
By now you've probably seen your Instagram feed filled with people's new Christmas trees, but if you've had yours up since, oh, the day after Halloween, we won't judge you.
"In a world full of stress and anxiety people like to associate to things that make them happy and Christmas decorations evoke those strong feelings of the childhood," psychoanalyst Steve McKeown told Unilad. "Decorations are simply an anchor or pathway to those old childhood magical emotions of excitement. So putting up those Christmas decorations early extend the excitement!"
Putting up the Christmas tree early can also help some people deal with the loss of a loved one — a tough thing to do at any time of the year, but can feel especially rough during the holidays when one is expected to feel nothing but joy.