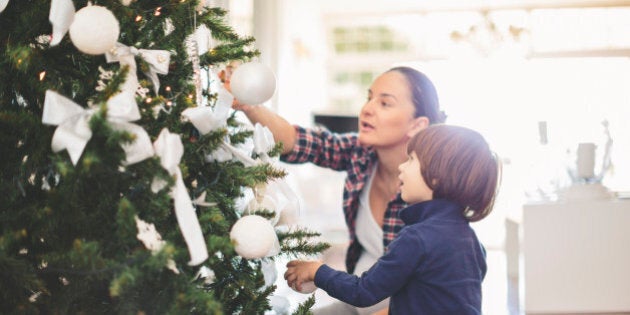 One month until Christmas -- and the countdown begins! November 25 is when I typically shift into full tinsel mode. The decorations come out, and the kids make their wish lists. I begin searching for the ultimate shortbread recipe to unveil at the annual cookie exchange.
This year, the excitement is greater than ever before. We are hosting a visitor from overseas.
A tenth grade student from Japan is living with our family until New Year's, as part of our son's high school exchange program. We are loving introducing him to the full spectrum of holiday celebrations here in Canada, and sharing some of our favorite traditions.
But here's the twist. We've been asked to reign in the gift-giving this Christmas. Whatever we spend on our visitor, explained our high school principal, the student's family will feel obliged to reciprocate when our son arrives to stay with them in January.
No matter how well-meaning, our holiday shopping could apply financial pressure to a family on a limited budget. Leaving one child out of Christmas gift-giving just isn't in our DNA. Yet showering our guest with a sleigh-load of gifts wouldn't be a loving gesture, either. So what do we do on Christmas morning?
I'd love to say I'm having an easy time scratching gifts from the list. But honestly, it's more challenging for me than for anyone else in the family. At Christmas, I buy presents for every child in my path -- especially those who wouldn't otherwise receive any. Curbing that impulse toward the amazing young person we're hosting has been a real struggle for me.
Finding 'the real meaning'
Can I really do like the people in the movies, and remember the meaning of Christmas without gift-giving? Even Scrooge could do it by the final scene. I have to believe it's possible -- and not just for the sake of our guest.
If I can't manage to curb my Christmas shopping with a willing heart, then the holiday I profess to love is somehow meaningless, isn't it? That possibility makes me feel very empty inside.
After brainstorming with my husband and kids, here's what we've decided to do:
Stop stressing! I've been reminding myself that of all the world's problems, this one actually is a pretty great problem to have. According to a World Vision poll released on Friday, 79 per cent of Canadians say they have a tough time coming up with original gift ideas year after year. Placing gift shopping way lower on the list will allow room for other wonderful traditions.
Find joy in the simple things. Having a visitor from overseas has helped us see our traditions in a new light. Hot chocolate with marshmallows after a cold walk home from school is suddenly a wonderful tradition -- because someone else is discovering it for the first time. As is watching a holiday parade, or attending a tree-lighting or menorah-lighting ceremony at the park, or even just feeding birds in the snowy woods.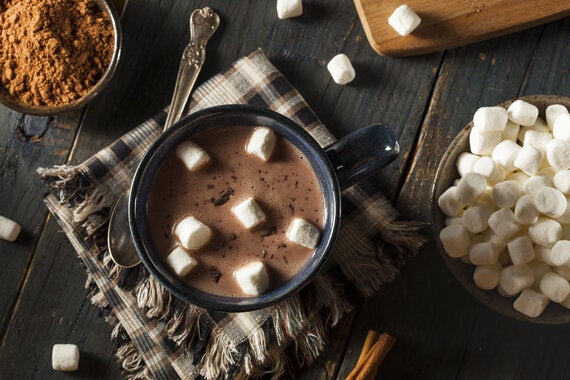 Bake together. I have to admit, my holiday baking is often fairly stressful, as it's one of so many preparations on the list. This year, I'm going to enjoy it to the utmost. I'll invite the three boys under our roof to each pick a cookie recipe -- and then make it with them. We can package them in dollar-store boxes, and give them to family members and friends.
Give small gifts. It's taken me weeks to realize that we can still give wonderful gifts this Christmas -- just not big, expensive ones. Having shifted my thinking, I'll ask all three kids to put together Christmas wish lists of a few things under10. From a kid's perspective, this opens all kinds of doors!
Involve kids in caring for others. Our family helps deliver donated toys to families in our neighbourhood, for kids who wouldn't otherwise receive anything this holiday season. I can't wait to invite our guest to help. I'll explain the part of Christmas that can often get lost under all the tinsel -- the gift of love for others.
Pick a family charity gift. The World Vision Gift Catalogue came in the mail this week, packed with beautiful photography and fascinating ways to care for children overseas who have so little. We'll ask our sons and visitor to look through, and pick something for a family in need overseas. It's a chance to explain the importance of thinking about families everywhere at Christmas time.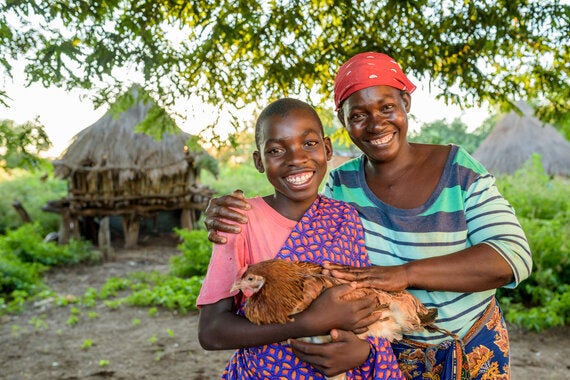 In Zambia, Reshael and his mother can make a living, thanks to the three hens and a rooster they've received from gift-givers overseas. Photo: World Vision
Although it's only November 25 and Christmas already feels more 'present' and more meaningful than ever. I will still have things to hide, just smaller things. And children to buy for, including some outside the family.
My own family -- including our guest -- will spread more love than ever before. And probably have more fun doing it.
It's all because of our visitor. Thank you, my friend.
Follow HuffPost Canada Blogs on Facebook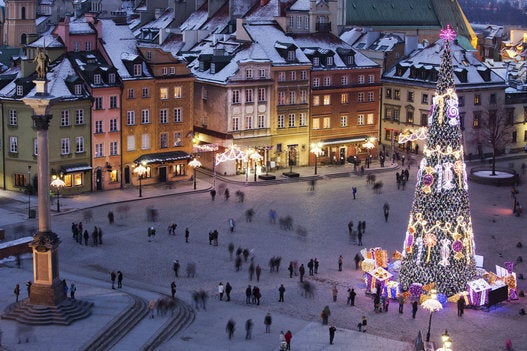 Beautiful Christmas Trees Around The World