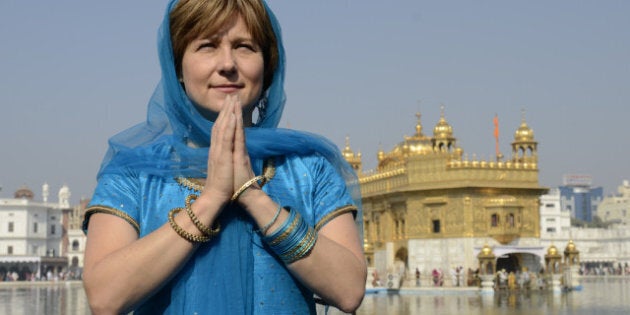 Hot on the heels of the announcement that four sitting B.C. Liberal MLAs, including Finance Minister Kevin Falcon and Education Minister George Abbott, would not be running for re-election in 2013, a poll shows that the prospects of a victory for Christy Clark continue to look slim.
A poll by Forum Research for The Huffington Post Canada taken August 30, shows the B.C. NDP continue to hold a solid lead with 45 per cent support. That's down four points from an early August poll, but nevertheless gives the NDP a 22-point lead over the Liberals. They trail in second with 23 per cent.
The B.C. Conservatives continue to draw support away from Clark's Liberals, as the party has 20 per cent support in the province. The Greens are in fourth with 10 per cent support, while two per cent said they intend to vote for another party.
While the split on the right helps ensure that Adrian Dix's New Democrats are on track to win a huge majority of the province's seats, it cannot be blamed for an NDP victory. When asked how British Columbians would vote if the Liberals and Conservatives merged into one party, only 35 per cent said they would cast their ballot for this right-of-centre alternative. At 49 per cent support in this scenario, the New Democrats would still easily cruise to victory.
That leaves the Liberals to try for re-election on their own, a difficult task considering that the party trails the NDP by 19 points in and around Vancouver, 33 points on Vancouver Island, and is in third place behind John Cummins' Conservatives in the Interior and North.
At 26 per cent, Clark's approval rating has not budged since Forum's last poll. Cummins at 23 per cent, and Dix at 43 per cent are stable as well. With a disapproval rating of 29 per cent, Dix is the only one of the three leaders with a net positive score. Cummins has a disapproval rating of 38 per cent and Clark has a woeful 56 per cent disapproval score.
Adding to their advantage, the NDP also have the most enthusiastic voters. Fully 61 per cent of their supporters said they were very enthusiastic about voting for the party, compared to 40 per cent for Conservative supporters and only 33 per cent for Liberal voters. That means the governing Liberals may have a more difficult time getting their supporters to the voting booths than their rivals.
The Forum poll surveyed 902 British Columbians via interactive voice response, giving the poll a margin of error of +/- 3.3%, 19 times out of 20.
Clark's tough stance against the Northern Gateway pipeline (a project opposed by 59 per cent of British Columbians, according to this poll) has not helped her electoral chances whatsoever, while the departure of Falcon, who hails from the right wing of the party, is unlikely to stop the bleeding of her support towards the upstart Conservatives.
With nine months to go before the next election in the province it is too early to forecast the B.C. Liberals' defeat. But it will take a comeback of monumental proportions to put Clark's party back in the running.
Éric Grenier taps The Pulse of federal and regional politics for Huffington Post Canada readers on most Tuesdays and Fridays. Grenier is the author of ThreeHundredEight.com, covering Canadian politics, polls and electoral projections.
Popular in the Community