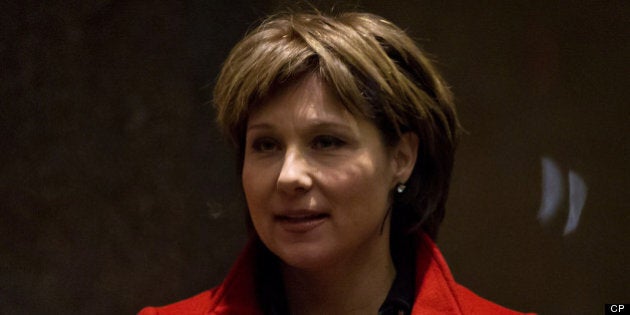 Premier Christy Clark has apologized for running a red light, at her son's urging, on the way to his hockey practice.
The incident was described in a Vancouver Sun profile on Saturday, in which Clark was described as driving up to an intersection before her son Hamish urges her to drive through a red light.
From The Vancouver Sun:

"Let's see you go through this red light," Hamish challenged as they pulled up that morning, at 5:15 a.m., to an abandoned Vancouver intersection.

"I might. Don't test me," Clark replies.

"Yeah. Go ahead."

"Should I?"

"There's no one."

"Would you go through? You shouldn't because that would be breaking the law," she says.

And with that the car has already sailed underneath the stale red stoplight and through the empty intersection.

"You always do that," says Hamish.
The action drew quick and harsh condemnation from Martyn Brown, former chief of staff to ex-premier Gordon Campbell and a frequent Clark critic, who said it showed a "wanton disregard for the law" in a Georgia Straight column on Sunday.
One person who's not biting on the incident is NDP Leader Adrian Dix, who said voters should be thinking about more important issues than Clark's driving habits, CKNW reported.
Check out what people on Twitter had to say about Christy Clark's driving habits: