Even as her party was projected to win a majority government, BC Liberal Leader Christy Clark was fighting a tooth-and-nail battle in her own riding of Vancouver-Point Grey.
In the end, Clark was a triumphant party leader and premier - without a seat in the legislature. Her NDP opponent - former BC Civil Liberties head, David Eby - took the seat with a margin of just 785 votes.
Still, the night belonged to Clark, who delivered the Liberals' fourth-consecutive victory and Clark's first win as leader.
"Well, that was easy," a beaming Clark joked with supporters at the Liberal victory party in downtown Vancouver.
"Tonight, we have received a mandate from the people of British Columbia, and I say to the citizens of British Columbia: you have humbled us tonight with this opportunity and the tremendous obligation you placed on our shoulders. We will honour what you have bestowed on us, and together we will make British Columbia better."
Clark was first elected to the legislature in 1996 for the riding of Port Moody-Westwood. She served in cabinet as deputy premier, minister of education and minister of children and family development under then-premier Gordon Campbell.
Clark later resigned from provincial politics in 2004, before returning in 2010 to seek the leadership of the B.C. Liberal Party.
Story continues under gallery.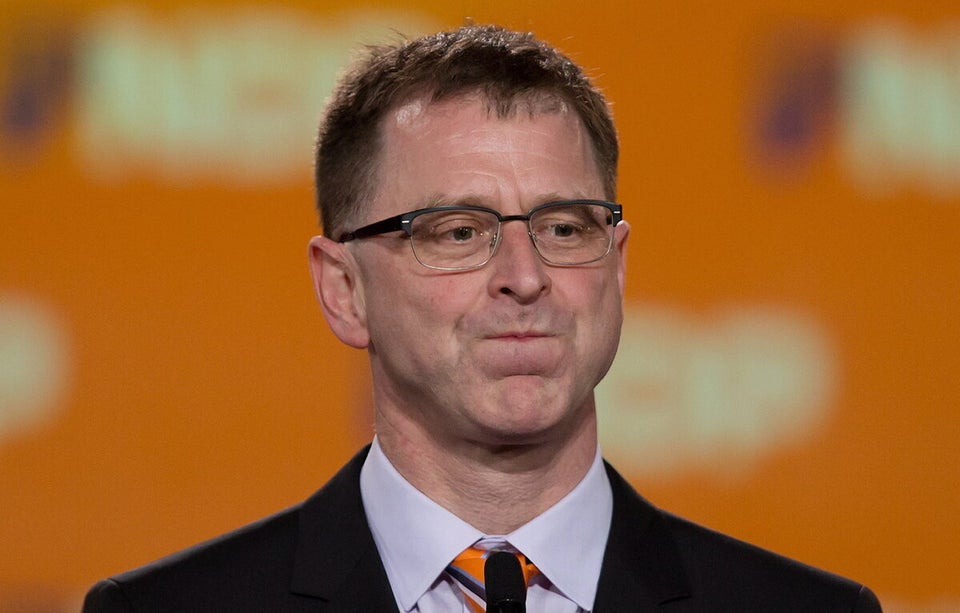 BC Election Night Photos
More From The Canadian Press:
Clark lost her Vancouver-Point Grey riding to New Democrat David Eby, a civil rights lawyer and adjunct law professor at the University of British Columbia, who won by 785 votes.
"I'm stunned. All I can say is Christy Clark is a god. She made a miracle," Sam Sullivan, the former Vancouver mayor and newly minted Liberal MLA for Vancouver-False Creek, said as results poured into Liberal headquarters.
"She just is like a dog with a bone. She wouldn't let go."
Indeed, as pollsters and pundits predicted a Liberal demise, Clark redoubled efforts on the hustings. She criss-crossed the province, donning hardhats and overalls as she banded her incumbent government as the stewards of a fragile economy.
From Fort St. John in the north to Campbell River on Vancouver Island, Kamloops in the Interior to Cranbrook in the Kootenays, she issued the same warning: the choice is between economic growth and growth in government and taxes.
The frenetic pace left Clark little time for campaigning in her own riding for her own seat, and Clark didn't appear at any of the riding debates. Campaigning for Point Grey was limited to the time in between bigger tours and the bigger picture.
"Premiers are always criticized for that, it's a common issue that the media and the Opposition always raise and I understand that," Clark said on the last day of campaigning Monday.
She said she had been in her riding quite a bit.
"I was there last night, making phone calls to undecided voters and wherever I've been on the road, I've been talking to people over the phone in my riding as well," she said.
"I've been out there most weekends to campaign, so I've been working hard, but I do think that people in Vancouver-Point Grey understand that a premier needs to be travelling the breadth and width of this huge province in order to do their job."
Clark said the people of Point Grey, a neighbourhood that envelopes the main campus of the University of B.C. and the basement-suite student dwellings that surround it, as well as the multimillion-dollar homes of Shaughnessy, were used to being represented by a premier. The riding was held by Gordon Campbell until he resigned and triggered the leadership race and byelection that put Clark at the Liberal helm.
Clark beat Eby in a 2011 byelection by 564 votes but he bested her Tuesday.
Former NDP finance minister Paul Ramsay said Clark deserves almost all the credit for the Liberal turnaround.
"She took a party which was — at best — lukewarm towards her, very few of the caucus supported her. Many of the senior ministers chose not to run under her," he said.
George Abbott, former Liberal education minister, Clark's rival for the party leadership and now a lecturer at the University of Victoria, credited Clark as well.
"To take a political party that was at the start of this campaign — depending on what polls you wanted to read — somewhere between perhaps a dozen points, or upwards of 20 points behind, and to not only close the gap but then to win a very substantial majority, speaks to her remarkable campaigning abilities," Abbot said.
Hamish Telford, a professor of political science at the University of the Fraser Valley, said Clark had more energy than Dix during the campaign.
"The NDP campaigned on change and Christy Clark campaigned on hope and she succeeded."