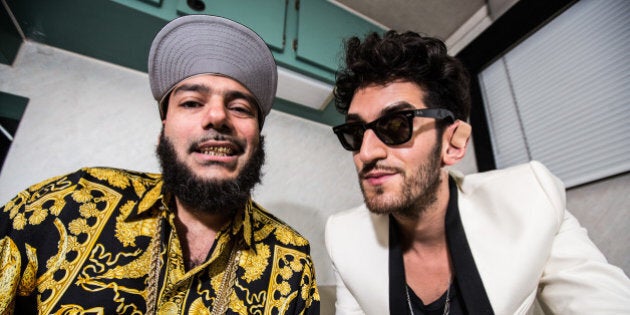 Montreal electro funk duo Chromeo's retro sleaze appeal has now survived a decade of shifting trends and dance floor fads without diverting much from their original vision. And as singer guitarist Dave 1 explains, they've got no intentions to reinvent themselves as they enter their second decade as a band with the upcoming release of "White Woman," their fourth album.
"We definitely never felt the need to make a dubstep record. We always felt that if we do our thing well enough, people are going to respect it, and respect us. At the end of the day, this is the music we do best together, and this is what we set out to do when we started Chromeo. We've been doing this for ten years, so it's now about trying things we never did before, and developing aspects that we hadn't had a chance to before. We just want to get better," Dave 1 tells HuffPost Canada Music on the phone from Winnipeg, recovering from a Fader #Uncapped Vitamwater afterparty in Toronto the previous night (they missed the actual gig due to storm-delayed flights.)
The philosophy seems to have been to just crank every aspect up a few notches, but literally every single one, from pop-hooks-per-minute to duration to tempo.
"We spent a year-and-a-half making this record, full-time, so we pushed things harder. It's definitely our most laboured-over record, but also doesn't sound like that because it's also our most pop album, in terms of hooks. There's definitely more live instrumentation, and there are also longer songs. The first single is seven-minutes long, and it's 140 BPM, and we've definitely never done that before," he says, laughing.
They may not have adjusted their world view much over the past decade, but thanks to Daft Punk's classic studio funk vibe of "Random Access Memories," their idiosyncratic disco sizzle is more au courant than it's ever been. Dave 1 sees the sonic connections with their Parisian robot duo counterparts, but insists that there are some big differences philosophically.
"I love what they did, but these are two very different projects. I mean I would never get the old players from back in the day on the record like Daft Punk did. Those players are great, but P and I want to learn how to play as well that ourselves. They're different approaches, but at the end of the day it's all funky music."
So instead of Giorgio Morodor and Nile Rodgers, Chromeo turned to people like Solange Knowles, Vampire Weekend's Ezra Koenig, LCD Soundsystem's Pat Mahoney, and Toro Y Moi for assistance.
"I just tried to think about what a French Jewish R. Kelly do, and then tried to do it."
Chromeo's new album "White Women" is expected early next year and their new single "Sexy Socialite" is out now.