Rookie Liberal MP Chrystia Freeland tried to ask a question in the House of Commons on Tuesday about Canada's economic future.
As co-chair of her party's Council of Economic advisors and a former business journalist, one imagines she has plenty to say about the topic.
But Freeland, who won the Toronto Centre byelection in November and was sworn in last week, had a difficult time expressing herself because she was being heckled.
"To quote from the report, 'Canada's exports have barely recovered from the Great Recession.' The IMF warns that low productivity growth has, and I quote the IMF report, 'eroded Canada's exter—'" she said, stopping herself as jeers grew louder and louder.
Speaker Andrew Scheer called for order. Freeland continued.
"I see the government is not interested in the view of IMF economists but I think Canadians are," she said.
Freeland again tried to quote the report but, again, stopped and gestured to the Speaker.
"There are quite a lot of interruptions," Scheer said. "The honourable member has run out of time. And I don't think she got to the question. I'll give her the floor back to put her question, very quickly, so the minister can answer it."
Freeland rushed through the end of her question but, without having the time to explain precisely what was supposedly eroding, it lacked a little something.
Kevin Sorenson, minister of state for finance, responded by lauding Canada's economic performance and worked in a dig at Freeland by quoting her once saying "amen to raising taxes."
While heckling is nothing new in question period, more than a few commented on Twitter that Tories seemed to be showing Freeland a particularly rough time.
And D. Matthew Millar, a national correspondent for The Vancouver Observer, took it upon himself to offer Freeland some unsolicited advice in a tweet that has since been deleted.

Freeland shot back by reminding the commentator what year it was.
Needless to say, Millar's remark didn't sit well with many online, including Tory Minister Michelle Rempel.
Millar apologized for the "big girl voice" quip.
And, a little later, Freeland elaborated online on the point she was trying to get across.
That Freeland couldn't get that question out in the House points to a bigger problem and reminds us why, exactly one week ago, Scheer implored MPs on both sides of the aisle to to raise the quality of debate in question period and work a little harder to show each other respect.
"All members, both in government and in opposition, need to ask themselves: 'Is question period a forum that Canadians can look at and conclude that it constitutes a proper use of members' time?'" he said.
"Given the widespread concern and commentary about question period, all members may want to consider how the House can improve things so that observers can at least agree that question period presents an exchange of views and provides some information."
The exchange of views and information? Wouldn't that be nice.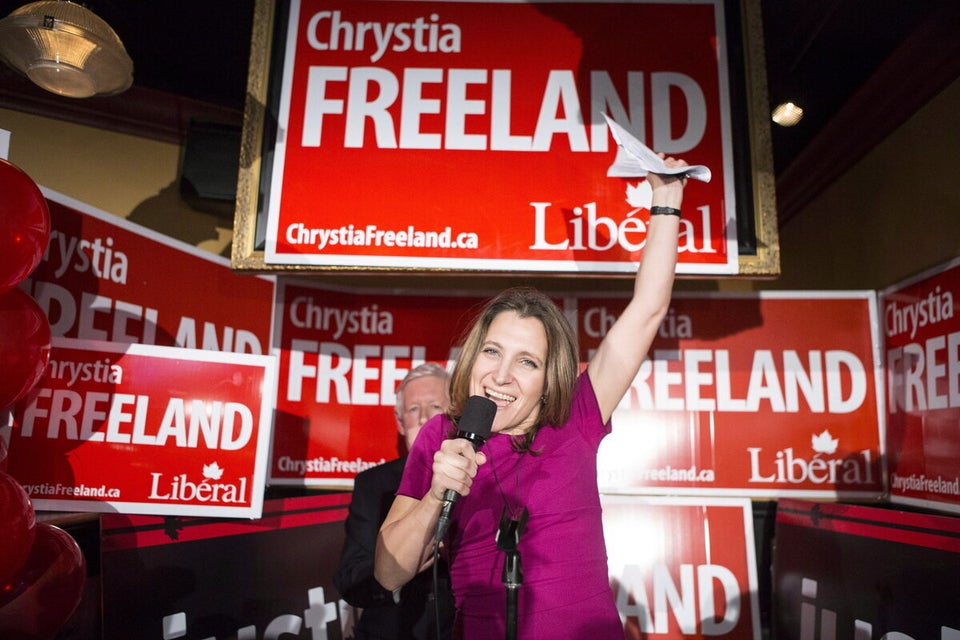 In Pictures: Chrystia Freeland