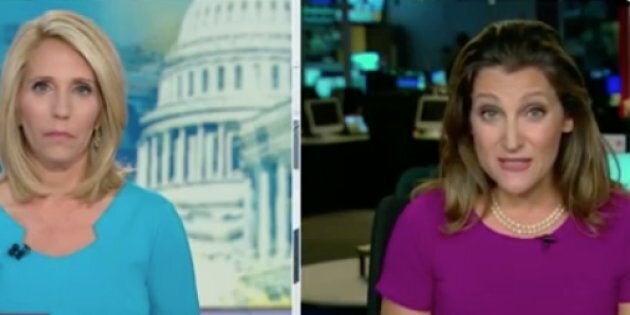 Foreign Affairs Minister Chrystia Freeland had a blunt response to the notion that Canada could be considered a national security threat to the United States.
Freeland was speaking to CNN's Dana Bash on the network's "State of the Union" Sunday about the White House's recent decision to slap Canada, as well as Mexico and the European Union, with a 25 per cent tariff on steel and a 10 per cent tariff on aluminum.
U.S. President Donald Trump announced the duties in March, arguing they were necessary to shield his country from unfair competition and ensure national security. He gave Canada and Mexico exemptions in hopes of bolstering the on-going NAFTA negotiations between the three countries.
But that relief died last Thursday after the White House announced the tariffs would now apply to its northern neighbour as trade talks seemed to have stalled.
"So what you are saying to us, and to all of your NATO allies, is that we somehow represent a national security threat to the United States," an exasperated Freeland told Bash.
"And I would just say to all of Canada's American friends, and there are so many: Seriously? Do you really believe that Canada, that your NATO allies represent a national security threat to you?"
"This is a really sad time for us. We are hurt and we are insulted," she added.
Freeland's comments on the tariffs mirror remarks Prime Minister Justin Trudeau made on NBC's "Meet the Press" earlier on Sunday.
Trudeau, who last week with Freeland announced Canada's retaliatory "countermeasures" — $16.6 billion worth in tariffs on American steel, aluminum and even quiche — told NBC's Chuck Todd that Trump's rationale for the duties is "insulting."
"The idea that Canadian steel that's in military vehicles in the United States, that makes your fighter jets is somehow now a threat ... the idea that we are somehow a national security threat to the United States is quite frankly insulting and unacceptable,'' he said.
Larry Kudlow, Trump's economic adviser, brushed off Trudeau's comments and said he was "overreacting."
The spectre of a trade war between the U.S. and its allies will no doubt hang over this week's G7 leaders summit in Quebec, when Trump makes his first official visit to Canada as president.
With files from The Canadian Press
Popular in the Community