Almost 30 years ago, Cindy Crawford entered the fashion game.
She became a supermodel overnight, gracing runways around the world, fronting Pepsi ads and even hosting a gig over on MTV. Since becoming America's fashionable sweetheart, Crawford has has made her way to the top, taking on entrepreneurial ventures and becoming a lifestyle mogul (why yes, she does have her own furniture line.)
And she did it all before turning 50, an age she says was really hard to face.
"The idea of turning 50 was daunting. For so long I was the 20-year-old model on the cover of Vogue, or 25 or 30 — and then all of a sudden my daughter is becoming that," Crawford, who is now 51, told DuJour Magazine in a new interview.
And yes, 15-year-old daughter, Kaia Gerber, is one of fashion's freshest faces, and is well on her way to becoming a supermodel just like her mom.
"My mother was here for Mother's Day and I was talking to her about how I change the narrative for who I am at this age. I don't want to spend my fifties trying to get back to where I was in my thirties. Even though, yes, maybe I would like my skin or my waistline to be the same, I've worked hard and evolved into this person."
And this isn't the first time the bombshell has gotten real about Hollywood's ever-growing obsession with aging and today's unreachable beauty standards. In an interview with New Beauty last year, Crawford said she doesn't need trolls flooding her Instagram to point out that she doesn't look the same way she did when she was 20. She knows that.
"No matter what I do, I'm not going to look 20, or 30. I just want to look great for 50," she revealed. "I exercise, eat healthy and take really good care of my skin."
The mother of two continued, "There's pressure on women to do the undoable, which is not age. But it's about looking great for however old you are, regardless of what that number is."
Crawford also noted in the DuJour interview how the industry has changed drastically since she first broke out on the scene in 1986. For her, catching a big break meant landing a cover of Vogue, but for her daughter and other models wanting to get the chance to walk a runway, she says social media is a crucial tool.
"Because of social media, you see that beauty isn't rare. Beauty is everywhere we look — I think that's very empowering for women."
She added, "Before we only had a handful of women who were appearing in magazines. Now you can go on Instagram and someone you've never heard of, who maybe only has one follower or maybe has nine million — you see they're beautiful. Sometimes it's the filter, but I think women are emerging through. I'm no stranger to filters, but women can recognize their own beauty."
So you heard Cindy — go ahead and take that selfie and opt for #nofilter! Because your beauty should be shown.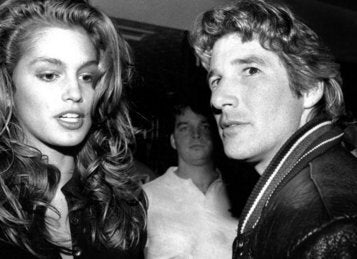 Cindy Crawford: 50 Vintage Pics