Cindy Crawford's 1992 Super Bowl ad has long been considered one of the best commercials of all time. And now, 25 years later, the international supermodel is reminiscing about the spot that arguably made her career.
"I thought that was very clever," Crawford told ET's Kevin Frazier in a segment for the CBS special "Super Bowl: Greatest Commercials." Crawford recalled how she got out of the car looking sexy while two young boys looked in her direction admiringly, only for the audience to discover they weren't really admiring her, but rather the can of Pepsi she was sipping from a gas station vending machine.
Crawford, who was only 25 when the ad was shot, went on to reveal those famous shorts were actually her own pair of jeans and she still has them. "They were like, 'Do you mind if we cut your jeans?' I'm like, 'No.' So these are them," Crawford said while holding them up.
"I thought James was going to be one of the little boys and I see James and he's not dressed as a little boy, he's wearing cutoffs and a white tank top," Crawford told Frazier of the hilarious spoof. "I was like, 'Oh my God!'"
Though Crawford looked completely comfortable (and exactly the same) in denim cutoffs and a white tank 24 years after the commercial aired, the model thinks Pepsi should consider recreating the ad with someone else: her look-a-like daughter Kaia.
"After doing the thing with James I was like, 'You know instead of me remaking this commercial someday maybe Kaia should remake this commercial,'" she said.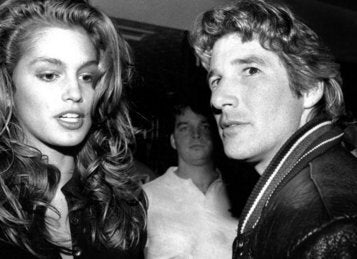 Cindy Crawford: 50 Vintage Pics