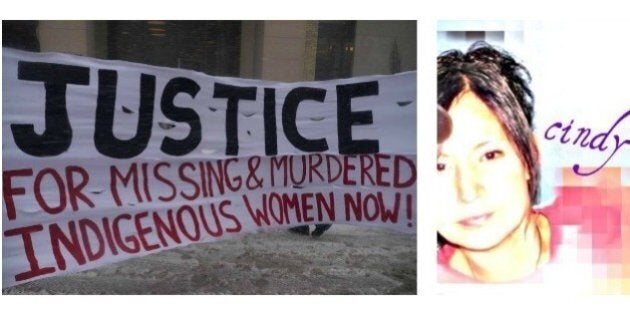 WARNING: This story contains graphic details. The following information about violence may be triggering to survivors.
The circumstances of Cindy Gladue's last hours were horrific. The mother of two bled to death in a motel bathtub, suffering from an 11-centimetre vaginal wound.
And the trial of the man accused of killing her was no less appalling, say aboriginal activists.
Earlier this month, an Edmonton jury found Ontario trucker Bradley Barton not guilty of first-degree murder in the 2011 death of Gladue, a First Nations woman.
Outrage over the verdict has spurred a letter-writing campaign, asking the Crown to initiate an appeal. An online petition is also collecting support for another trial. Protests across Canada are planned this week.
Barton, 46, testified at his month-long trial that Gladue's injury was accidentally caused by rough sex when he thrust his fingers into her, reported the Edmonton Journal.
The Crown argued that Gladue — whose blood alcohol level was four times the legal limit — could not have have agreed to sex, and that Barton intentionally stabbed the sex trade worker, reported The Globe and Mail.
"Whatever you decide, this is not an accident," Crown prosecutor Carrie-Ann Downey told the jury.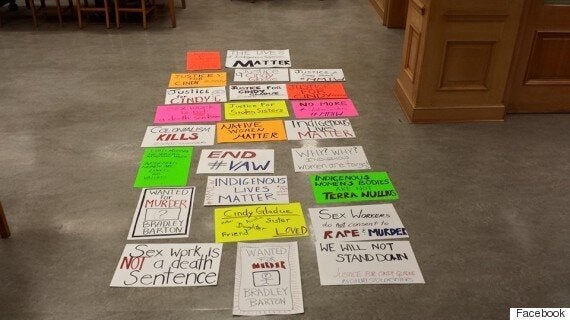 Protest signs call for justice for Cindy Gladue.
The jury of nine men and two women acquitted Barton of both first-degree murder and manslaughter on March 18.
"This is another example of the way aboriginal women in Canada are marginalized, erased, and denied justice," said Edmonton activist Fawn Lamouche in a news release.
After the decision, the Journal reported that Barton's laptop showed he visited pornography websites featuring "extreme penetration and torture." The evidence was not introduced at the trial after the judge ruled it wasn't obtained lawfully by investigators.
The Edmonton acquittal just shows how violence against indigenous women is normalized, wrote scholar Sarah Hunt and activist Naomi Sayers in a column for The Globe and Mail. They also argued that bringing Gladue's pelvis into the courtroom was another dehumanization of aboriginal people.
One of Gladue's daughters wrote on Facebook this week: "I cannot believe it's been almost 4 years, I miss you so much and I wish you could be here to meet my beautiful baby."
Gladue's family are owed justice, say supporters.
"Where is the collective outrage?," wrote Julie Kaye, an assistant professor of sociology at the King's University in Edmonton. "The Gladue family deserves an appeal. Indigenous women and women in sex industries deserve an appeal. Sex workers do not consent to blunt trauma and 11-centimetre tears and death. Cindy Gladue did not consent to violence."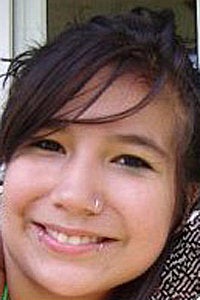 Canada's Missing Aboriginal Women