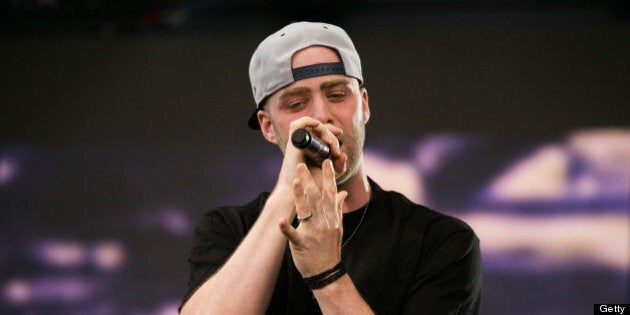 You could call it the Canadian musician's equivalent of a double double: a hit song getting placed in a Tim Hortons ad.
Classified's "Inner Ninja" is already a platinum-selling, Juno Award-winning Top 10 single, and is now being used in a TV commercial for the coffee and donut chain, a partnership the Canadian rapper calls "legendary."
"I'm Canadian so I grew up on Tim Hortons, and to see my music in a Tims commercial is pretty amazing," says Classified, backstage at Quebec City's Festival d'Ete. "I've never actually seen it on TV yet, I just watched it on my computer and they did a killer job with it. It feels like some legendary shit. And knowing my song is going out to millions of people every time it's aired, in a lot of ways it's bigger than having radio, bigger than having video play."
No, he says, that does not mean he gets free donuts for life -- "Just a nice paycheque" -- and he brushes off any potential backlash. Backstage at the MMVAs earlier this summer, he said, "I gets Twitter disses all the time, like, 'Classified, you fucking sell-out, put a song in Tim Hortons.' Tim Hortons? I've been eating apple fritters since I was three-years-old. I have no problem with doing Tim Hortons. I retweet that, I find it funny. There's always some guy hatin.'"
Mostly Classified is excited to finally crack mainstream commercial support, which has not always been forthcoming — possibly since one of his favourite topics to rap about is weed. For example, his 2009 smash "Oh…. Canada" has "new national anthem" written all over it. But in addition to shout outs to Greztky and Gordon Lightfoot, it also has the line "smoking marijuana, we consider it legal."
"I think that's why we never get invited to play Canada Day on Parliament Hill," Classified says, laughing. "It definitely held us down in the Olympics. They were enjoying the song and they wanted to use it for a lot of things but the fact that it had the weed lyric. They don't want that. The Olympics don't want any drug references."
That's more than OK, as Classified remains in demand, as a performer, as a songwriter, and as a producer. And he says, that's where his real future lies.
"I don't think I'll never make another record. A lot of people don't know that. I'm always going to make music. But I want to produce more. I don't want to sit down and make another album right now, because I feel like I just did it. Then you get on the road for six months. I'm looking for that forward feeling."