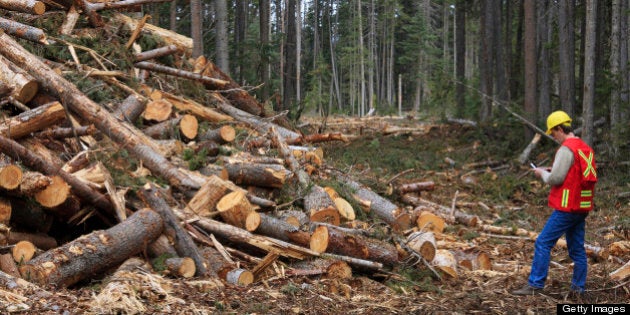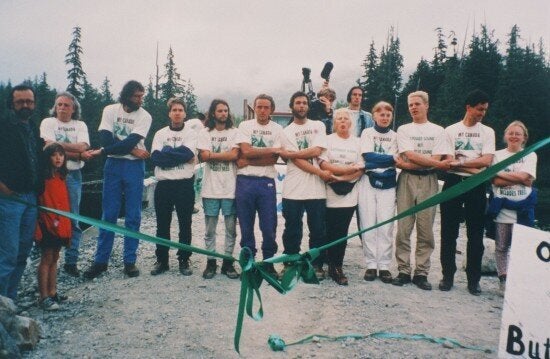 First day of logging road blockades in Clayoquot Sound, July 5, 1993 (photo: M. Cummings)
Twenty years ago, on July 5, 1993 was the first day of logging road blockades to protect the ancient forests of Clayoquot Sound from being clear-cut. In the following weeks and months over 12,000 people joined the protest; more than 800 got arrested, turning it into the largest act of non-violent civil disobedience in Canadian history. The Clayoquot Summer '93 was triggered by the provincial government announcement in April 1993 that left two-thirds of the region open to industrial logging.
Located on the west coast of Vancouver Island, Clayoquot Sound's globally rare temperate rainforests are awe-inspiring dynamic ecosystems. On an island stripped of three quarters of its productive ancient forest, Clayoquot Sound houses the largest tract of remaining old-growth forest. Some of the region's forests store more carbon per hectare than almost any other forest on earth.
Today, much of Clayoquot's rainforest remains standing, but large tracts are still unprotected. The region has become known around the world as a test area for conservation and for economic activities that don't undermine the environment. Yet little progress has been made in securing legislated protection for Clayoquot's ancient forests and in advancing the title, rights and community aspirations of the Nuu-chah-nulth First Nations of the area.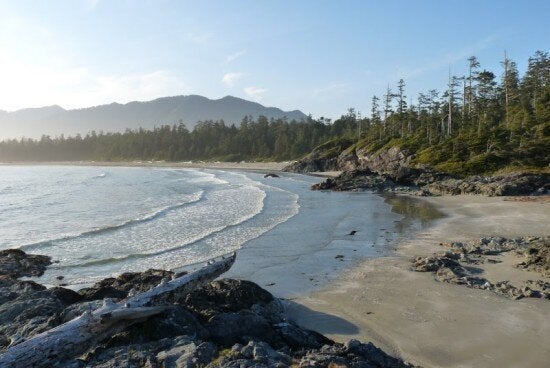 Flores Island, in the heart of Clayoquot Sound (photo: Jens Wieting)
The 1995 Scientific Panel Recommendations for Clayoquot resulted in improved logging practices, but they didn't answer the question how many of the remaining intact valleys of the region should be open to logging in the first place considering how few are left on Vancouver Island. Clayoquot was designated a United Nations Biosphere Reserve in 2000. This designation, however, does not confer legal protection. A Memorandum of Understanding between First Nations and environmental groups, signed in 1999, outlines intact rainforest valleys in Clayoquot deserving protection. But this agreement does not provide a long-term solution.
Attempts to log in one or the other of the remaining unprotected intact valleys have brought the region close to the risk of conflict a few times over the last several years, most seriously in 2008, when Port Alberni-based logging company Coulson obtained cut permits for blocks in the Hesquiat Point Creek intact area. Media was all over the case and the parties involved succeeded in averting a flare-up of the "war in the woods", focusing instead on exploring solutions.
The Clayoquot Sound Conservation Alliance, a group of environmental organizations including Sierra Club BC is working together to seek lasting conservation solutions for Clayoquot's 74,000 hectares (148,000 acres) of unlogged rainforest valleys that are still missing protection. These valleys are within First Nations' traditional territories and any conservation designation requires their support.
Solutions that can serve as a model exist, like the conservation financing mechanism applied in the Great Bear Rainforest. This approach provides funding for sustainable economic opportunities to ensure the well-being of communities, combined with a land use designation that respects and protects First Nations cultural values.
There are few places in the world that have inspired people around the world like Clayoquot Sound with its spectacular natural beauty and the vision of the people in the region that care for this place. Twenty years later, it is time for a lasting solution to save Clayoquot's intact rainforest valleys for coming generations.