New Canadian research has found that common everyday household chemicals could influence a child's risk of being overweight by changing their gut microbiota.
Carried out by researchers from several universities across Canada and published in the CMAJ (Canadian Medical Association Journal), the new study analyzed the gut flora of 757 infants from the general population who were enrolled in the Canadian Healthy Infant Longitudinal Development (CHILD) birth cohort on microbes in infant fecal matter.
The researchers looked at children's gut flora at age three to four months and their weight at ages one and three years, using the World Health Organization growth charts for body mass index (BMI) scores. Children's exposure to disinfectants, detergents and eco-friendly products in the home was also measured using the mothers' responses to questionnaires.
The findings showed that changes in gut flora at ages three to four months were strongest in babies who lived in homes that frequently used household disinfectants such as multi-surface cleaners.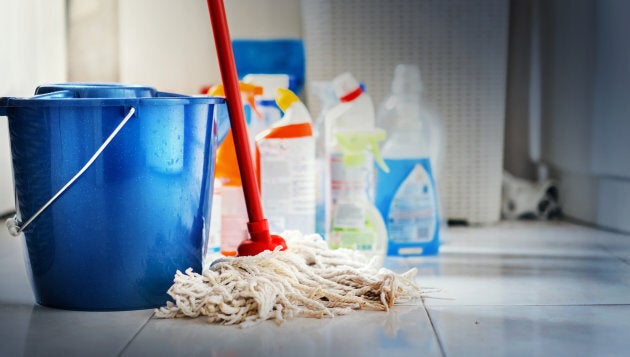 These infants showed lower levels of Haemophilus and Clostridium bacteria but higher levels of Lachnospiraceae. Lachnospiraceae are a family of bacteria in the order of Clostridiales occuring in human and mammal gut microbiota. Members of this family may protect against colon cancer in humans by producing butyric acid.
The study shows that frequently cleaning with disinfectants was linked with an increase in Lachnospiraceae bacteria, although not with detergents or eco-friendly cleaners.
The findings also held true even after the researchers took into account other factors that can influence the microbiome, including breastfeeding and antibiotic use.
"We found that infants living in households with disinfectants being used at least weekly were twice as likely to have higher levels of the gut microbes Lachnospiraceae at age three-four months; when they were three years old, their body mass index was higher than children not exposed to heavy home use of disinfectants as an infant," researcher Anita Kozyrskyj said.
Eco-friendly cleaners were linked with a lower risk
The team also found that babies who lived in households that used eco-friendly cleaners had different microbiota to those who lived in households that used disinfectants and detergents, and were also less likely to be overweight as toddlers.
"Those infants growing up in households with heavy use of eco cleaners had much lower levels of the gut microbes Enterobacteriaceae," said Kozyrskyj, however she also added that, "we found no evidence that these gut microbiome changes caused the reduced obesity risk."
Kozyrskyj suggests that children exposed to eco-friendly products may be less likely to be overweight as these products are linked to healthier maternal lifestyles and eating habits overall, which can positively influence the gut microbiomes and weight.