Ontario's "Ring of Fire" mining project promises to be the economic equivalent of another oil sands, Treasury Board President Tony Clement says.
Clement, who was recently appointed the federal government's point man on Northern Ontario development, said the giant mining project — which faces delays and opposition from some First Nations groups — would eventually expand to be worth $120 billion, when taking into account all the economic activity the planned mine and smelter would generate.
Clement made the comments at an editorial board meeting at The Huffington Post Canada on Thursday, during which he also discussed the controversy over the temporary foreign worker program, the Conservatives' negative ads and what it means to be a politician in the age of social media (see below).
But it was his comments on the Ring of Fire — the name given to a massive planned chromite mining project some 400 kilometres north of Thunder Bay — that caught many at the meeting by surprise.
"You're looking at $120 billion, right in line with the oil sands or some of these other major developments," Clement said of the project, noting that other minerals besides chromite (an ingredient in stainless steel) have been found in the area, including nickel and copper.
"It has the potential to transform what was hitherto a very poor, underdeveloped area of Ontario and give people who live there, particularly First Nations people, a chance for a decent life," Clement said.
"The only way this project is going to work is if First Nations people are included as partners," Clement said, promising the government would consult with the local communities and develop plans that will allow them to "participate in the economic activity that this project is going to generate."
3 OTHER THINGS TONY CLEMENT TOLD US
1. Negative Ads Are How It's Supposed To Work
When it comes to the controversy over the Tories' recent negative ads attacking Liberal Leader Justin Trudeau, Clement says it's just how things work.
"It is common for political parties to extol the virtues of their own leadership and their own policies and contrast those of their political opponents," he told The Huffington Post.
"Some people say that our job is to get along with all of the opposition parties. That's what they expect the government to do. But that's not really how it works. We all were elected because we had certain values and principles. ... We can't just jettison our principles."
Clement said he wanted to see more civility in Parliament, but that does not mean there is no place for negative ads.
"There is going to be some heat generated in the free market of ideas. And we are going to extol the virtues of our leadership and contrast that with what we see as the failings of our political opponents."
2. The Temporary Foreign Worker Program Wasn't Meant For Tim Hortons
Clement says Canada needs a temporary foreign worker program to fill gaps in the job market created by the country's labour shortage, but he concedes the program may have expanded beyond its original intent.
While there some businesses have legitimate needs for foreign workers, "what's happened more recently is it's expanded beyond that, to Tim Hortons and Royal Bank of Canada or what have you. That's where we have to re-examine the program to make sure it's actually achieving the objectives that Canadians expect."
Clement described Canada's labour shortage as "an inherent problem in our economy right now" that "seems endemic."
"That's why we put so much emphasis on the job grant program (in the budget)," he said.
But the notion that Canada is suffering from a labour shortage is in dispute. Some analyses have recently found that Canada's labour shortage is less acute now than the average of the past several decades.
3. Politics Is Becoming #Politics
Tony Clement says his fellow politicians need to stop being afraid of social media.
"Politicians come to me and say, 'I don't really want to be on Twitter, I'm going to come under review and attack.' I say, 'Well, welcome to your world.'"
Facing up to public criticism is "part of the mantle of political leadership in any country," he told The Huffington Post editorial board, and it's no reason to shy away from social media.
"Social media to me is now a critical component for any politician who wants in the modern age to be engaging," he said, adding that it affords the opportunity "to have a dialogue with citizens, to radically break down the barrier between what used to be the governing elite and the governed."
Clement also noted that, for him, social media is a way to show the public that "I have passions outside of politics."
He cited his penchant for the Habs and alternative rock as "things that are part of my humanity that maybe people weren't aware of. All of a sudden, I can talk about those things."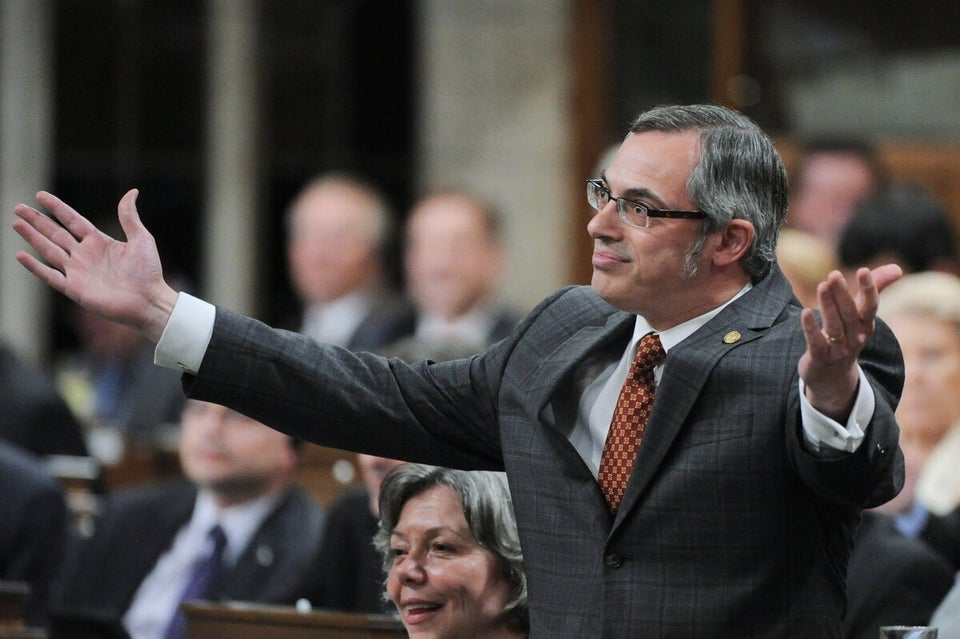 The Many Faces Of Tony Clement
Popular in the Community