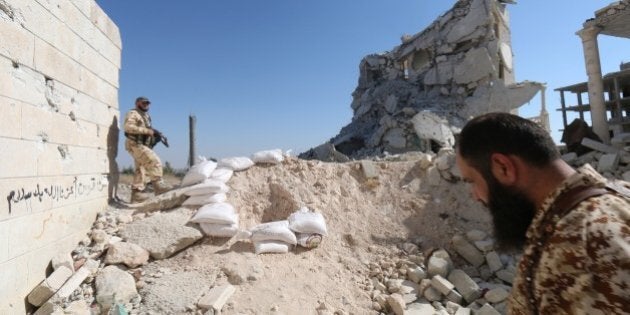 Professionals in foreign and defence policy usually ask, "What's the background to this problem, and what can we do to make it better?" The security professionals start with an estimate of the threats both near and far, what causes them, and what can be done to mitigate the effects within an envelope of resources. It is next to impossible to develop an appropriate plan for dealing with security threats unless you understand what has caused them. And it may seem counterintuitive, at first, to link Canadian national security concerns with international climate change. However, recent negative trends affecting our already fragile climate, and the associated impacts on weather and the global ecosystem, are a real and present danger to our national security.
As reported by UN Dispatch's Kathleen Edelen on 29 May 2015... Last week, with little fanfare or media attention, the White House released its report on National Security Implications of Climate Change. This document outlines the risks and threats posed to both the homeland and foreign policy interests from climate change. A week before that, the U.S. State Department released its Quadrennial Diplomacy and Development Report (QDDR), which is the State Department's major stock taking project that happens every four years. The QDDR elevated climate change to one of the State Department's four "strategic priorities" -- featuring it alongside Countering Violent Extremism, Open Democratic Societies, and Inclusive Economic Growth. In other words, climate change is now considered as important a U.S. priority as fighting terrorism. Taken together, these two reports provide the framework for one of the most significant shifts in U.S. foreign policy in recent memory -- and one that so far has been unceremoniously ignored by most of the media."
As mentioned in the body of the report, the scientific and military consensus is clear: climate change is a real and present threat. Water and food supplies, health and ecosystems will be severely affected. Tragically, it will be the world's poor and desperate who will bear the brunt of these calamities, at least in the short term. Regions and countries will be destabilized, providing fertile environments for the spread of militant groups and climate refugees. Canada will not be immune, as the problems generated by climate change will inevitably reach us at home. It is fuelling or sparking horrific conflicts as a direct or second-order effect. One needs only to look to Syria, where a prolonged drought is widely recognized as a major contributing factor of the 2011 uprising that has subsequently grown into an outright civil war. Elsewhere in Mali and Sudan's Darfur region, the United Nations Development Program has identified severe food and water insecurity as one of the principle causes of conflict and mass migration.
Together, these humanitarian crises are magnifying the already desperate and tragic situation in the Mediterranean Sea, where thousands of migrants have drowned in recent months. And in all cases the resulting fear, instability and chaos is an incubator for virulent and barbaric groups that thrive in the shadows. So, how do we better prepare to help deal with the threats that the future will bring?
The suggested first step is to conduct a whole of government estimate that brings together the many possible strands from public and civil society. The U.S. has just finished theirs, as have the British and many of our closest friends and international allies. In all cases, climate change is now recognized and highlighted as one of the major threat vectors.
In Canada, the Federal Government is silent on the issue. Any mention of climate change is absent from the most recent federal budget. Canada has yet to present to the world a credible plan to reduce its greenhouse gases, a plan which will need many additional scientists and researchers to help chart the way ahead for fact-based decision making. These scientists will pave the way for the innovative technologies to be developed to reduce our carbon footprint and for the commercial applications that will inevitably follow. Unfortunately, The Government of Canada has decided to dramatically reduce its scientific community at a time when we would appear to need it most.
As a retired Lieutenant General and Commander of the Canadian Army, I have been extensively trained and educated on the causes and conduct of wars. It is with a realistic and experienced set of eyes that I hope to reinforce the security concerns caused by climate change, concerns recently expressed by the U.S., the U.K. and a host of other nations, and highlight the central role that addressing climate change will play in Canada's future national security interests.
In light of the challenges posed by climate change to national security, I see obstacles going forward, but I also see the opportunity to change course. As Canada approaches a federal election in October, the Trudeau Liberal team is determined to end the misguided and ignorant policies of Mr. Harper's Tories. Our Party is committed to respect scientific facts and allow reason, not ideology, to once more take its place as a guiding factor in a responsible government's decision making.