Climate change activists successfully snuck up behind Stephen Harper at a Vancouver event on Monday in an apparent security breach.
But it may have been the prime minister who had the last laugh.
"It wouldn't be B.C. without it," Harper said to chuckles and applause as the protesters were escorted off the stage just before a question and answer session with Iain Black at the Vancouver Board of Trade.
CTV News caught footage of a male protester, holding a sign that read "Climate Justice Now," managing to get himself very close to the prime minister.
A second activist was also on stage, briefly, and, according to CBC News, her sign read "The Conservatives Take Climate Change Seriously," with the words crossed out.
Both were briskly escorted away from Harper and out of the room without a confrontation.
Story continues after slideshow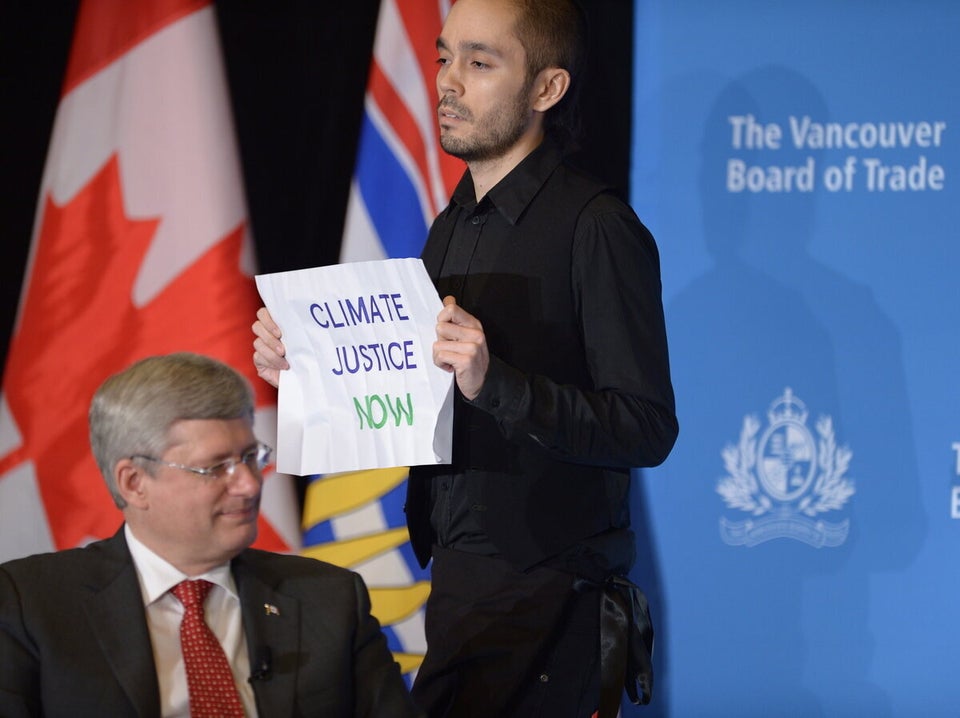 Protesters Crash Harper Q&A
A press release from a group associated with Brigette DePape, the former Senate page who famously protested Harper during the 2011 Throne Speech, was issued moments after the incident, CBC News reports.
"This morning two people directly intervened in a high security question and answer session with Prime Minister Stephen Harper regarding Enbridge's Northern Gateway pipeline," the release said.
"The group managed to make their way past police undetected and into the secured Vancouver Fairmont Pacific Rim Hotel."
One of the two protesters, local activist Sean Devlin, later told The Canadian Press' he and his colleague weren't stopped or approached by security at any point before they walked on stage.
"We just happened to be wearing black dress shirts and black pants and black aprons that we bought at Value Village, and we simply walked into the hotel," Devlin said in an interview.
"As soon as we entered the room, people seemed to be treating us like we were supposed to be there. It was quite easy."
The outfit cost about $7, he said.
Devlin was thrown down a small flight of stairs as he was forced off stage, while the other protester, a female, was escorted away on foot.
They were handcuffed and brought into a kitchen area to be questioned, said Devlin, but were quickly released without being charged.
Cpl. Lucy Shorey of the RCMP said the force would be examining what happened, but she declined to discuss the incident in detail.
"The RCMP takes the matter very seriously," said Shorey.
"We are currently reviewing the incident to decide what action needs to be taken to ensure the safety of the prime minister. Obviously, we can't discuss specific details on security measures."
Harper answered several questions posed by Black on issues ranging from the proposed Northern Gateway pipeline project to the state of the Canadian economy.
With files from The Canadian Press
Popular in the Community