Last summer, the people of Burlington, on the western edge of Lake Ontario, found themselves the target of a rogue weather system that dropped seven and a half inches of rain on their city in less than three hours. People had to swim from their abandoned cars. More than three thousand homeowners suffered property damage, including Burlington's mayor, Rick Goldring, whose basement accumulated a full five feet of water.
"I have never seen flooding like I saw on Aug. 4, 2014," Goldring says. "It was very disconcerting, very discombobulating."
But it wasn't only water rising in Burlington. The price of home insurance is being pushed higher by climate change as well and that means for many Canadians in Ontario and beyond, climate change is getting as personal as their bank account bottom lines.
Environment Canada's senior climatologist called the 2014 downpour one of a "new breed" of storm that, rather than sweep across a region as summer thunderstorms tended to do, instead targeted very small areas with a huge amount of precipitation. Although Ontario has always been prone to flooding, this past decade has seen more significant storms, causing flash floods of the scale seen in Burlington that have overwhelmed municipal storm and sewage systems.
Hundred-year storms are happening more like every 10 years, and experts say we can no longer count on storm water and sewage systems to reliably keep water out of our streets, backyards and basements. The damage wreaked in these storms is costing municipalities, taxpayers and homeowners a lot of money, and experts closely watching the flood phenomenon across the country say if we want to stay out of debt, we need to plan for the worst.
Blair Feltmate, an associate professor in the University of Waterloo's School of Environment, Enterprise and Development calls flooding "the big elephant in the room in this country."
Feltmate has spent much of his career studying how extreme weather events caused by climate change -- particularly floods — are impacting communities. "The bottom line for homeowners?" he says. "Insurance premiums are going up."
The Burlington storm was just one of several that the Insurance Bureau of Canada deems "catastrophic;" in excess of $25 million in insurable damages. Peterborough in July 2004 got nine inches of rain in a 24-hour period (resulting in 8,000 flooded properties and $100 million in insurance claims).
In the summer of 2013, the Greater Toronto Area received five inches of water in a day (as much as the city would normally receive in the entire month, and then some). Five thousand residential basements were flooded and the Insurance Bureau of Canada reported that insured property damage was estimated to be in excess of $850 million, and costs to the city itself were $170 million, making it the province's costliest natural disaster.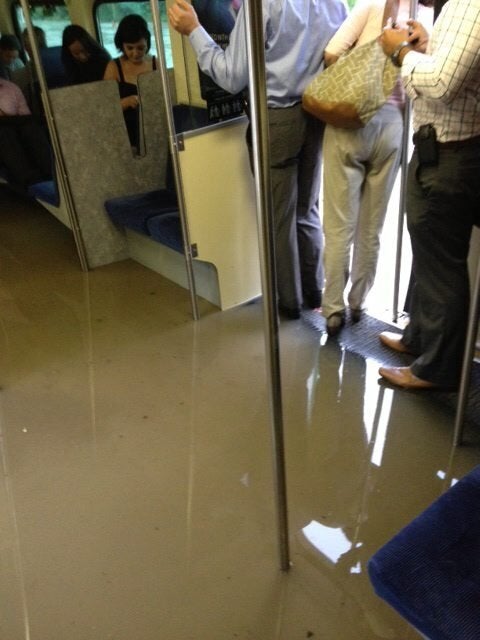 Toronto Flooding
According to Carolyn Rennie, the director of Catastrophic Loss Analysis at Catastrophe Indices and Quantification Inc., a company that collects data for the bureau, since 2008 there have been 14 flood events in Ontario that cost insurers less than $25 million but more than $10 million — still significant events.
From 1983 to 2007, Canadian insurers paid out on average $200 to $500 million per year in home insurance claims. From 2009 onwards, insurers paid out on average more than a billion dollars a year in home insurance claims. Claims in 2013 alone (largely due to the Toronto flood, and the devastating Bow River flood in Calgary) totalled $2.3 billion dollars. For the past nine years, says Feltmate, the insurance industry has paid out more in home insurance claims that it has collected in premiums and deductibles.
And it's passing those costs on to consumers. Customers with Intact saw their rates increase by 15 to 20 per cent last year, and the chief underwriter for TD Insurance announced that its customers could expect a 10 to 15 per cent spike in rates).
WHAT'S CITY HALL DOING TO KEEP YOU DRY?

Even as scientists predict mega-storms and flooding are going to be more common due to climate change, Ontario's municipalities have by and large been slow to adapt.

Last year, the Ontario Coalition for Sustainable Infrastructure received funding form the Ontario Ministry of Environmental and Climate Change to do research on sewage infrastructure needs in province (according to the Canadian Infrastructure Report Card, about one in 10 wastewater systems are unsuitable for more severe weather in the future, and the cost to get this infrastructure up to par is estimated at a whopping $15.8 billion.) The purpose of the research was to understand the opportunities and barriers for municipalities to better prepare for the next big one. They surveyed 68 small, medium and large municipalities and held five focus groups with city engineers across the province.

What they found was surprising, says the coalition's executive director, Darla Campbell.

On one question that listed twelve items that municipalities could be doing to mitigate impacts of climate change they found that 27 per cent said they weren't doing anything at all. About half said they were working with their local conservation authority, 41 per cent said they were using GIS mapping to identify potential drought and flooding areas, and only a quarter said they were implementing green design.

"I was shocked," Campbell says. "Of these, and there were ten or twelve items, none of them is rocket science. Municipalities, and lots of municipalities, are still denying the fact that climate change is a concern."

Burlington's mayor Rick Goldring is perhaps an anomaly in this regard. He calls the deluge that hit his town on Aug. 4, 2014, a "significant learning opportunity, to say the least." In the wake of the flood, the City of Burlington and the surrounding Halton region committed $120 million in sewage and wastewater improvements over the next decade. The city has also launched several initiatives aimed at reducing the impact on individual homes on these systems, including waiving permit fees required to install sump pumps and back flow valves, which can help prevent sewage from backing up into homeowner basements.

But the kinds of storms we're seeing could inundate even the most sophisticated system, points out Campbell. Better check that insurance policy, storm-proof your house — and prepare to open your wallet.
Burlington mayor Goldring says one of the biggest things the great flood of 2014 taught him is the inconsistencies in the insurance coverage — specifically the lack of overland flood (coverage for ground water that seeps in through the windows or foundation) insurance in Canada, which is unavailable from most major insurers. Most standard home policies only cover sewage backups and burst pipes. The difference between clear fresh water coming in through the window and murky sewer water coming in through the pipes can make all the difference.
Although Goldring says most residents were covered by insurers, there were still those were not, or were not totally covered. In addition to the insurance money, Burlington residents raised nearly $1 million in aid, which was matched by the province's disaster relief fund to help those who weren't.
Feltmate says he sees it all the time, as a guest on radio call-in shows. "Someone's been paying insurance on the same home for 20 years, never made a claim, all of a sudden there's three feet of water in the basement, and the adjustor comes and points out the water stains coming down the wall and won't cover it," he says. "People go apoplectic."
The new climate insurance
Major insurance companies are beginning to address these gaps.
In 2010, the Institute for Catastrophic Loss Reduction (which is affiliated with Western University, and whose membership includes more than two dozen insurance companies from around the country), released a report called Making Flood Insurable for Canadian Homeowners that looked at the very issue of how to better cover flood events.
It pointed to the UK as a model that Canada could adopt. There, home insurance is bundled, in other words, it's a package deal that covers flood, wind, fire and other disasters. Although pricing is based on risk — if you live in a flood prone areas, you're going to pay more — the base cost is spread out amongst everyone. Although its an entirely private insurable sector, the federal government bears the responsibility of keeping flood risk maps complete and current — which allows insurance companies to better asses risk, and sets a higher price on developing in areas that are prone to or will be prone to flooding.
What this will require is major co-operation at a provincial and federal level. The last major exercise in flood risk mapping started in 1975, with the federal Flood Damage Reduction Program. The program split the cost of flood mapping between the provinces and the federal government. Hundreds of municipalities across the country were mapped for flood risk areas, and civil servants report it was effective as steering development away from those areas. Despite this, the program was phased out in the early 2000s — and as a result, Canada's flood risk maps are woefully out of date.
WHAT CAN HOMEOWNERS DO?

There are ways homeowners can save money if they're proactive. Insurance companies are beginning to offer rebates for installing sump pumps and backwater valves in your home's plumbing, and some municipalities, like Toronto and Burlington, for instance, are offering rebates on installation.

Cheryl Evans is the manager for RAIN, a storm water education program in Kitchener. Three years ago, she had a flood risk audit done in her own home. One of the first things the auditor pointed out, says Evans, is that when it rained, water shot down her slick metal roof and over the eavestroughs, settled into the house's old foundation and dampened her basement carpets.

Evans hired a contractor to install wider eaves troughs and a downspout connection that took water away from the house. At ten dollars a linear foot, for materials and labour, that cost $1,500 total. Then she got a length of "Big O" pipe from the hardware store and extended the downspout even further, to an existing garden that she converted into a rain garden by contouring the bed into a "flat-bottom bowl" shape. The soil in the rain garden is 50 per cent sand, 25 per cent compost and 25 per cent native soil; at 18 inches deep, this mix can hold hundreds of litres of water and filter it slowly into the earth. The total cost of that, including her unpaid labour, was about $35.

Since she's installed the system, even during extreme storms her basement has stayed nice and dry, says Evans.
CORRECTION: An earlier version of this story indicated that The Institute for Catastrophic Loss Reduction was affiliated with the University of Waterloo. It is actually affiliated with Western University.
This is published in partnership with The Tyee. Colleen Kimmett is a widely published journalist with a focus on environmental issues.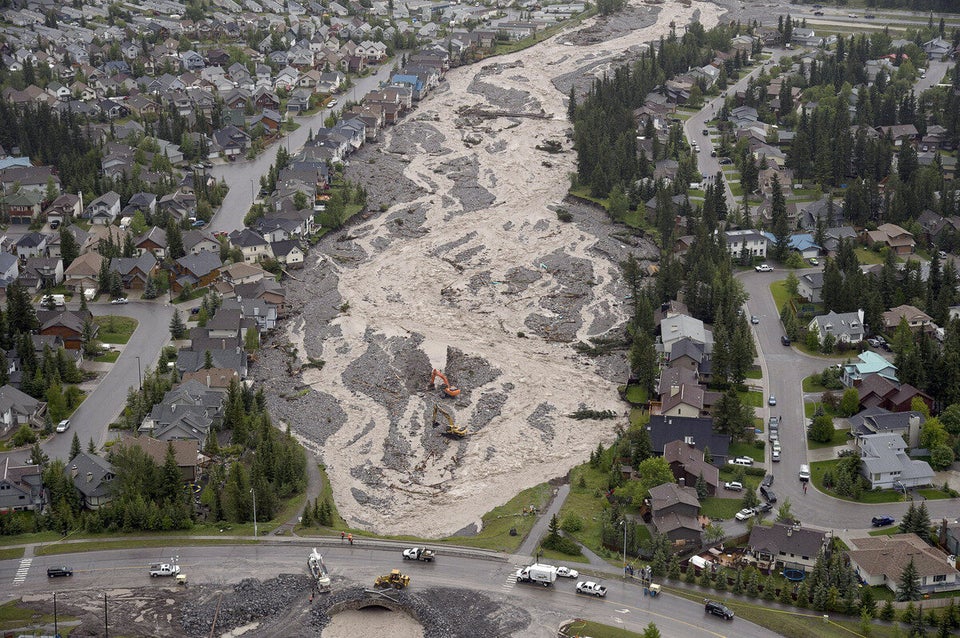 Alberta Flooding By The Numbers