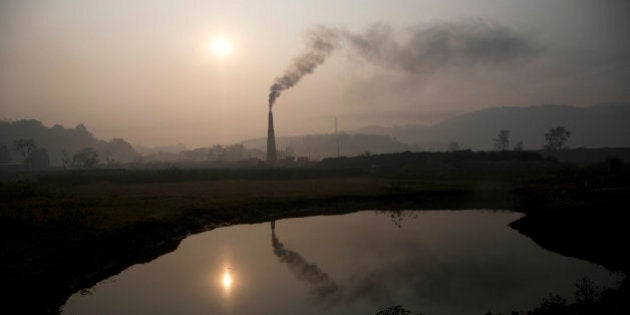 It's a powerful statement to have three major institutions representing thousands of workers, people of faith and medical professionals come to the same conclusion that a safe climate means leaving fossil fuels in the ground, but it also juxtaposes how far Canada's politicians still have to go on climate.
Early in this election campaign, NDP candidate Linda McQuaig mentioned that, according to economists and climate scientists, a 2ºC limit on global temperature rise means Canada will need to freeze tar sands expansion. Her statement that "a lot of the oilsands oil may have to stay in the ground" caused rancor from the Conservatives, was quickly admonished by Thomas Mulcair and criticized by the Liberals -- all of whom failed to mention that she was simply citing a peer reviewed study published earlier this year in the scientific journal Nature.
In the midst of this early election storm, people across Canada started crashing campaign events of all the major political party leaders. Over the past seven weeks, the sight of community groups interrupting party leaders to demand answers on climate has become commonplace. From coast to coast, people have been showing up inside and outside campaign events to ask Thomas Mulcair, Justin Trudeau and Stephen Harper a simple question -- "how will you meet Canada's international climate obligations".
These community actions have already forced both Thomas Mulcair and Justin Trudeau to clarify their commitments to rebuild Canada's environmental review processes. Both have committed to include climate change impacts in the reviews of tar sands pipelines, and have clarified that their process overhauls could send the Energy East and Kinder Morgan pipelines back to square one of the review process. This is a good first step, but it's also still miles away from the kind of ambitious climate action that we need to see and this small step forward is dwarfed by the scale of the challenge we're facing.
More recently, both the NDP and Liberal parties have made pledges to up the ante on climate. Unfortunately, neither have given a clear sense of how they would close the gap between the science and politics of climate change in this country -- chiefly, if they would commit to freezing tar sands expansion.
The decisions by doctors, bishops and workers in Canada this summer to divest from fossil fuels have been echoed by hundreds of institutions around the globe moving billions of dollars out of the fossil fuel industry. Clearly people, and not just activists, across Canada and around the world understand that action on climate change means leaving fossil fuels in the ground. What we need now is for politicians to demonstrate that they understand this, and as we enter the second half of this election campaign we need people power to push them to make it happen.
Dozens of small groups of people have been disrupting campaign events and forcing climate change into the conversation this election, but if we're going to have a real impact, we need to show that it's more than just a handful of people paying attention. Later this month, up to five federal leaders debates will grab the attention of the entire country. We can't allow politicians to ignore the reality that Canada's economy is in a recession because of Stephen Harper's relentless pursuit of tar sands expansion. We need to make sure that any debate about foreign policy reflects that the first international summit Canada's next Prime Minister will attend will be the global climate talks in Paris. We need to show up and send a message that and people are already organizing to show up and make sure that climate is on the agenda. Whatever the focus of the debates, we need to make sure that politician leaders know that each and every issue is undercut by the fact that Canada is not pulling it's weight on climate and that real climate action means freezing tar sands expansion.
Right now, it seems like there are two campaigns in Canada. The first one is led by people working towards ambitious changes to build a more just, clean and fair society. The second one is being run by politicians.
Already communities are organizing to bring their message to the doorsteps of these debates in Calgary, Toronto and Montreal. Even more of us can get involved online by using the hashtag #climateLXN to call on politicians to take ambitious action on climate. Together, we can make sure that people power overtakes the politicians.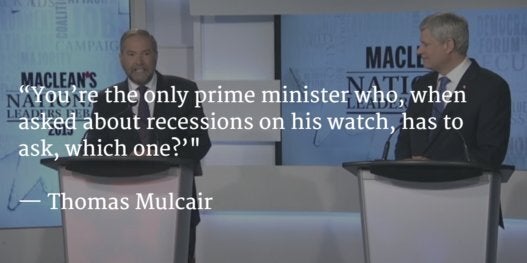 Best Quotes From Maclean's Canada Election Leaders' Debate