"I've worked my whole life to be a professional ski bum and it's turned out pretty well by this point," says Jeremy Derksen. But his way of life faces a threat: climate change. After all, how do you follow the snow when you can't be sure where it will fall?
Derksen, 38, has been hitting slopes since he was five years old and now works as a freelance writer and location manager in Alberta. This past winter confirmed his belief that that ski-friendly weather is "so unpredictable today from what it used to be."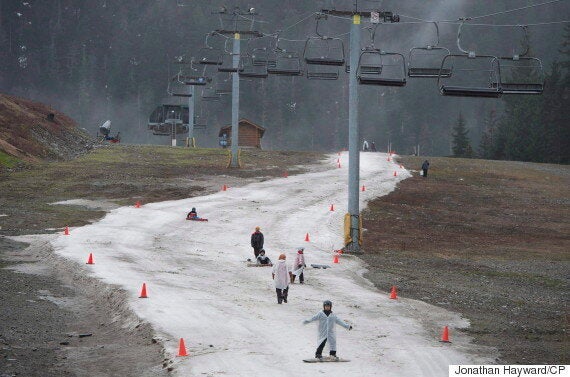 Snowboarders make their way down a run at Cypress Mountain in West Vancouver, B.C. on Feb. 9, 2015. The ski hills around Vancouver suffered with little to no snow that season due to warm temperatures and rain. (Jonathan Hayward/Canadian Press)
Derksen planned to spend his extended Christmas break skiing interior British Columbia with his wife and three kids. No go.
Though Eastern Canada was getting slammed with what the media labeled a polar vortex, many of the hills around the Okanagan region like Sun Peaks and Silver Star weren't even open yet due to low snow conditions and warm weather.
"It's unheard of and weird," Derksen shrugs. So, like a migrant worker following the crops, he ended up in Marmot Basin in Jasper National Park, Alta., where great snow conditions ended up giving him a lot of work.
A near miss for one relieved ski bum. "Nowhere else was getting good powder. It was a pretty ugly scenario."
"My hope is that they can grow up and have the same kind of experience as I did. We have to think of future generations and what they're going to get."
If Marmot was fat with powder, another Alberta ski hill, Castle Mountain in the south of the province, was starved. Warm temperatures forced it to shut down in the middle of February. "It literally didn't snow," says Jason Crawford, sales and marketing manager for the resort. The early closure was bad for business but also bad for jobs, causing trimmed hours and dozens of layoffs.
Crawford doesn't know what to expect in coming seasons. Though there have been some "banner years," snow is harder to count on as Castle deals with, he says, "a lot more fluctuation."
At some Canadian resorts, shifting weather patterns are tending to dump snow later in the season. That doesn't always mean more profits. Hills like the Lake Louise Ski Resort have stayed cold enough to sustain seasons well past the usual closing date, but the crowds drop off into spring regardless of the conditions.
"When people start golfing in Calgary, they stop thinking [of coming] here," says Dan Markham, the resort's director of brand and communications.
Don Williams, the co-owner and manager of Mission Ridge Winter Park, one of Saskatchewan's only ski hills, says much the same thing about skiers-turned golfers come March. "When the season ends, it comes to an abrupt end," he says.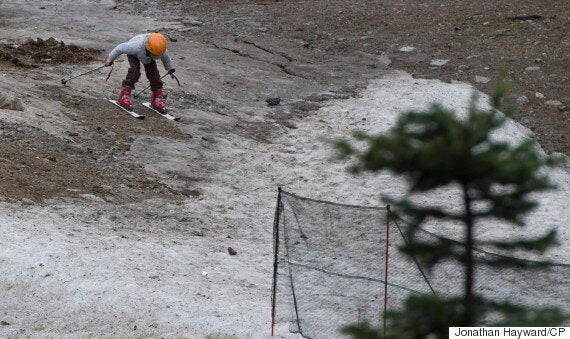 A young skier makes his way towards the lifts at Cypress Mountain in West Vancouver, B.C. on Feb. 9, 2015 during an unseasonably warm and rainy period. (Jonathan Hayward/Canadian Press)
The other end of this calendar can bring problems as well, according to Derksen, who lives in Edmonton. Snow may fall sometimes in the mountains early in the season even when there is nothing on the ground in interior Albertan cities.
"It's always weird to start thinking about skiing before there's snow on the ground where you live," he says. "Your mind isn't turning that way."
He welcomes the fact that the crowds leave more space for him on the hill, but he realizes this isn't sustainable for resorts in the long run.
"I can't be selfish and say it's fine if nobody shows up, because without that revenue [resorts] won't be able to stay open."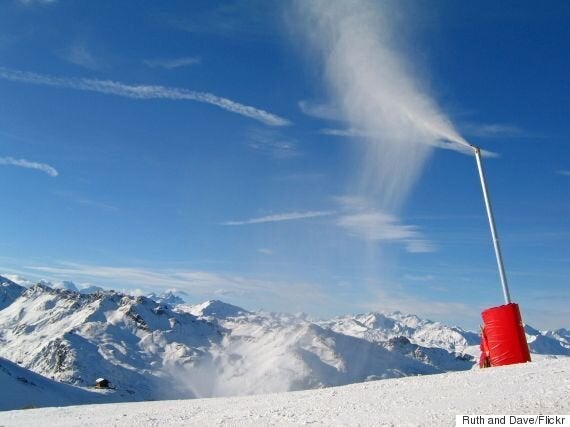 Ski hills have long been using technology to outsmart the fickleness of the weather — just look at the indoor hill in Dubai or the outdoor snow resort without snow at Liberty Mountain in Virginia.
Other outdoor resorts have long made use of snow-making to create a base in the beginning of the season. It works well if temperatures are well below freezing but snow isn't falling. And if there is plenty of time — weeks — to manufacture the powder.
Williams says his bottom line has been slammed in this closing window. In recent years he's only had about a one week to make enough snow since temperatures aren't consistent anymore in his resort, about 75 kilometres northeast of Regina.
"Now we just have to spend the money to do the snowmaking in a shorter period of time," he says.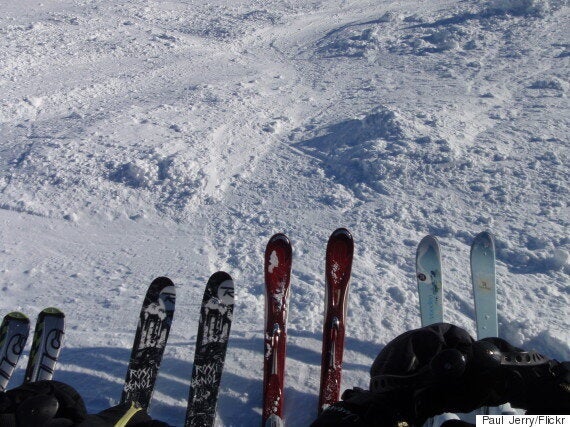 Varying temperatures affect the quality of the snow made at Rabbit Hill in the Edmonton area. (Photo: Paul Jerry/Flickr)
Rabbit Hill, a small operation in the Edmonton area, hasn't missed any opening or closing dates mostly because they don't rely on natural snow. But varying temperatures affects the quality of the stuff they make, according to director of marketing Jocelyn Wetterberg.
"As long as the temperatures are good we can start making decent snow," she says, but the quality of the snow they make gets a lot more natural at around -15 C.
"Warmer temperatures definitely makes for more work," she says, and this costs the ski hill more money as they have to find creative ways of managing the snow, whether using grooming machines to break through layers of ice that form when it rains, or stockpiling natural snow when it comes in and moving it around the hill later on.
"We've been lucky to have the systems we have and the staff we have to deal with this new and changing climate," she says. "They've been able to battle Mother Nature head on and give us great results."
Derksen says that while he's not a scientist, he reads up on climate change because of the effect it has on the winter sports he loves. Every year he sees more signs of climate change — even in the good years, as heavy snowfall can be just as much an indicator of new trends or variability.
"It's just this feeling that has sat in the pit of my gut for a while," he says. "I see what it's doing to us and doing to the industry. I think we all need to do what we can."
He's worried about the way conditions are going, not only for him, but for his three kids, aged between one and seven, who are already skiing.
"My hope is that they can grow up and have the same kind of experience as I did," he says. "We have to think of future generations and what they're going to get."
Avalanche Warnings

A skier tries to beat a small avalanche in British Columbia's Monashee mountains. (Photo: Steve Ogle/Getty Images)

Bruce Jamieson knows avalanches. The adjunct professor has studied the natural disasters for decades with the University of Calgary's Applied Snow and Avalanche Research, and he's used everything from touring skies to helicopters and snowmobiles to get up close to potentially dangerous snow.

One time, too close. In 1982, he got caught in an avalanche near Fernie, B.C. and managed to fight his way out by pushing away blocks of snow over his head.

Jamieson says that seasons with extreme swings in temperatures and changing conditions are the worst for avalanches. When the temperature warms up and snow becomes to melt, it can form a hard layer of snow which is then covered by subsequent snowfall when the weather cools down again.

Afterwards, for up to a month, outdoor enthusiasts may trigger the softer upper layers of snow to slide down the mountain.

Some of the early wet seasons that are becoming more common with climate change — rain in the middle of February, for example — can cause problems at elevations of around 1,500 to 2,300 meters, levels popular for backcountry skiers, notes Jamieson. His research shows a weak but noticeable trend of worsening avalanche conditions overall, though these trends don't necessarily apply to everywhere because climate change manifests in different ways in different places.

Climate stability key

Dan Markham at Lake Louise Ski Resort concurs that stability in climate or gradual but consistent snowfall are the keys to having fewer avalanches. "Consistency leads to a better chance of safety."

Still, as climate change stirs up and changes weather patterns, Pascal Haegeli, an assistant professor at Simon Fraser University, and a principal at Avisualanche Consulting says it's difficult to predict the effect on avalanche conditions.

"Unfortunately there is relatively little out there that looks at climate change and avalanches and their effect on skiing safety so far," he says.

Yes, the more extreme weather predicted by climate models could result in more layers in the snowpack in some areas, increasing the danger of avalanches there.

Then again, Haegli points out, if warmer conditions erase snow in some areas, the danger of such slides in those areas may disappear completely.
This is published in partnership with The Tyee. Joshua Rapp Learn is an environmental journalist based in Washington, D.C. You can find his work in Scientific American, Canadian Geographic, The Toronto Star, The Globe and Mail, The Tyee, and other publications in the U.S. and Canada.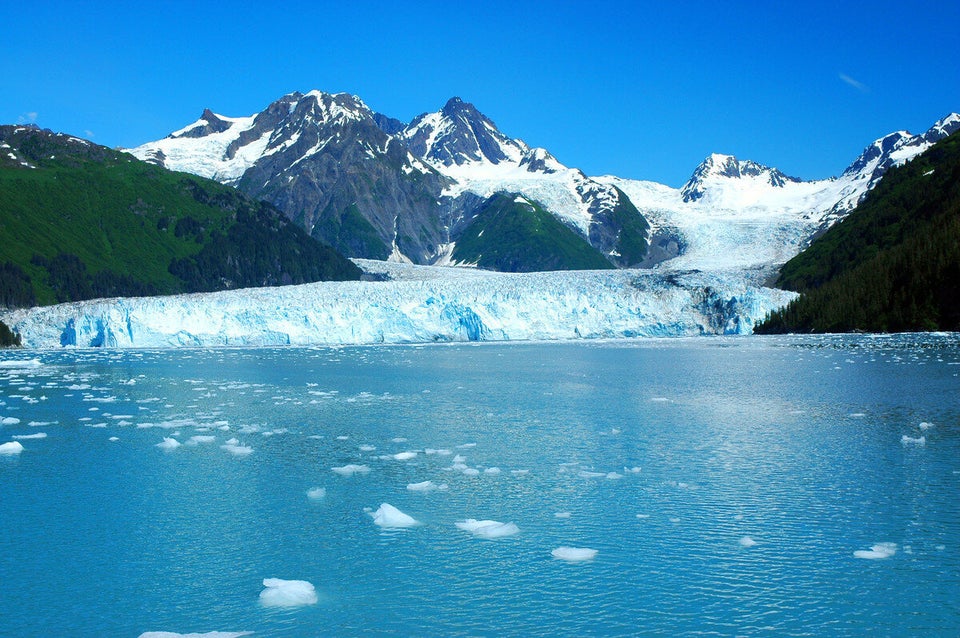 Climate Change: 10 Beautiful Places Under Threat