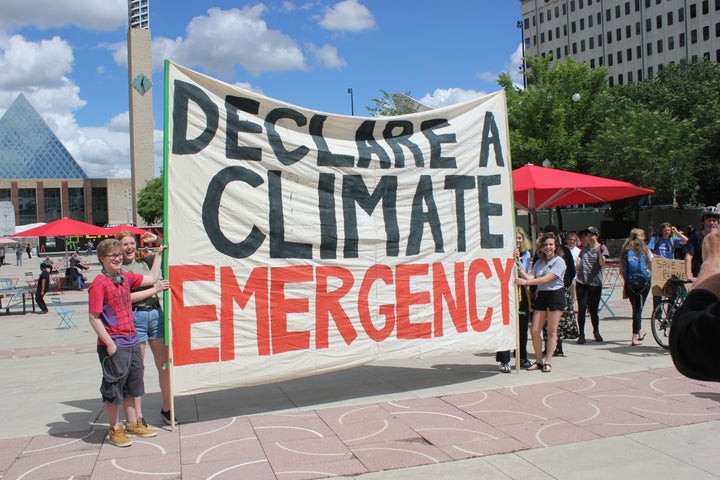 This week, the City of Edmonton declared a climate emergency.
The city council there is calling for a 10-year action plan to combat the climate crisis. The declaration is intended to speed up efforts to cut carbon emissions in the city.
During the council meeting Tuesday, Edmonton Mayor Don Iveson noted that an emergency is defined as a serious, unexpected and often dangerous situation requiring immediate action.
"Does this fit this test? I think it does," Iveson told council.
The Climate Emergency Declaration movement began in Australia in 2016. According to its website, as of Aug. 26, 957 jurisdictions worldwide have declared climate emergencies, including more than 400 in Canada.
WATCH: Greta Thunberg on climate change: 'We are in an emergency'. Story continues below.
Ottawa declared a climate emergency in April. The decision incurs a one-time cost of $250,000, which will go towards renewable energy and energy conservation programs, as well as conducting an analysis of its goals for reducing greenhouse-gas emissions. The city of Vancouver declared one in January. And over 300 municipalities in Quebec have already signed on.
The motion was tabled by Environment Minister Catherine McKenna and recognizes climate change as a "real and urgent crisis, driven by human activity" marked by extreme weather events. The motion moves that the House commit to meeting "national emissions target under the Paris Agreement."
Here's a complete list of every jurisdiction in Canada that's declared a climate emergency, according to climateemergencydeclaration.org:
Brampton City Council - June 5, 2019

Burlington City Council - April 23, 2019

Canadian House of Commons - June 17, 2019

Capital Regional District - Feb. 13, 2019

Regional District of Central Kootenay - April 11, 2019

Chatham-Kent Municipal Council - July 15, 2019

Colwood City Council - May 27 2019

Duncan City Council

-

July 15, 2019

Edmonton City Council - Aug. 27, 2019

City of Edmundston - Feb. 19, 2019

Esquimalt Town Council - Mar. 18, 2019

Greater Sudbury City Council - May 28, 2019

Halifax Regional Council - Jan. 29, 2019

Halton Hills Town Council - May 6, 2019

Hamilton City Council - Mar. 27, 2019

District of Highlands Council - Mar. 18, 2019

Islands Trust Council - Mar. 12, 2019

Township of King Council

-

July 8, 2019

Kitchener City Council - June 24, 2019

City of Kingston - Mar. 5, 2019

Langley Town Council - July 22, 2019

London City Council

-

April 23, 2019

Mahone Bay Town Council

-

Feb. 12, 2019

Milton Town Council

-

July 22, 2019

Mississauga City Council - June 19, 2019

Moncton City Council - Mar. 18, 2019

Nanaimo City Council - April 29, 2019

New Westminster Council - Mar. 11, 2019

North Cowichan Municipal Council - July 17, 2019

District of North Vancouver Council - July 8, 2019

Oak Bay Municipal Council

-

April 8, 2019

Oakville Town Council - June 24, 2019

Ottawa City Council

-

April 24, 2019

Port Moody City Council - June 11, 2019

Powell River City Council - Feb. 21, 2019

Prince Edward County Council - May 28, 2019

qathet Regional District Board - June 27, 2019

394 different municipalities in Québec since August 2018 (

see full list

)

City of Richmond - Feb. 4, 2019

Saanich District Council - Mar. 25, 2019

St. Catharines City Council

-

April 29, 2019

Sarnia City Council - June 17, 2019

Sidney Town Council - Mar. 25, 2019

Smithers Town Council - July 9, 2019

Sooke District Council - April 8, 2019

Squamish Council - June 2, 2019

Vancouver City Council - Jan, 16, 2019

Vaughan City Council - June 4, 2019

Victoria City Council

-

March 14, 2019

View Royal Town Council - March 5, 2019

Vuntut Gwitchin First Nation (Old Crow) - May 19, 2019

West Nipissing Council - April 23, 2019

District of West Vancouver Council - July 8, 2019

Whitby Town Council - June 24, 2019

Wolfville Town Council - May 21, 2019
Popular in the Community