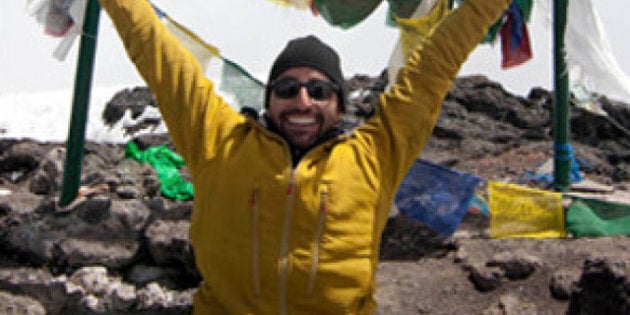 Exhausted and gasping, Spencer West focused on simply breathing, and putting one hand in front of the other. All around lay a moonscape -- grey, rock-strewn and lifeless. Small, loose stones bit into his palms.
In the thin air at 5,100 metres David Johnson and Alex Meers, West's companions, vomited from altitude sickness. Another day and more than half a vertical kilometre still lay between them and the summit.
To here, they had encouraged and carried him. Now the man with no legs realized it was his turn to support them.
There are times when the accomplishments of people in our life make us so proud that words barely do it justice.
Monday, June 18, our friend, Spencer West, reached the top of Mount Kilimanjaro. Although other disabled climbers have attempted Kilimanjaro and other mountains wearing prosthetics, West is the first person ever to climb Kili - and likely any significant mountain anywhere - on his hands.
We've been talking about West here for a while now, so it's great to see news media from around the world like NBC, BBC and People magazine catching on to his incredible story.
If you have not been following West's incredible journey, here's the recap: West was born with a rare spinal defect that resulted in both legs being completely amputated before he was six. Since then he has led his life ignoring limitations and redefining what is possible. This year he set a new goal: to climb Africa's highest mountain and raise $750,000 to bring clean water to communities in Kenya.
We spoke with West last week after his return from the top of the mountain, getting the story and his reflections on his journey.
On June 13, West and his friends launched their ascent from the base camp in the little village of Naro Moru. Those first hours saw the team trekking through tropical rainforest. "It felt like we were in B.C., with the large trees making a canopy overhead. It was all beautiful," West told us.
Low clouds made it impossible to see the mountain until jungle gave way to arid desert, and then West saw it, looming overhead.
"Looking up I thought, 'Oh man, what are we doing?'" West laughs.
Through the first several days, West travelled 80 per cent of the distance walking on his hands, only occasionally making use of his custom-made wheelchair or being carried by his friends or porters. West tells us that camping out that first night, and all the nights that followed, were not restful despite the fatigue. Sleeping on the rough ground wasn't easy and it was far colder than he had expected. Inside his sleeping bag he wore three layers of shirts, a fleece jacket and a toque.
Breakfasts consisted of bacon and eggs prepared by early-rising porters.
The second day brought fresh beauty. Ascending to 3,400 metres, the climbers passed through the cloud layer.
"All of a sudden we looked behind us and there was no more anything - just an ocean of white. It was like whole part of the world we had never discovered before," West recalls.
The day ended at a "tent city" of other climbers. West and his friends celebrated with a game of cards.
As the terrain grew steeper and more rocky, their guide Paul DeAngelis grew concerned about the possibility of injury for West. Even though West had spent a year training, the human arm is simply not meant to bear that kind of strain. West eased back to walking only half each day and being carried the other half.
West insisted on walking the last stretch into camp each night, however.
Carrying West was problematic. The route became impassable for the steel frame that had been built to tote West while he remained sitting in his wheelchair. From then on, West jokes, when he was carried he was wrapped up and strapped to someone's back, like a swaddled baby.
As the summit neared, the precipitous slope and sharp, slippery stones called scree made walking harder for West. He occasionally fell behind as his friends forged ahead. He admitted to us it was one of the few times in his life he wished he had legs so he could keep up.
As the air thinned and his friends suffered from altitude sickness, West says he moved in spurts, walking 10 to 15 minutes then resting. The climbers no longer spoke, focusing all their energy on moving and breathing.
"In my mind it was, 'Ok, right hand forward, left hand forward, breathe.' Literally concentrating on every step."
Then, on June 18, flanked by his two companions, West walked the final steps and set his battered palms on the highest point in Africa.
"It was beautifully overwhelming. We collapsed in a big hug and cried because we didn't know what else to do."
As the team descended, word of West's accomplishment had already spread down the mountain. Other climbers heading up offered warm congratulations as they passed.
For all those who have followed his story and supported him all the way to that moment, West hopes they will be inspired to redefine possible in their own life journeys.
We asked West what he has taken away from the experience.
"What I learned is that on any journey there are parts where you have to do it yourself, and times when you do it together."
West is still looking for people to join him to finish the final leg of his journey and reach his $750,000 goal to bring clean water to Kenyan communities.
Craig and Marc Kielburger co-founded Free The Children, and are authors of the new book Living Me to We: The Guide for Socially Conscious Canadians www.metowe.com/living.
Popular in the Community