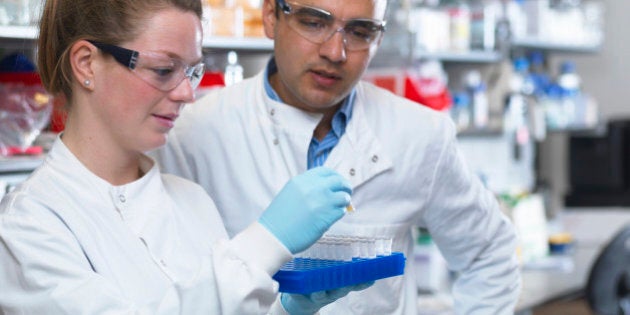 The Trudeau government is acting boldly to make support for science and research a key part of its innovation agenda. The idea is that by attracting more research investment into Canada, we can spark green economic growth and create good jobs for the middle class.
One area where we can excel is in attracting more clinical trials to Canada. It fits extremely well into what our government is trying to do as we try to boost our economy. It also has the added value of making our publicly funded health-care system even better.
You may be surprised to know that currently there are approximately 4500 clinical trials taking place across this country. These trials are research studies that involve people to tell us whether a therapy is safe and effective in treating and preventing disease. They are the cornerstone of our efforts to develop innovative treatments that will improve and save lives.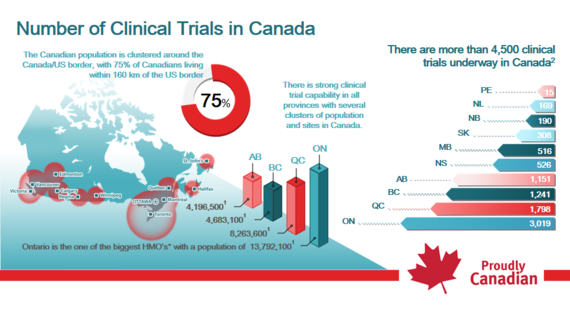 As development of innovative treatments becomes more and more specialized, so will clinical trials requiring a broader base of expertise to host, manage and evaluate.
Well-designed trials help to provide the evidence to determine whether an innovative therapy should be approved and made available to patients. This process is ongoing as new medications and therapies go on market and provide real world evidence of effectiveness and safety.
Without the informed consent of patients, we would not be able test new therapies that will provide better ways to treat cancer, heart disease, diabetes and a myriad of conditions. We owe these patients a debt of gratitude because their informed consent is instrumental in our fight against disease.
As an oncologist who came to Canada from India, I am deeply passionate about our Canadian health-care system and our collective ability to become a global leader in clinical research.
I have been privileged to examine how other countries including Australia, India and those of the European Union fare in creating the environment that attracts more clinical research and I believe that we have a distinctly "Canadian advantage".
First, Canada ranks in the top five nations globally in reputation for clinical medicine and overall science technology.
Second, our universal health-care system provides quality and cost advantages for conducting clinical trials. Simply put, our health care system provides patients with a high quality of care before, during and after a clinical trial.
Third, there is added value in our diversity. Our country is one of the most diverse in the world. This enriches us in in many ways and adds to the Canadian advantage because it allows for clinical research to evaluate the efficacy and safety of proposed new treatments on patients of various ethnic backgrounds.
The fourth and most important component of the Canadian advantage is our people. Canadians are among the most educated people on the planet. We also have exceptional centres of research across the country.
Last but not the least, we are fortunate that our patient community is very engaged and is an active participant and partner in improving all aspects of our health-care system.
Another action point of the Innovation Agenda is aimed at building world leading clusters of innovation. This is an additional part of the Canadian advantage because these clusters are firmly established across the country and doing more clinical trials will only make them stronger.
For example, Ontario is a top-ranked centre for cancer and stem cell research while Quebec has renowned centres for neuroscience and cardiovascular investigation.
B.C. is known for cutting-edge research in the expanding area of genomics. Saskatchewan and Alberta excel in virology. Manitoba is an international star in infectious disease and public health research while Atlantic Canada has exceptional facilities for vaccine research.
When packaged together, the Canadian advantage can open the door to more research and clinical trials. This in turn will help us attract the best and brightest from around the world and create jobs and economic spinoffs that will help to augment our resource economy.
However, not enough is known of the Canadian advantage outside of our borders and we need to do more to get the message out that Canada is the go-to destination for clinical trials.
Thanks to our health care partners, some great work is being done already. Since the Canadian Clinical Trials Asset Map (CCTAM) was launched in 2015, there has been a 40 per cent increase in the assets listed on the site.
But to make an even greater impact, we need to develop a pan-Canadian approach that involves the research and patient communities as well as health professionals, industry and all levels of government.
By working together, we can develop a better and smarter plan that will establish Canada as the go-to destination for clinical trials. The result will be better health care and more jobs and opportunities for Canadians.
Dr. Chander M. Sehgal, MBA, MD
Dr. Chander Sehgal is Executive Director, Access and Reimbursement Policy and Medical Affairs lead at Innovative Medicines Canada. An Oncologist by background he has worked in the life sciences sector in various capacities including Clinical Research, Medical Affairs, Health Economics and Outcomes
Research, Reimbursement Planning as well as Market Access.
Before joining Innovative Medicines Canada in August 2016, Dr. Chander Sehgal was Director of the Common Drug Review (CDR) and Optimal Use of drugs at the Canadian Agency for Drugs and Technologies in Health (CADTH). Chander has an MBA from the Richard Ivey School of Business, University of Western Ontario and completed a postgraduate program in Health Economics from the Center of Health Economics, University of York, UK.
Follow HuffPost Canada Blogs on Facebook