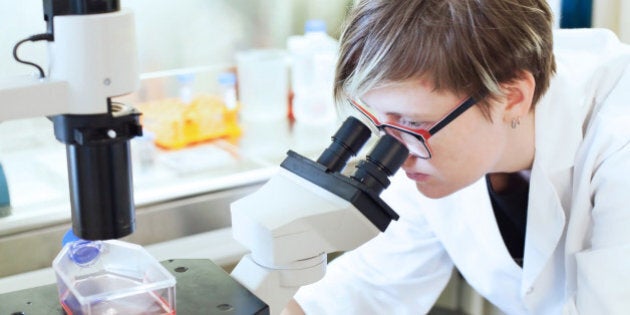 Over the past few decades, children's health has arguably made some of the greatest gains. Infant mortality in most developed countries has fallen dramatically from an estimated 30 per cent to less than one per cent. Infectious diseases, the primary cause of infant mortality, have been addressed with better sanitation and water quality, and the development of vaccines and innovative new therapies. Parents need only consider penicillin or vaccines for polio, whooping cough, meningitis, and chicken pox to get a sense of the stress that parents would have had just a few decades ago.
Underpinning this success was scientific research that grew in sophistication in the first half of the 20th century. After the Second World War, the concept of randomized clinical trials became the gold standard for health research and the foundation of evidence-based care by all health care practitioners.
A randomized clinical trial is a study in which people are allocated at random to receive one of several clinical interventions. One of these interventions is the standard of comparison or control. The control may be a standard practice, a placebo, or no intervention at all. These types of clinical trials seek to measure and compare the outcomes after the participants receive the interventions.
Clinical trials are essential to health care and there has been a concerted effort by the health research community to attract clinical trials to Canada. Countries strenuously compete for research investment and talent, and for years Canada saw its clinical trial activity decline. Innovative Medicines Canada -- my organization -- is a proud partner of the Canadian Institutes of Health Research (CIHR) and HealthCareCAN in the Canadian Clinical Trials Coordinating Centre, which is implementing an action plan to reverse this trend and strengthen Canada's position as a global destination for clinical trials.
Pediatric health research and clinical trials pose an even greater challenge that extends across the globe. Our research systems have challenges replicating randomized clinical trial models for paediatric research, due to a number of factors. These include the ethical dimension of receiving consent and assent to include children in research and clinical trials. The infrequency of many childhood illnesses makes it difficult to find enough participants for a clinical trial. That is why multiple sites are needed across many jurisdictions which increase the administration and management burden to conduct a trial. Smaller trials also require specialized methodological and analytical expertise, which is a skill set that can be difficult to acquire.
There are also fewer paediatric researchers. Canada does have some excellent researchers across the country and, this week, the Parliament Health Research Caucus held a reception on Parliament Hill showcasing their work. The Toronto Sick Kids Hospital is participating in international research trials for pediatric cancers, leukemia and Blood Disorder, blood and marrow transplant. CHU Sainte-Justine/University of Montreal are participating in a global clinical trials to treat and improve the quality of life to the 20 per cent of children who do not respond to standard cancer treatments.
Many of our companies work in this space or support paediatric research through organizations such as the Maternal Infant Child Youth Research Network (MICYRN). Between 2005 and 2009, over 300 clinical trials were conducted in Canada, with more than 50 per cent of those trials being run by members of Innovative Medicines Canada. Our own Health Research Foundation has also funded several studies in pediatric research -- focusing on issues such as obesity and mental health.
The Canadian Pediatric Society has consistently called for an integrated national research strategy for children that will help streamline clinical investigation processes, and attract clinical trials from around the world to make research opportunities available to Canadian children and researchers. Among its recommendations is for a national research network focused on the therapeutic needs of children, involving the private sector, governments and child health centres.
This initiative is gaining momentum. The Council of Academies has issued an Expert Panel report, chaired by Dr. Stuart MacLeod, from the University of British Columbia that contains a number of similar recommendations. A coalition of health organizations is also advocating for a Canadian pediatric clinical trials network under the name KIDSCan.
This initiative is inspired by the success of the United States, the EU, Japan and Australia who have undertaken national strategies and seen impressive results. In 2004, the UK founded the Medicines for Children Research Network with a modest investment of £11 million pounds -- and saw the number of trials increase from a handful in 2006 to 300 active trials annually. In 2010, in the United States, the National Institutes of Health awarded a $95-million contract to the Duke Clinical Institute to establish a Pediatric Trials Network. Working with its partners, it has created over 30 clinical research trials.
As one researcher recently told me, "Children are not mini-adults. They need a specific research strategy to help develop their treatments." Well said.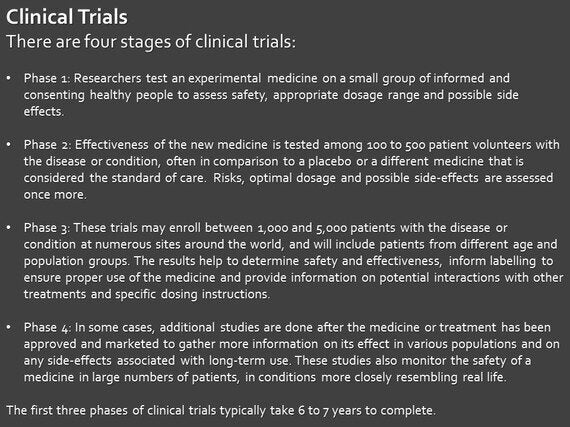 Follow HuffPost Canada Blogs on Facebook