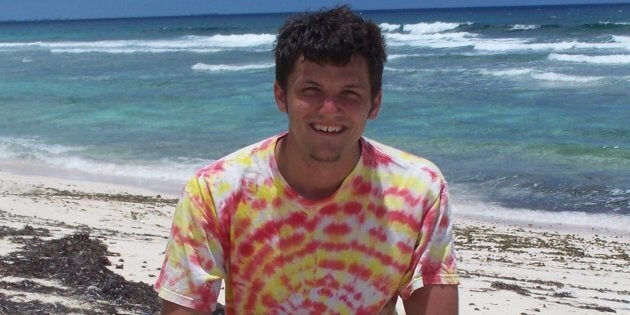 Clint Buffington doesn't remember exactly when he started being fascinated by messages found in bottles.
He says he was into them before he was aware of The Police's 1979 single "Message in a Bottle," and years before romance novelist and maestro of tears Nicholas Sparks penned a book with the same name.
As a kid, Buffington was told he was a "hopeless romantic."
"I have no idea where I first learned about them," he told HuffPost Canada, "but because I always loved writing and stories and the ocean, I suppose it was inevitable that I would become enchanted by messages in bottles."
The interest became "serious" after Buffington's parents found a message in a bottle while on vacation in 2006. The find was one of 150,000 bottles that Guinness Brewing dumped in the Atlantic ocean in 1959.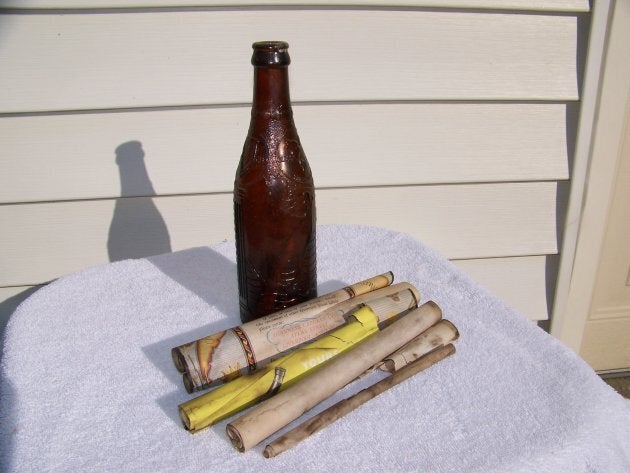 Buffington is now a writer and musician living in Utah with his wife, and that early enchantment with messages in bottles has bloomed into a full-blown obsession. He was "hooked" after finding his own very first bottle in 2007.
The 33-year-old runs a website aptly named Message in a Bottle Hunter, where he shares information on the bottled notes he's found — 83 so far. He goes on deep dives into the history and culture surrounding bottled messages. He debunks myths. He helps people with their own finds.
Buffington says one of his biggest joys comes from connecting someone who found a message with its original sender. The process involves plenty of digging on social media, "creepy people-stalking sites," and connecting with local journalists.
So far, Buffington has met 10 people connected to the notes he has found, some are the authors and others are family members of the now-deceased message writer. Some of these people have even become his friends.
In 2007, he found a note from one couple, Ed and Carol Meyers, who had sent a letter in a bottle to mark their first wedding anniversary. Here's what it looked like: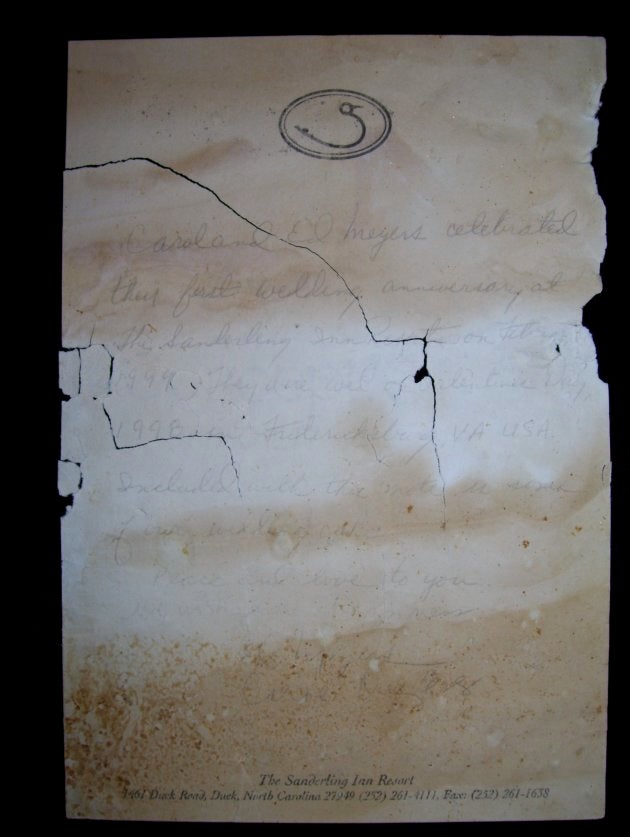 "Ed and Carol Meyers celebrated their first wedding anniversary at the Sanderling Inn Resort on February 14, 1999," the note read. "They were wed on Valentine's Day in Fredericksburg, VA USA. Included with this note is some of our wedding cake."
Normally, the story would end there, but Buffington wasn't done.
A year later, he reached out to a journalist in Fredericksburg, Cathy Dyson, and told her about his discovery. He needed help finding the Meyers. Dyson gave it a shot.
"Beach find Launches Quest," her story's headline read.
It worked. The Meyers read the story and eventually got Buffington's contact information.
"There they were! Real people! Still alive!" Buffington wrote on his website in a post detailing the experience. "It may have taken a year, but I finally found them. And they were still together!"
The Meyers sent him an email, confirming they were the couple who sent out that bottle in 1999.
"Send us a note; bottle optional," Carol wrote in the message.
Buffington did, of course, and a few years later he met the couple in Washington, D.C. They hit it off. The Meyers even made it to his wedding last year.
"I am not a metaphysical person, and yet it seems to me that messages in bottles are nearly magical," he says.
"The power they have to make friends out of total strangers is just intoxicating to me. I think each of us has a story to tell, and messages in bottles create a way for me to connect meaningfully with new people — people I never would have met any other way — and learn their stories."
His message hunts aren't always fruitful, of course.
One of the more recent unsolved cases began when a woman named Ines reached out to Buffington. She told him that she had found a message in a bottle at Vancouver's Second Beach, on the same day she went to send out a note of her own.
The message she found was supposedly written by an Andrew Smith from B.C.
"I wish to become an author for writing fiction. I live in a city called Richmond, B.C. close to Steveston. If you want to believe in your true inner strengths rather than weaknesses, th[e]n go ahead and do it," the letter read.
This was what Ines found on the second page: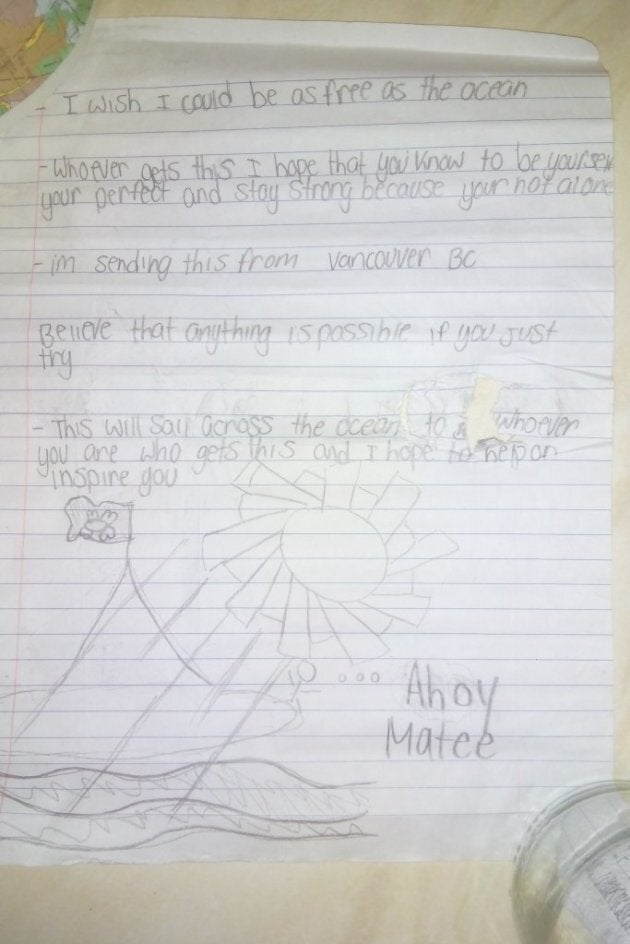 Buffington said he's surprised that he still has no leads on Smith. He wants the internet's help to connect Ines with the note's writer.
"If Ines knew Andrew Smith or anyone who knew him, this would be over by now. But the fact is they don't know each other — and they probably have no way to meet each other, except, perhaps, this message in a bottle," he says.
"To me, every time a message in a bottle is solved and the finder and sender get to meet — it's like witnessing the birth of a friendship."
Hobby shows extent of plastic pollution
Buffington says his work on the website and the Facebook page he runs alongside it have also helped him raise awareness about marine pollution.
"Whenever I go looking for messages in bottles, what I mostly see is plastic trash, and I feel strongly that we have to do something about this, he says. "I have seen osprey nests on the coast, for example, built with plastic rope that could kill chicks — or even unlucky adults."
Buffington says using plastic bottles to send messages isn't just potentially fatal to animals and birds, it's a terrible way to preserve a message.
Buffington said he recognizes that some people might see any kind of bottled message tossed into the ocean as "trash," too, but he feels differently.
"Really, all you have to do is deliver one — just one — decades-old message in a bottle to the children of the deceased sender to see that messages in bottles are not trash," he says.
"I mean, can you imagine what that would be like? If your beloved parents had been dead for years, and out of the blue, some guy shows up with a letter from them that has been floating around the ocean for 20 or 30 years?
This obsession with creating that emotional connection is what drives Buffington's hobby.
"One of the goals of my blog is to remind folks that there are good things happening in the world today — that most people are kind and good and want to be friendly," he says.
"That we can get along, if given the chance. And messages in bottles provide that chance for me."