Guys, it seems as if clip-on man buns are really a thing now. And we're unsure if this is a good idea, or a great one.
For all you men who have dreamed of flaunting a luscious topknot and getting your photo on Man Bun Monday's Instagram account, now is your chance.
With your hairy godmother, GroupOn, you can now achieve man bun status without taking the time to grow out your hair. For $9.99, you can get the bun in the shades of brown, black and blond.
"This attachable — and, equally important, detachable — man bun lets you blend in with your surroundings," reads the Groupon ad who targets, "The man who wears many hats, but no bun." No longer are the days of feeling like an outcast in "sports bars, motorcycle gangs, and the annual government-mandated machismo test."
"Putting it on when you smell fair-trade coffee or hear a banjo, and taking it off when someone utters the word "bro."'
That sales pitch, right there, is everything.
Now that we've got the clip-on man bun, should we expect the clip-on man braids next? We'll be waiting patiently.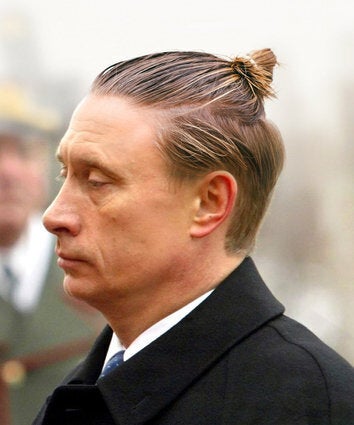 Politicians with top knots and man buns