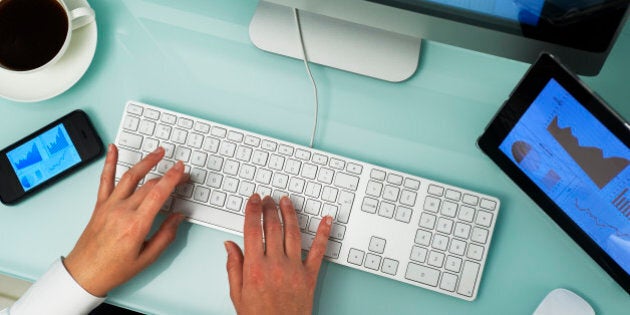 In today's digital age, you would be hard-pressed to find an industry that hasn't been transformed by technology. I've spoken about the dramatic shift in Canada's small business landscape in the last few years as we move away from the notion of the "mom and pop" shop down the street towards the innovative startup run by tech-savvy, digital entrepreneurs.
New technologies, cloud computing in particular, have also changed the face of the accounting industry, transforming the way accounting professionals collaborate with their small business clients and empowering them to expand their role from compliance officer to trusted business adviser. To keep pace in today's competitive, demanding, technology-driven world, accounting professionals will have to change the way they do business and become a "Firm of the Future."
If you haven't yet embraced the power of technology to grow your practice, here are a few things to keep in mind.
Keep up with the pace of change
Small businesses are migrating to the cloud in droves. A recent study found that 31 per cent of Canadian small businesses are currently in the cloud, a six per cent increase from 2014. If you're not following suit, you risk losing out to other firms who are able to harness this technology to collaborate seamlessly, share insights in real-time and reach a global customer base. In fact, a recent report by CPA Magazine revealed that 40 per cent of Canadian CPAs have embraced the cloud, and the rest plan on joining within the next two years.
In the cloud, you can build efficiencies into your business model, achieve greater collaboration and realize more time savings. For clients who use a payroll system or a CRM tool, cloud accounting software can give you access to a broad app ecosystem, helping accountants (and their clients) save hours of time managing their paperwork and administrative tasks.
Take advantage of new opportunities for growth
The days of storefront signs are out and the Internet is in. No longer are clients walking through your front door; instead, they're searching for you online. Current clients and prospects want to work with a firm that works the way they do: leveraging cloud technologies and using the web to drive customer and overall business growth. If they can't find you online, they will find someone else who is.
A key component of an online presence is to participate in social media. If you haven't done so already, you should update your LinkedIn profile and start engaging in at least a few of the many accounting groups available and participate in online gatherings, to help build your online brand. This will not only help prospective clients find you, but also give you the opportunity to connect with others in your field.
There is a huge opportunity for Canadian bookkeepers and accountants to reach a global market and deepen client relationships by migrating to the cloud, empowering them to expand their role as critical trusted advisers for their clients. In today's era of digital technology, if you're not harnessing the power of the cloud, you're missing out.
Follow HuffPost Canada Blogs on Facebook