Club Monaco is the latest retail chain to bring its collection to New York Fashion Week.
Following in the footsteps of J.Crew and Banana Republic, the retailer, which was started by Canadian designers Joe Mimran and Alfred Sung in the '80s, showed its first ever show at NYFW on Friday at New York's Grand Central Terminal.
Rather than showcasing spring 2017, the lifestyle brand decided to go a different route, unveiling 35 exclusive men's and women's fall looks that are a part of its "The New York Fashion Week Fall Collection." The womenswear featured feminine elements like ruffles and puffed sleeves juxtaposed with military-inspired pieces while the menswear line focused on elevated classics, such as finely-tailored outerwear and luxe cashmere and merino wool sweaters.
"Based on the evolution of Club Monaco and our New York heritage, the timing felt right for us to show at New York Fashion Week," said chief executive officer John Mehas in a press release. "We chose Grand Central Terminal as it remains one of the most iconic locations in the city and provides the perfect backdrop for our New York Fashion Week Fall collection."
The capsule collection is limited, available only in select Club Monaco New York stores, the Toronto flagship store on Bloor St. W. between Sept. 9-16 and online at ClubMonaco.com (for Americans only).
To see the full collection, check out the gallery below: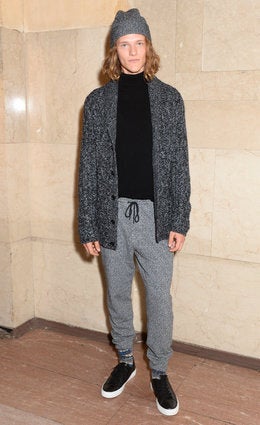 Club Monaco Limited Edition New York Fashion Week Collection Photos