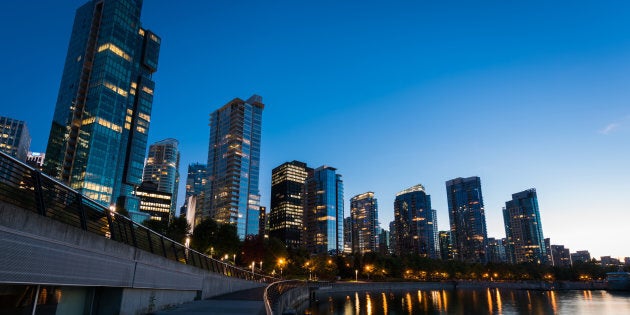 High levels of immigration, strong job growth and an aging population are among the reasons why it's becoming increasingly difficult to find an apartment for rent in Canada, a new report says.
Canada Mortgage and Housing Corp.'s latest rental market report found the country's apartment vacancy rate is falling, meaning there are fewer apartments available for rent.
The situation is particularly dire in and around Toronto and Vancouver, where many cities have crisis-level vacancy rates below 1 per cent.
Toronto's vacancy rate fell to 1 per cent in October of this year, from 1.3 per cent the same month a year before. That's the lowest rate the city has seen in 16 years.
"Rising costs of homeownership forced more people to seek and remain in rental accommodation," CMHC said in its report.
"House prices in the Greater Toronto Area reached unprecedented levels during the early part of 2017, making homeownership out of reach for the majority of potential first-time buyers."
That, in turn, led to rental rate increases, with the average rent up 4.2 per cent in Toronto. The average rent in Toronto is now $1,404 for a two-bedroom apartment and $2,301 for a two-bedroom condo. The CMHC report includes rates both for units on the market and already-occupied units.
Watch: Canada has a 30 per cent chance of a housing bust, Goldman Sachs says
In Vancouver, the vacancy rate rose slightly to 0.9 per cent, from 0.7 per cent a year earlier, suggesting somewhat looser — but still very tight — rental conditions.
"Despite record construction of new units, strong demand for rental accommodation kept the vacancy rates below 1 per cent for both primary rental apartments and rental condominium apartments," CMHC said.
Same-sample average rents rose by 5.9 per cent in the city over the past year. A two-bedroom apartment averages $1,552 while a two-bedroom condo averages $1,874.
What's Going On In Housing?

Our weekly newsletter delivers the news and analysis you need on Canada's housing market. Sign up below and don't miss an issue.
For Canada as a whole, the vacancy rate dropped to 3 per cent from 3.7 per cent a year earlier. The current rate is in line with the 10-year average. The average rent nationwide rose 2.7 per cent, to $947.
The report notes that a number of trends are coming together to increase demand for rental housing. One major one is international migration; Canada increased its intake of of immigrants in 2016, and new immigrants tend to gravitate to rental housing.
Another is strong job growth among younger workers, who are a key part of the rental market. The rate of job growth for the 15-to-29 age group has accelerated over the past year, further increasing demand, the CMHC said.
"The continued aging of the Canadian population also contributed to the increase in occupied rental units this year, as the propensity to live in rental housing tends to rise as people enter retirement age," CMHC added.
Highest vacancy rates on the Prairies
The Prairie provinces, still recovering from the oil price slump of recent years, clocked many of the country's highest vacancy rates.
But CMHC says the slumping rental markets in Prairie cities are beginning to improve. Calgary's vacancy rate fell to 6.3 per cent, from 7 per cent, while Edmonton's fell to 7 per cent from 7.1 per cent.
Still, that wasn't enough to keep rental rates from falling in many Prairie cities, including Calgary (down 1.6 per cent to an average rent of $1,128), Edmonton (down 1.3 per cent to $1,101) and Saskatoon (down 1.5 per cent to $999). Regina bucked the trend, with rents rising 0.5 per cent to $1,026.
Montreal, which has seen something of an economic boom over the past year, saw its vacancy rate fall to 2.8 per cent this October, from 3.9 per cent a year earlier, roughly in line with the national average. Rental rates stayed steady, with a two-bedroom apartment averaging $782.