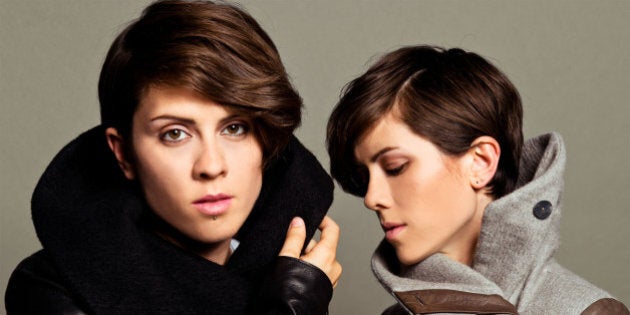 If you've had the pleasure of indulging in Canadian Music Week even once during the Toronto based festival's 33-year history, chances are you braved some frigid winter weather to do so. Despite having always taken place smack in the middle of March, CMW has managed to grow in to one of the country's biggest new music festivals, combing a week of live performances from over 1000 musical acts with conferences, award shows and both film and comedy events.
The good news is, you'll never have to do that again as the festival's organizers have up and moved the whole production two calendar months just in time for spring -- thought there has seemingly been some tension surrounding the festival's encroachment upon North By North East, which has long taken place in June.
Set to officially begin this upcoming Tuesday May 6th and run until Saturday May 10th, CMW 2014 will feature over eight hundred artists performing in 60+ venues around the city. This year's headliners include hip-hop powerhouse M.I.A. -- who kicked off the festival early with a dynamite small club show this past Saturday -- as well as pop sensations Ellie Goulding and Tegan and Sara, Canadian favourite City & Colour (who will perform at the Air Canada Centre for the first time on May 9th), Neko Case, New York art-punk legends Television, The 1975, Flatbush Zombies, The Operators and more.
The festival will also once again host its highly regarded annual conference, which will run daily at the Toronto Marriot Downtown Eaton Centre Hotel beginning Tuesday May 7th, and will bring together thousands of industry professionals across various platforms including songwriting, music publishing, touring, radio and digital media, to stimulate the exchange of market intelligence, provide networking opportunities and generate dialogue around current issues facing the music industry today.
Those that have purchased wristbands to the conference portion of the festival will also have the opportunity to sit in on a number of keynote presentations with the founders and CEO's of some of the industry's most cutting edge companies including Beatport, UK-based The Beggars Group (who have had a hand in managing the successful careers of everyone from Adele to Radiohead), SFX Entertainment, Glassnote Entertainment Group and countless others. Wristband holders will also have the chance to attend celebrity interviews with the likes of Dallas Green, Canadian EDM superstar Deadmau5, the social media queen of rock'n'roll herself Amanda Palmer, legendary hit maker Nile Rogers (the disco pioneer who most recently won a Grammy with Daft Punk for "Get Lucky") and this year's guest of honor, the legendary producer Quincy Jones.
If you're more of a film buff, not to worry, the CMW Film Fest has you covered. Held at Toronto's The Royal Cinema (May 8-10), the films on this year's docket pay homage to musical legends including Jimmi Hendrix, Johnny Thunders of The New York Dolls and Elliot Smith.
If you're looking for a laugh, be sure to checkout this year's CMW Comedy Fest, which is being headlined by the hilariously grotesque, Tom Green (May 9 & 10 @ Yuk Yuk's Toronto) and Canadian comedy sweethearts Kenny Hotz & Spencer Rice (May 6 & 7 @ Queen Elizabeth Theatre), with additional performances by international Youtube sensation Miranda Sings (May 8 @ Queen Elizabeth Theatre) and standup comedian Sebastian Maniscalco (May 8 @ Elgin & Winter Gardens). In fact, if you're a foodie, CMW 2014 has you covered in that department as well. Dine Alone Records founder Joel Carriere and Alexisonfire's Jordan Hastings, are set to launch their latest venture, Dine Alone Foods, next week.
Article continues after slideshow
The company will be teaming up with TorontoFoodTrucks.ca to give away free samples of their new all-natural line of BBQ and hot sauces at various locations between May 6th and 10th. Locations and times of the giveaways will be revealed leading up to the event through a series of exclusive social media clues via @dinealonefoods and @foodtrucksTO using the hashtag #Tweet2Eat.
You can also snag samples at Let's Be Frank (689 King St. W.) which will be offering exclusive Dine Alone dogs (three hotdogs each featuring a different Dine Alone Foods sauce), while Hogtown Smoke food truck will offer a special Dine Alone sampler platter featuring various food and sauce pairings along with a music download card for a 22 song sampler from Dine Alone Records.
Of course, no festival would be complete without a whole slew of industry based award shows –– CMW will host four over the course of the week ahead. The Crystal Awards (Wednesday May 7th) will honor the best in Canadian radio marketing and advertising while The Radio Music Awards (Wednesday May 7th), which serve to showcase the country's newest radio "buzz" bands, will feature performances by: Down With Webster, Walk off the Earth, Trevor Guthrie, Head of the Herd, Tyler Shaw, Brett Kissel and Virginia to Vegas.
On Thursday May 8th, The Canadian Music and Broadcast Industry Awards will honor the year's best in radio, promotions, booking and live touring as well as in retail, recording and music journalism. This year, the CMBIA's will also honor Tom Cochrane with an induction into the Canadian Music Industry Hall of Fame. Last by not least, on Saturday May 10th, the SiriusXM Indies (which are an annual "hot ticket") will take place at the Kool Haus and feature performances by: Little Dragon, The Hidden Cameras, Hollerado, Born Ruffians, Mounties, Ponctuation and The Strumbellas.
Limited tickets are available for most of this year's award shows and can be purchased directly via the festival's official website.
For this year's full festival lineup, scheduling and additional information or to purchase a wristband for Canadian Music Week 2014, please visit CMW's site.