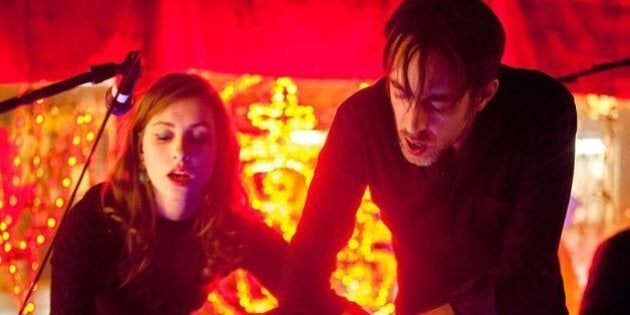 Canadian Music Week's move from March to May robbed it of its proximity to SXSW, which had previously allowed the industry heavy conference to book many of the same acts that were already heading to Austin, and put it in spitting distance of the younger but bigger festival NXNE. These two facts perhaps forced the fest to step up its game, bringing in better than usual international and big name acts for both the festival (Ellie Goulding, City & Colour, Neko Case) and conference (Quincy Jones, Deadmau5, Nile Rodgers).
More importantly, discovery is the supposed raison d'etre of these fests and CMW 2014 delivered with the best buzz band in recent memory, Operators, an electronic rock group so good that first night I went and saw them again the next two nights, too. I wasn't alone, either.
Operators' main man Dan Boeckner is not new, of course, having emerged a decade ago with Wolf Parade before launching one of my favourite Canadian bands, Handsome Furs. Still, it's not easy for even well-known acts to play new songs to hardcore fans and Operators didn't have any old hits to keep the momentum going.
(Well, they did have one each night, with Japandroids squishing onto the stage of the tiny Silver Dollar to help cover Wolf Parade classic like "This Heart's On Fire" and "Shine a Light.")
In fact, Operators are so new that these were among their first shows ever, and Boeckner decided to not post any of the music online beforehand -- "I wanted the first time anyone heard these songs to be in a fucking club," he said with a grin on night one -- so we were all going in cold. But the show heated up quickly. The new synth-fuelled songs hearken back to Handsome Furs, but with a brighter and even more electronic vibe that reflected the rise of EDM without ever pandering to it.
You know how Arcade Fire claimed they were going to make a dance-rock record? Well, Bockner actually delivered on this challenging fusion. Though he occasionally strapped on the guitar, both he and electronic instrumentalist Devojka were primarily focused on using machinery to ramp up their dance jams, mixing dirty basslines, programmed beats and sternum-rattling synthesizers with the incredible drumming of Sam Brown from Bockener's most recent band Divine Fits (and New Bomb Turks before that).
Boeckner's joyful modesty about the turnout -- "Nobody's ever heard the band so this is fucking sweet. I thought there'd be a handful of people!" -- was adorable, but they delivered so thoroughly on tunes like "Ecstasy in my House," "System of Touch" and "I Die" that even he has to realize that the metaphorical brass ring is finally within reach.
Before the third night's set, Boeckner told me that they'd been working on the songs for about a year, but still haven't signed to anyone. So who knows when the music will come out, but in the meantime I'd suggest catching each and every show that you're anywhere in the vicinity of. The small venues they're playing now won't be in their future for long.
But Operators were one of about 1000 acts who were in Toronto over the past week to perform at Canadian Music Week. Here are the rest of our highlights:
Article continues after photo gallery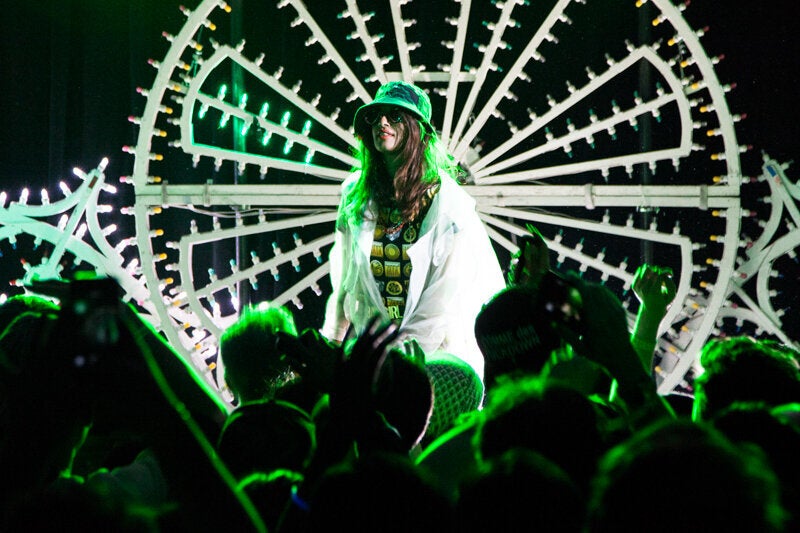 Broods @ Drake Underground:
It's often too easy for critics to lump artists from a geographical location together, so let's just state for the record that New Zealand is not the new Seattle. That being said, Broods, the new it alt-pop act coming straight outta Auckland, do share producer Joel Little with Lorde. The bother-sister duo, Georgia and Caleb Nott, were bolstered by a touring drummer and did indeed deliver on the hype the comes with being associated with Lorde. Their synth-pop sound is a little richer, a little more informed by the sonic soundscapes of Drake and Weeknd, though Georgia's strong vocals aren't as distinctive. Consider them more the Solange to Lorde's Beyonce.
M.I.A. @ Tattoo Rock Parlour:
Maya Arulpragasm's very first show was in Toronto back in 2005, at the tiny Drake Underground, and nearly a decade later she returned to another small venue -- not because she's lost her draw (though her cred is somewhat more tarnished these days) but because her planned free show at Yonge-Dundas was kiboshed last-minute in favour of this underplay at Tattoo Rock Parlour to 400 lucky lottery winners.
Her original hits, like "Sunshowers" and "Galang," still stun with their powerful rhymes and chants ("Ya! Ya! Heeeeeeyyyyy!") and it's hard to believe they're ten years old. The biggest difference, however, is how much better of a performer M.I.A. is now than back in those early days, a point brought home during "Paper Planes" when she jumped up on the bar top, eventually making her way to the back of the room where, complaining about the sound mix, she proceeded to rip up "Bad Girls" a capella. She might not be much of a bad girl herself any more, but she sure still does it well.
Meg Meyers @ Drake Underground
One of the best parts of a festival like CMW is showing up early for a set you wanna see only to be surprised by an act tube never heard of. That was the case with Meg Myers, a Nashville rocker transplanted to LA who sounds like a 90s alt-rocker despite being born in the mid-80s. She commanded the small stage with powerhouse vocals and a crushing scream backed by an tight band, including a fantastic electric cellist who gave the music a distinctive twist.
Come As You Are @ The Great Hall
The "Come As You Are" concert was a great idea -- a fundraiser for mental health issues pegged to Kurt's death-a-versary and featuring a stellar and diverse lineup of local acts reimagining Nirvana songs, from ESA's Jamme Choir having kids croon "Come As You Are" to Biblical absolutely crushing lesser-known "Bleach" track "School" to a cabaret version of "All Apologies" performed by Light Fire's Regina (the drag persona of indie stalwart Gentleman Reg). The only down part was that everyone played a single song, meaning every five minutes there was a ten-minute set change.
Ellie Goulding @ Kool Haus
British pop star (not to be confused with Brit-pop star) Ellie Goulding has crossed over the pond during the last few years largely on the strength of her powerhouse vocals laid atop EDM radio hits.
The live show, however, is more of a live show, somewhat to its detriment. Pop-rock has always been a hard nail to hit and Goulding was coming on after pop-rock experts Tegan and Sara, who are apparently so popular now that a good chunk of the crowd at Chum FM's FanFest departed after "Closer." For much of Goulding's show, the band she'd brought lacked the spark of her recorded dance hits (though maybe they were tired out, as this was the final show of a 40+ date world tour). It didn't help that Goudling really only has a handful of hit singles over here, which she saved for show's end run.
She's a genuine vocal talent, and based on her ab-baring outfit, hair whips and belly-dance hip swivels she's got the looks and moves, too. All she needs is a few more songs as strong as "Lights," "Need Your Love" and latest smash, "Burn," which end the show on an appropriately fiery note.
Brody Dalle @ Horseshoe Tavern
Two songs in and Dalle's full-throated razorblade rasp was fully on offer; three and we all got to bask in and thrash to a Distillers song ("I Am A Revenant") that peeled the paint off the walls. The rest followed from there. Dalle went from givin' it to givin'er, reminding us why we were knocked senseless by her a decade ago. Punk rock's recent resurgence, to me, seems rooted in a happier kind of couture punk, so it's great that in Dalle et al. we have a counterbalance that brings something forceful and nasty to the stage, and that in her new songs (from 2014's "Diploid Love") she hasn't lost any of what made her so very special to us all those years ago.
Mozart's Sister @ The Garrison
Sometimes, hastily scribbled notes are the best. The first things I wrote about Mozart's Sister's set last night, unedited, read as such: Futuristic 80s dance music, full of passion and pathos, sexy and sensual and energetic and pulsating. Constant, like a mathematical concept; dynamic, like the dictionary definition; beautiful, like the first time you realize that music can indeed change the world. If only people in Toronto danced at shows, if only people in Toronto danced at shows, if only people in Toronto danced at shows.
After I wrote those words, the unthinkable happened: people in Toronto started dancing. Which was beautiful. Which stirred the bold and boisterous Caila Thompson-Hannant further into her hypnotic onstage self, as she and her partner cranked out synthy dance pop masterpieces one at a time until even the most jaded standstillers (i.e. me) were won over. I cannot stress enough how wonderful this set was. It was the best set I've seen all year. I've seen Mozart's Sister before, and it's always been wonderful, but something about last night was fully triumphant in a way that I can't explain and don't understand.
Box Tiger @ Horseshoe Tavern
Toronto/Portland, Maine outfit the Box Tiger captured hearts with their energetic, artful rock. Vocalist/guitarist Sonia Sturino has something very special going on; she sings with her whole mouth, bringing forth a rich, deep, and beautiful sound reminiscent of the Heartless Bastards' Erika Wennerstrom. She's also funny onstage, at one point telling us "This song is called 'Two Weeks.' It's about a bunch of bullshit." Ostensibly, this was a song about a relationship. Sturino could be Toronto indie rock's next It Girl, but she's so much more than that. Keep her and the Box Tiger in mind next time you see them on a bill.