According to new figures released by the Alberta Energy Regulator (AER) the total amount of bitumen emulsion – a mixture of tar sands heavy crude and water – released on Canadian Natural Resources Ltd.'s (CNRL) Cold Lake Site is now more than 1.5 million litres, or the equivalent to more than 9,600 barrels of oil.
The reported amount has grown from an initially estimated 4,450 litres or 28 cubic metres in late June, according the AER's website.
The figures, made public by the AER, are reported to the regulator from CNRL, prompting onlookers to raise concerns about industry self-reporting.
Bob Curran from the Alberta Energy Regulator says that it is normal for companies to report spill volumes and rates in incidents like these. Although, he adds, "these aren't numbers that we're saying we've 100 per cent verified but these are numbers that are being reported to us. I think there's an important caveat on that."
The seepage, which reportedly began in early 2013, although wasn't officially reported to the public until late May, is occurring on sites where CNRL uses High Pressure Cyclic Steam Stimulation (HPCSS) to recover bitumen from deep reservoirs. The process uses a combination of high pressures and temperatures to fracture the rock surrounding bitumen deposits. Super hot steam melts and pressurizes the bitumen, allowing it to surface up a wellbore.
Currently, on at least 4 CNRL sites, pressurized bitumen is leaking to the surface through uncontrolled fissures in the ground. Both the AER and CNRL are unable to explain the cause of the spill or say when it might stop.
The AER didn't immediately announce the incidents to the public. The AER's Bob Curran told Postmedia News, "The first three incidents were quite small compared to this last one. There were no public impacts, there were negligible environmental impacts. No real trigger to put out a news release."
Blog continues below slideshow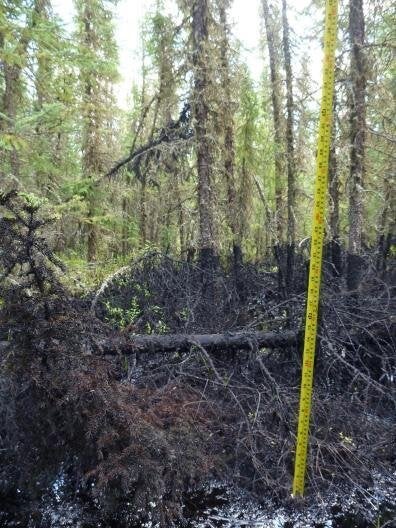 CNRL Leaked Oil Spill Photos
Crystal Lameman, member of the Beaver Lake Cree Nation whose territory includes the Cold Lake spill site, says she's frustrated with the AER's tendency to minimize the incident and its impact.

"The mere fact that they are the ones that determine what is minimal when it doesn't directly impact them – that concerns me. I'll be the judge of what is deemed minimal when toxic water is spilling out on the land in our traditional territory. So just because it may at that time have not affected a human being, it affects those beings that cannot speak for themselves and those beings that we have the constitutionally protected right to fish and hunt. But if they're drinking toxic water and breathing toxic air how can they guarantee to us that those animals are in their purest form?" she said.

"I have a real issue with the way that they determine what is minimal, what is of concern, what is a lot, what is a little. That concerns me because thus far, since they've changed their name from the ERCB to the AER, I've seen nothing but a bad track record in the way they report, in the way they provide comment, the lack of expediting information to local First Nations people. What I've found is that we're often the last ones to find out about these spills."
The released caused the death of 2 beavers, 49 birds, 105 amphibians, and 46 small mammals, the AER reports. Clean up and containment efforts are still ongoing and the early stages of a subsurface investigation are underway.
The AER and Alberta's Energy and Sustainable Resource Development have launched provincial investigations and recently Environment Canada announced a federal investigation is also being undertaken.