The picture, taken by Oklahoma dad David Brinkley, was shared by the page Love What Matters. In the post, Brinkley explains that he overheard a conversation his wife, Alora, had with a friend about sleeping in the same bed as her children.
"Doesn't your husband hate that? My husband would never let me do that," the friend said.
The statement stuck with Brinkley, so he decided to share his thoughts on co-sleeping in a moving post.
"I do NOT hate any part of what makes my wife the mother that she is. I would NEVER degrade or disregard anything that she feels like doing for my children," the father of two wrote. "Do I have to squeeze into a small corner of the bed sometimes? Yeah? But my God how beautiful does she look holding my children? Making them feel loved and safe?"
Defending his wife against co-sleeping criticism, Brinkley argued that the relatively short time period of childhood means mothers are allowed to try to enjoy every moment they can.
"Eventually our babies get bigger they grow up they get 'too cool' for snuggles so why would we as men want to steal a single second of this time from them?"
"I am proud of the decisions my wife makes as a mom and I support every single one of them," he concluded. "I would never want to rob her of this time she has or these seasons that are in reality too short to not enjoy. Please respect your wives as mothers."
Many Facebook users were divided on the issue. While some praised the father for letting his wife embrace her duties as a mother…
.... others were quick to criticize based on the potential health dangers posed by the practice.
This is because of the risks of suffocation due to soft bedding, the chance of adults rolling over and the chance of children getting trapped between an adult's body and a wall or other objects.
The American Academy of Pediatrics (APP) also states that co-sleeping is a SIDS risk and advises placing babies on a firm mattress on their backs as a precaution.
"Having baby in the room with you or in an attached bedside sleeper (also known as separate-surface co-sleeping) are both considered co-sleeping," James McKenna, director of University of Notre Dame's Mother-Baby Behavioral Sleep Laboratory, explained to The Bump.
Some commenters on the picture also criticized the mom for putting her kids before marriage, which is surprising, considering it was her husband who posted it in the first place.
"My husband's point was that we can be all the roles we need to be without having to pick and choose which one has to come first," she wrote in a lengthy post. "That is only possible with the right kind of love and support and encouragement which is what he gives me every day of our lives. Do I still get frustrated and emotional? Of course! I am a human. But I will not apologize or say that there is anything wrong with this picture."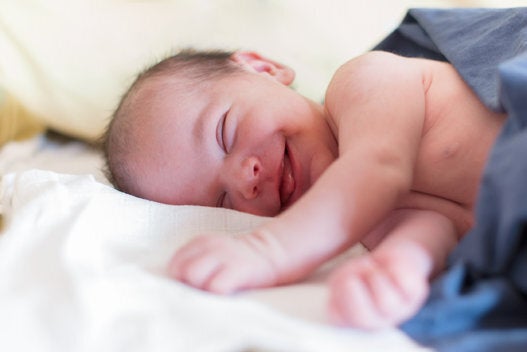 7 Things All New Moms And Dads Need To Know