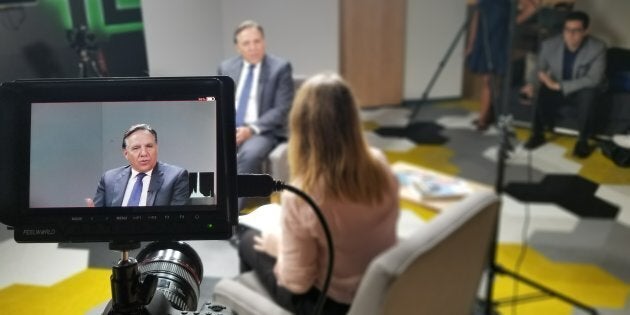 MONTREAL – François Legault, a former Parti Québecois minister who is riding high in the polls and may well be elected the next premier of Quebec, refuses any comparison between himself and U.S. President Donald Trump. But the leader of the Coalition avenir Québec (CAQ) nonetheless believes we must "learn from" the creator of "The Apprentice" south of the border.
The U.S. elections clearly revealed the split between more cosmopolitan and ethnically diverse cities, and rural areas, where the base is whiter and more conservative. Among the latter, many are worried about being forgotten among calls for "inclusion" and "diversity."
And just like elsewhere in the world, Quebec is no stranger to this disparity between the cities and the regions. Especially outside the Island of Montreal, among the French-speaking electorate, it looks like the CAQ could make significant gains.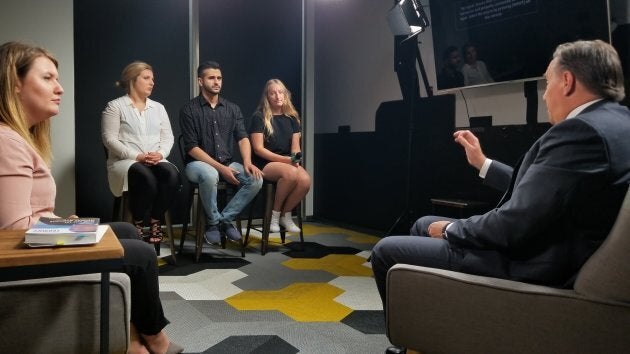 In an interview with HuffPost Québec, Legault stated unequivocally: there is a part of the population worried about the integration of immigrants. This concern, in some cases, is "very exaggerated," he added, but very real. "Let's stop ignoring the problem," the CAQ leader argued.
His party plans to impose a "values test" and a "French language test" on new arrivals, who will need to pass these exams within three years of arriving in Quebec; otherwise, they will not receive their selection certificate and will therefore not be able to become Canadian citizens.
They would then be considered "illegals" or "undocumented" and it would be up to the federal government to deport them, as the case may be. Justin Trudeau's federal government has already indicated that the CAQ's proposal would not be compatible with their current policies.
Legault is concerned about 'outbursts'
"We can't start welcoming too many people who don't believe in equality between men and women," Legault emphasized, without saying exactly what that means. "We're sending a message that in Quebec, women are equal to men. So if you are coming to live in Quebec, you need to accept it.
"There have been outbursts in the U.S. There have been outbursts in France. If we want to avoid outbursts, we need for there to be a kind of sandbox to say here's what we accept and here's what we don't," he added.
We can't start welcoming too many people who don't believe in equality between men and women.CAQ leader François Legault
On the other hand, the party is proposing a "real" charter of secularism and plans to ban the wearing of religious symbols for those in positions of authority, like judges and police officers, but also for teachers and daycare teachers.
"We're creating a framework to tell people who, let's say, would be racist: 'Don't go too far.'"
"Let's say there's a woman teaching a girl who's five, six, seven years old. Often, the teacher is seen as a model by her students. If the teacher is wearing a religious symbol that shows maybe that women aren't equal to men, what message does that send to the little girl?"
With these policies, Legault hopes to calm the fears of concerned voters and also bring an end to the debate about identity.
"By saying that new arrivals have to pass a French test, a values test, we ban the wearing of religious symbols for people in authority, we've just established a framework to tell people who, let's say, are racist: 'Don't go too far. This is the framework. Let's work within this framework and put [the debate about identity] behind us.'"
Pushing back against claims of being unrealistic
"Left" and "right" are "political qualifiers that are a bit outdated," said Legault. The CAQ leader has referred to his party in the past as being "far centre."
The CAQ is attracting both former separatists, including Legault himself, and former Liberals, people seen as being more to the "left," and also "libertarian" members. The idea of a CAQ melting pot also applies to its promises.
For example, the party promises to invest massively in education: "If you look at just that element, we could look more like a left-wing party. When you focus a lot on the economy, usually you're seen as being more on the right. So it depends on the issues."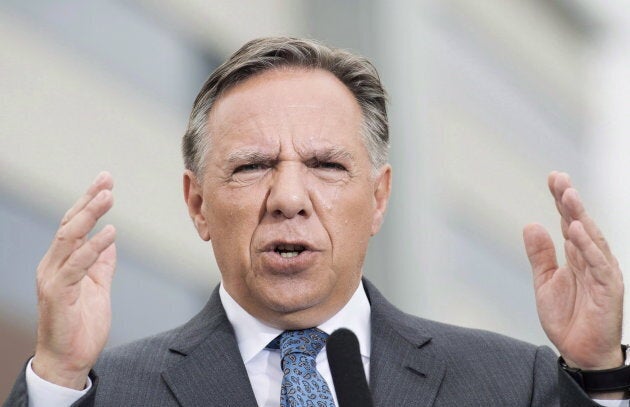 Legault promises more services for children, families and the elderly, while at the same time promising to lower income tax, school taxes and to present balanced budgets. His opponents are accusing him of making unrealistic promises.
"We need to get rid of the opposition between services for families and their pocketbooks. We have to work on both," Legault said. "Me, I'm an accountant, I'm a businessman. It's important for me to stick to the budget and yes, to continue paying down the debt. It's a question of fairness."
He said that there's "no question of cutting services in any area," but that he plans to make cuts on the bureaucratic side. He announced the elimination of 5,000 public service positions as of his first term.
SPEED ROUND
Are young people lazy?
Legault made headlines in 2012 for having said on social media that young people in Quebec were only concerned with "living it up."
Does he, who worked 80 or 85 hours per week when launching his company Air Transat, find that young people are lazy? "No, not at all. I think that, without forcing anyone to work hard, we shouldn't devalue it either," he said.
"All we're saying is: we have to empower our entrepreneurs and help them. We are still living in a society that has a deep Catholic past, where it's not always seen as a good thing to start a business."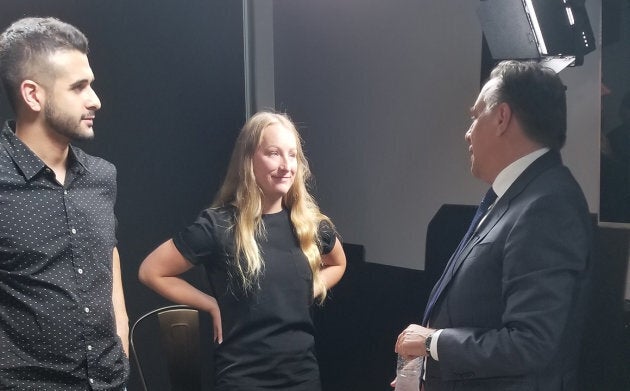 'Balance' in developing natural resources
Legault finds the time it takes to obtain permits for the development of natural resources in Quebec excessive and believes it makes the province less competitive. In his view, we must once again "find a balance" between social acceptability and the environment.
"Is it possible, without changing the terms, to shorten the wait period? Because we know that in the metals industry, it's very cyclical. So if a company has a project and the price of the metal is favorable, but it takes two to five years, there is a risk that the price isn't favorable anymore."
However, he is against development in the St. Lawrence Valley. And if TransCanada tried to revive the Energy East project, he would completely shut the door to them.
'We won't do like Justin'
The CAQ is committed, as are the Parti Québécois and Québec solidaire, to have a mixed-member proportional system in place in time for the 2022 elections.
Is Legault committed to keeping that promise? "Absolutely. We're going to put forward a bill in the first year. [...] We won't do like Justin [Trudeau]!"