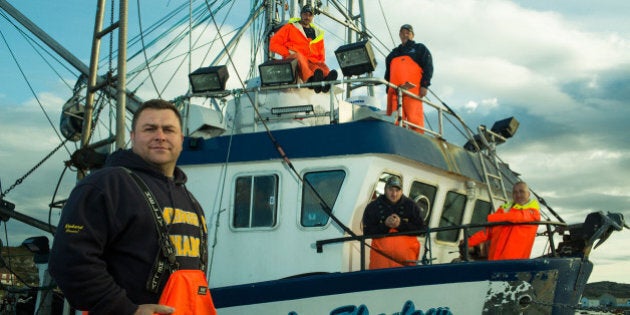 Life at sea is no picnic for the tough Newfoundland fishermen featured in Discovery's latest reality show, "Cold Water Cowboys." To haul in a profitable load of fish, they battle icebergs, hurricanes, days without sleep, frigid North Atlantic waters -- and each other.
The show follows six crews throughout a fishing season as they chase after everything from crab to mackerel to capelin. They can reel in as much as $60,000 for one trip if everything goes well, but there are a lot of challenges to overcome along the way.
HuffPost Canada TV caught up with Richard Gillett, captain of the Midnight Shadow, to find out more about what life 200 miles off shore is like living in close, close quarters. He regaled us with tales of abandoning ship, the thrill of the chase, and the perils of life at sea.
HuffPost Canada TV: What do you think people would be surprised to learn about life at sea when they watch the show?
Richard Gillett: I think they're going to be surprised at how close the quarters are. And I think the long hours of fishing that we do, and sometimes the conditions that we face. It's just not so simple as going out in the ocean and coming back with your fish. If it was, you wouldn't call it fishing, you'd call it catching! There's always adventure on the water.
What are some of the biggest dangers at sea?
There's a lot. The one we most don't want to encounter is a fire. If there's a fire on a boat -- wood and fiberglass is very, very flammable -- if you do have a fire, you've only got seconds, not minutes, to react and get a mayday out and get off the boat. Anytime that we're fishing offshore, the water temperature is hovering above the freezing mark. If you're in that water without a suit on, five minutes, seven minutes ... seven, you won't know much about being in the water. You'd be gone past the stage of any response with hypothermia.
Have you ever had a fire on your boat?
Nope, I've never had a fire on the boat. Knock on wood! I don't want a fire. But I have lost a couple boats. I have had a couple boats sink on me. I've been in some scrapes. My Dad always told me that I've got two guardian angels working overtime on me.
The first one was actually the first boat that I bought when I decided to branch out from my Dad. I lost that one 250 miles north of here. We got caught in a big storm, 73 knots of southeast wind and 14 metre swells. So we had hurricane-force winds. There was an ice floe next to us, so we tried to pull in that to get some shelter, and it happened to be that ice floe was what done us in.
The ice was just pounding the boat, and an iceberg come on down through the ice and we couldn't maneuver. And the iceberg hit the boat, and it almost flipped the boat right over. At the time, she was only a wooden boat. And when she was coming back down you could hear the timber cracking and banging and splitting. And the water started coming up the fish hole. I gave orders to the guys to get off the boat. And we got out into a lifeboat. I got a mayday out. Didn't know whether the mayday got out or not. And we were in the ice floe with the swell, and at that point the iceberg had moved on. And we seen a great big boat coming out of the fog, out of the sleet rain and the snow. And it was good to see that coming, I can tell you.
How did you get into fishing? Was it through your Dad?
Yeah, it was through my Dad. When I first started we'd go hard. Our hands would be so tender and swollen that we couldn't do up the buttons on our shirts. My Mom used to have to come out and do them up for us. You wouldn't be able to straighten out your fingers. I was only a boy then, but you're expected to a man's work.
It sounds really tough. Why do you love it so much? What's your favourite thing about fishing?
Freedom. When you're on the water and you're steaming out of the harbour and you've got a wide-open ocean, you're really king of your castle. It's a natural high. You're always chasing that feeling you get when you've got a load of fish and you're on the way back to the dock to unload this fish. We'll be coming in with the music blasting. Everybody's happy. There's absolutely no other feeling like it.
What was it like having the TV crew aboard? Do you have any funny fish-out-of-water stories?
No! But it wasn't very long before we picked out nicknames for them. [Laughs] Matty was the director and Ian was the cameraman. Matty used to interview me and then he'd say, "Say it again!" And I'd say it again. So anyway, I went and got the Midnight Shadow coats and caps, and what I put on his sleeve was "Matty Say It Again." And Ian when he came aboard, he had granola bars and healthy food. We didn't eat many tomato lettuce salads or anything like that aboard the boat! So his nickname became Kashi. [Laughs]
Who do you think the show will appeal to?
This is an adventure. You're following somebody's life and it's an adventure. I think people with a little bit of an adventurous spirit in them, this is going to appeal to them.
Want to work on your Newfoundland slang? Here's a guide to some of the more popular terms: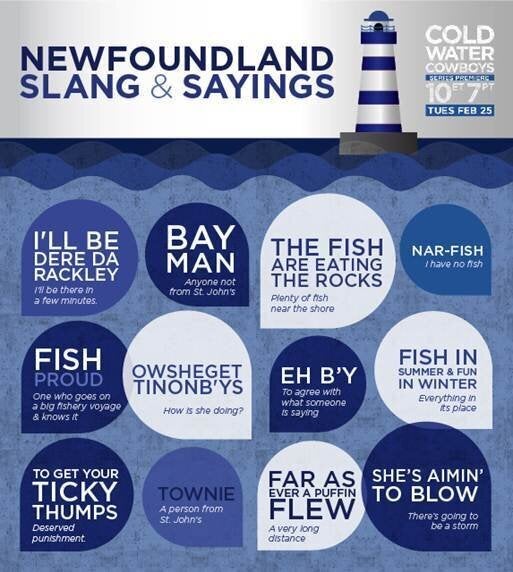 "Cold Water Cowboys" premieres on Discovery on Tuesday, February 25 at 10 p.m. ET/ 7 p.m. PT.