There's a battle brewing over a favourite winter pastime in Canadian cities and it looks like one side has found its unofficial anthem thanks to Laura Cole, an Ancaster, Ont. musician.
Cole posted her band's song and video last Friday entitled "You Can't Toboggan In The Hammer Any More" and it seems its struck a chord with Canadians unhappy with the ban on tobogganing. The nearly four-minute song, co-written and performed by Cole and Mike McCurlie, is approaching 25,000 hits and has over 300 "likes."
"The first snowfall of winter was a big one/Tons of white stuff deep upon the ground/And that meant everyone would get a snow day/Lots of fun and good times all around," Cole sings as people are shown sliding down a hill. Later Cole takes her wooden sled and walks around downtown Hamilton, Ont. before the sign (and a "Maximum fine of $2000" appearing) is shown. "You can't toboggan in the Hammer any more/You're not supposed to run and play/You can't go make your own fun in the great outdoors/So just give up, stay inside all day," she sings while strumming her ukelele.
The video continues with Cole walking around while singing about her toboggan getting the "cold shoulder" no matter where she goes. Cole eventually ends up in front of the Central Station of the Hamilton Police Department before deciding to ignore the warning and toboggan regardless. "Cause this is Canada! Let us toboggan! We chose to slide downhill!" Cole and her group of friends/backing singers sing. Cole ends the song by asking people to use social media to get authorities to change the signs.
The city of Hamilton has banned tobogganing sledding in public parks since 2001 and breaking the ban comes with a potential $5,000 fine. Last December, the city of Orangeville, Ont. erected a larger, more prominent "No Tobogganing" sign on Murray's Mountain, the city's lone tobogganing hill, according to The Orangeville Citizen.
"Murray's mountain has never been classified as a toboggan hill, it's never been insured as a toboggan hill, and it's never been maintained as a toboggan hill," Parks and Recreation Director Ed Brennan told the publication. "While we all appreciate fun winter activities, some of them have inherent risks and bring liability issues for municipalities.
While the controversy continues in Orangeville, it appears there won't be a similar decision in Toronto. On Tuesday, The Toronto Sun reported Mayor John Tory wouldn't be outlawing the activity.
"People fall down on the street when they're just walking along," Tory said. "Are we going to ban walking down the street?"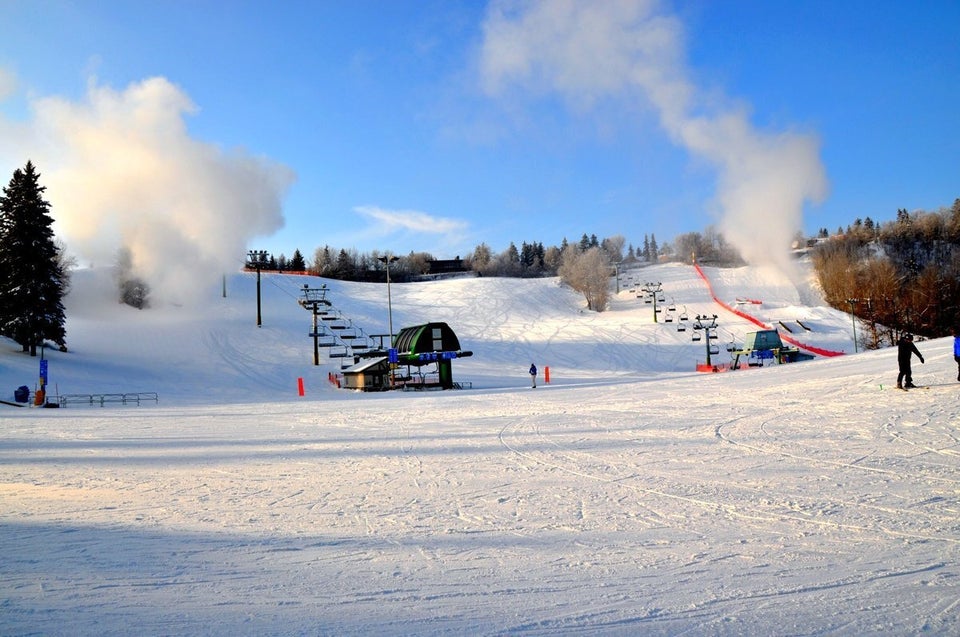 Best Tobogganing Spots In Alberta
Popular in the Community