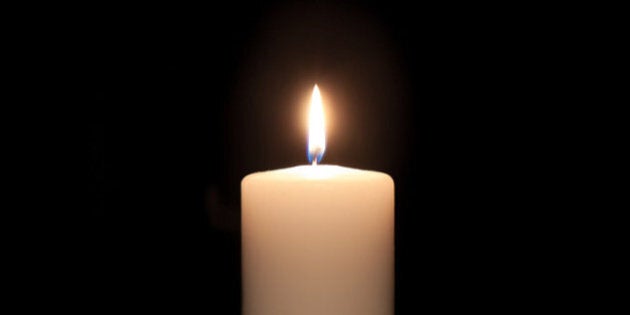 It was cold that Wednesday when a 25 year-old man walked into the École Polytechnique de Montréal armed with a 223-calibre Sturm-Ruger rifle. It was December 6, 1989.
He entered an engineering classroom, and speaking in French, ordered the women to move to the back of the room and the men to leave. A group of confused students sat at their desks, and it was only after he fired shots into the ceiling that the male students left the room.
Before pointing his rifle at the women in the class that day, the gunman said, "You're all a bunch of feminists, I hate feminists." He killed six women instantly.
As students heard the horrified screams coming from the classroom and other students began calling for help, the man continued his rampage, walking through classrooms, hallways and the cafeteria, targeting only women. Before fatally shooting himself, he killed six other female engineering students, an office clerk and a nursing student, also women, and injured 14 other people, including four men caught in the crossfire.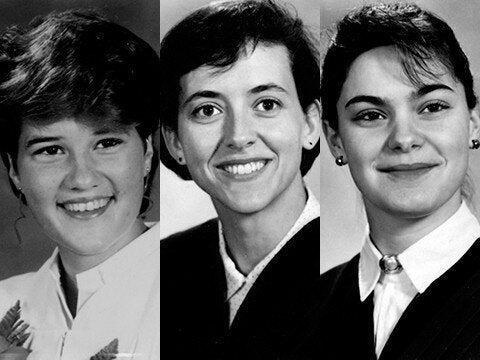 From left to right: Anne-Marie Edward, Annie St-Arneault, Anne-Marie Lemay
At the end, 14 women were dead: Geneviève Bergeron, 21; Hélène Colgan, 23; Nathalie Croteau, 23; Barbara Daigneault, 22; Anne-Marie Edward, 21; Maud Haviernick, 29; Barbara Klueznick, 31; Maryse Laganière, 25; Maryse Leclair, 23; Anne-Marie Lemay, 22; Sonia Pelletier, 23; Michèle Richard, 21; Anne St-Arneault, 23; and Annie Turcotte, 21.
In the gunman's suicide note, he blamed feminists for ruining his life, saying he believed women had no place in engineering because they would take jobs from men.
Nathalie Provost told the shooter she wasn't a feminist because at the time, she says, she didn't believe she deserved the title. "My point of view was never negative, but I felt like I wasn't fighting to be where I was in 1989."
As the gunman told her she was a feminist, Provost looked him in the eye and tried to reason with him. He shot her anyway. Provost survived, but at a great cost. She was shot four times that day in that engineering classroom.
"The day after and the years after I still felt sad and angry at what had happened," she says. "I was overwhelmed I was alive."
It was her graduating year at Polytechnique, just like many of the women murdered on Dec. 6. As she was recovering from her wounds in her forehead, legs and foot, she decided to go back to school the next month. She spent the next few months leading up to graduation in May 1990, encouraging women to stay in the engineering program, to not be afraid.
Looking back, she has realized she had always been a feminist, even though her comments at the time sparked debate.
"Ten years later as a mother, I realized I cannot say I am not a feminist because of my values, the way I live and raise my children and the ambition I have for them."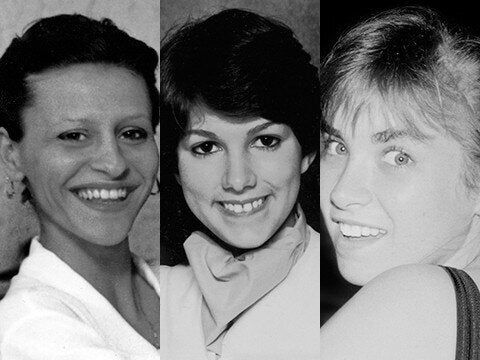 From left to right: Maud Haviernick, Michèle Richard, Geneviève Bergeron
But the issues that feminism fights for -- an end to gender-based violence, social and systemic gender equality, ownership of one's own body for women and woman-identified individuals -- have arguably never been more front-of-mind for Canadians than they are today.
"It's not so much the word has changed, but some of the things women were fighting for have become mainstream," says Dr. Christabelle Sethna, an associate professor at the Institute of Feminist and Gender Studies and the University of Ottawa. "It's common to talk about equality on the job and equal pay, but have all the problems been solved? No."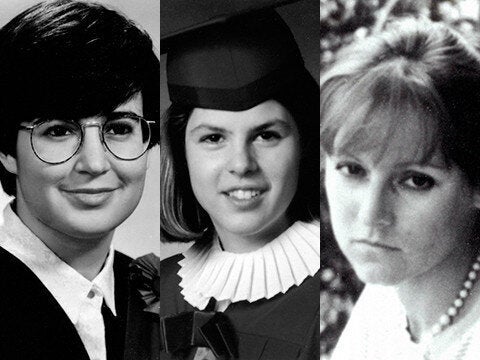 From left to right: Barbara Daigneault, Annie Turcotte, Barbara Klucznik-Widajewicz
Violence against women is front-page news, and the École Polytechnique massacre continues to hold relevance. While researching for her upcoming novel based on the events of the Montreal Massacre, Decker came across several blogs that called the gunman a "saint," and she points to another recent headline, where Canadian feminist and media critic Anita Sarkeesian had to cancel her public speaking engagement because men threatened her with a "Montreal Massacre style attack," because she was a feminist.
"Misogyny hasn't gone out of style. Why do we need a massacre to sit up and realize that violence against women is a serious global issue?" Sethna asks.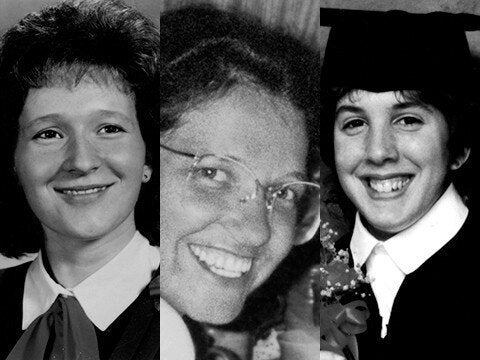 From left to right: Hélène Colgan, Maryse Laganière, Maryse Leclair
But for the men and women who survived that day, each anniversary signifies hope.
Alain Perreault was president of the Student Association at Polytechnique in 1989, and on the day of the shooting, he hid in a small office near a stairwell.
"Women weren't any different from any other colleagues," he says. "We were working in mixed groups and we were all just a bunch of people struggling to get through our studies."
Following the attack, Perreault and fellow survivor Heidi Rathjen launched a gun control petition, which continues to be debated today.
Michèle Thibodeau-DeGuire, president of the board, Polytechnique Montreal, and the first woman to graduate from the school's civil engineering program in 1963, says one way to move forward after an event like this is to continue encouraging girls and women to stay in fields like engineering.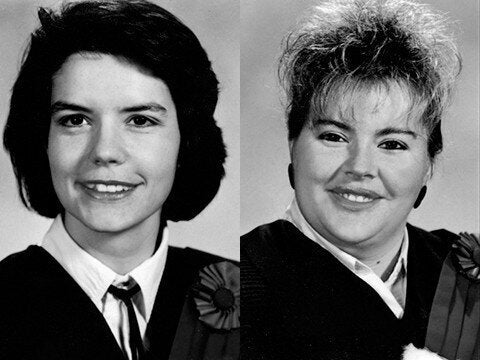 From left to right: Sonia Pelletier, Nathalie Croteau
Currently there are about 2,000 female engineering students enrolled at the school, approximately a quarter of the total number of engineering students. This year Polytechnique has announced two campaigns in honour of Dec. 6, including a $30,000 Order of the White Rose scholarship awarded to one Canadian engineering student, and the Week of the White Rose campaign, which is selling virtual roses to raise money for girls from impoverished neighbourhoods in Montreal to attend Folie Technique -- the school's science camp.
And men must be on board with these solutions. "From educating friends and peers about the impact of normalizing sexual violence via "locker room talk," to learning about consent culture, there are a myriad of really valuable ways for males to strengthen the movement," writes Megan Stacey in a piece on solutions to violence in Rabble.ca.
But while the solutions are well-broadcast and well-documented, current implementations have not proven effective enough for some.
"We need to double and triple our efforts at raising the issue of global violence against women and put in place solid mechanisms to combat these issues," Sethna says. "If we want 1989 to teach us anything, let it be that misogyny doesn't take a day off."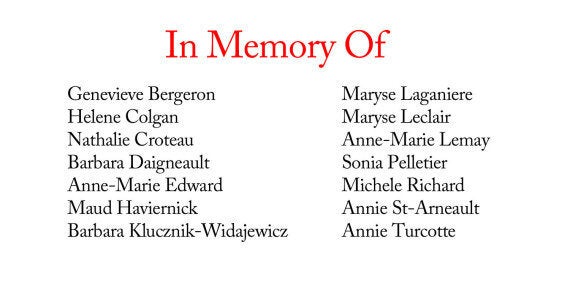 Images courtesy of Polytechnique Montréal