The parliamentary secretary to the minister of the environment raised eyebrows Monday when he twice argued that Canada's Conservative government is "a world leader in addressing climate change."
Colin Carrie made the statements during question period and was quickly ridiculed in the House of Commons and online.
Carrie was grilled by both both NDP and Liberal MPs Monday on his the government's climate change policies and Prime Minister Stephen Harper's decision not to attend the United Nations climate summit on Tuesday, despite being in New York to deliver a major speech to the General Assembly. U.S. President Barack Obama and British Prime Minister David Cameron will both speak at the summit, which Environment Minister Leona Aglukkaq is scheduled to attend.
Throughout the questioning, Carrie read talking points from a paper, arguing that the Conservative government has reduced greenhouse gas emissions without resorting to the "job-killing carbon tax" he said is favoured by the NDP.
But it was his claim that "our government is a world leader when it comes to addressing climate", repeated twice, that grabbed the attention, and ire, of many watching the debate.
While Canada's carbon emissions did drop in the wake of the 2007 financial crisis, Environment Canada data shows that emissions are currently rising.
The federal government also lacks a national plan for addressing climate change, despite the fact that Canada, with so much Arctic landmass, has been warming at roughly twice the global average over the last six decades, according to Natural Resources Canada.
The government has also faced intense criticism for limiting the information government scientists are allowed to share with reporters and the public.
Independent think-tanks now regularly rank Canada worst, or close-to-worst, in the developed world when it comes to climate policy.
While Carrie touted the government's announcement (some say re-announcement) Monday that it will bring Canada's vehicle emissions regulations in line with those of the U.S., he said it was "premature" to comment on the future government plans to work with the provinces to reduce emissions from the oil and gas sector. The Tories have long promised new regulations on oil and gas sector emissions, but they have yet to materialize.
Near the end of question period, Green Party Leader Elizabeth May challenged Carrie's assertion that "greenhouse gas emissions are falling", a statement that is not backed up by Environment Canada's own stats.
But Carrie dodged the question, ignoring the fact that emissions are currently on the rise to tout the fact that they are down overall since 2005 while the economy has grown.
"This accomplishment is historic," Carrie said. "That is our record and we are very proud of it.
The parliamentary secretary for the environment's performance didn't win him much love on Twitter.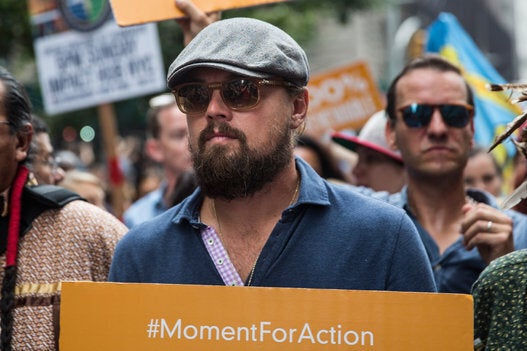 Climate Change March