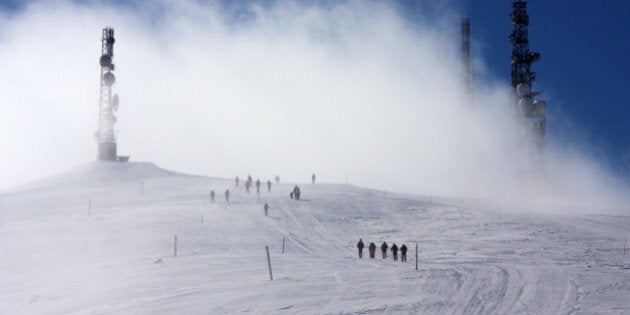 While I love skiing in Western Canada and Quebec, arguably the two best regions to ski, in Canada, in terms of vertical, there's something about the allure of the Rocky Mountains which run through Colorado. Having skied Vail and Beaver Creek a few years ago, I jumped at the opportunity to try out Breckenridge and Keystone, both located within about a 90-minute drive of Denver, a little bit closer to Denver International Airport than the other two.
Breckenridge was a mining town in the 1860's long before it became a ski resort in the 1960's. The mining history is evident in the bustling town of about 4,500 permanent local residents (which almost quadruples during the ski season), with a saloon every block, and buildings right out of the wild west. In 1887 the world's largest gold nugget, at 13 ½ pounds, was dug up (Tom's Baby, as it is called), and the spirit of the mining west hasn't left since. The Briar Rose is a favourite local restaurant, formerly a boarding house for miners, and now a terrific steak house.
We had the chance to tour the world's highest distillery, at 9,200 feet. The Breckenridge Distillery is enjoying huge growth, particularly for their bourbon and vodka products. Their newly opened restaurant features an eclectic tapas style menu and a large variety of vintage and newly created cocktails, with their own on-site distilled liquor, of course.
A quick gondola ride up, Breckenridge ski resort covers 2,900 acres of terrain, with a staggering vertical of 3,398 feet. The base of Breckenridge is at a higher altitude than the peak of Whistler. As an aside, highly recommend either looking into prescription medicine for high altitudes (check with your doctor or travel doctor), or at a minimum, expect to feel the side effect immediately. These include shortness of breath, dehydration, mild headaches, chest pains (from the toughness you experience in breathing) and general fatigue. We stayed slope side at the gorgeous One Ski Hill Place, which, like many others hotels in the area, offered an oxygen bar if you needed an extra boost. (If skiing isn't your thing, this hotel had a bowling alley; hadn't seen that before.)
Keystone Resort is located just a half hour mountain road away from Breckenridge and is known for their family friendly atmosphere. For five years, they have offered a "Kids Ski Free Program," where kids 12 and under can ski for free, with no black outs or limitations. One of the other unique programs they offer is the "Family Private Lesson" whereby a family can hire an instructor to teach the entire family -- no matter how many members, and at different levels. There are five "kid features" on the hill, from simple terrain parks to enchanted forests and more. Ski schools available for all ages.
Keystone is also known for it's famous Outback ski area; where expert skiers can tear up the mountain starting at 11,190 feet down tough blue and black runs.
Keystone has many varied accommodations, including the condo we stayed in, The Springs, which was just a quick walk to the gondola up the hill, or over a bridge to the charming ski village featuring restaurants, bars, shops, even a grocery store so you can cook inside our own condo instead of eating out. Our condo featured a backyard full of hot tubs, perfect for relaxing in après ski, which I did with my waterproof e-reader. We also had access to a fitness room, billiard table and even a tiny indoor playground.
There is a shuttle-on-demand service which will take you from your condo village to where you need to go; we traveled from River Run Village to the famous Ski Tip Lodge, which used to be a stagecoach stop in the 1800's. The service and the food make this one of the best dining experiences in the state.
For more information, check out all the Vail Resorts at www.snow.com
Follow HuffPost Canada Blogs on Facebook