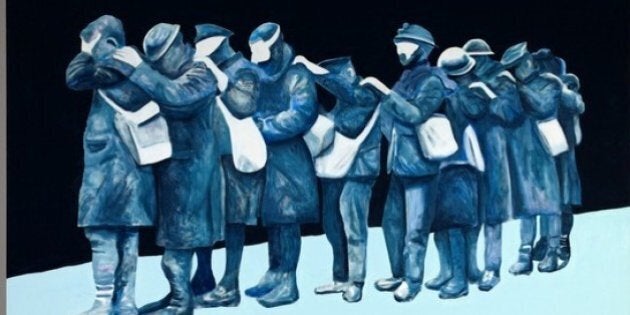 Throughout the early years of the 20th Century, the countries of Europe lurched from one political crisis to another amid duelling national rivalries and rising diplomatic tensions. On June 28, 1914, the assassination of Austrian Archduke Ferdinand set two nations on a course for war. One month later, trapped by interlocking alliances, the rest of Europe plunged into wholesale armed conflict. Canada and other members of the Empire quickly followed suit and ultimately over 20 nations became involved in what was truly the First World War.
The presumption all around was that "the boys will be home for Christmas." But four bloody years later, the war had consumed over 16-million civilian and military lives and left another 20 million wounded. Of the over 418,000 Canadians who were sent overseas, half became casualties: some 153,000 wounded and more than 60,000 dead. An entire generation was scarred, forever shaping our national identity.
As we mark this 2014 centenary, we do so realizing that the "war to end all wars" has actually disappeared from living recollection: Canada's last WWI veteran died five years ago and the world's last died in 2012.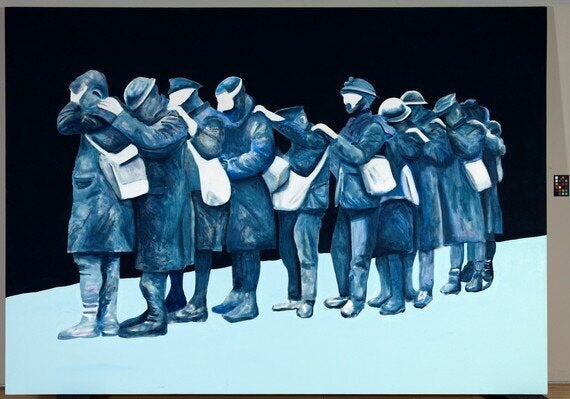 Cortège by Charles Pachter.
So as the war recedes even farther into the past, the experience of the Great War risks sliding out of our collective memory. The centenary of WWI challenges us to renew our understanding of the conflict and reconsider its contemporary meaning.
Given Canada's combat role in Afghanistan and its cost in lives and suffering, we know that war is still very much a reality of our world. This makes reflection on our past experience with war all the more relevant and necessary.
Like many Canadians, my connection to war is personal. My great-uncle is buried in France, having been killed at the Somme. My wife's grandfather survived Vimy Ridge, but was so damaged in body and soul that he would not live long enough to see his children grow. Our fathers flew with the RCAF in the Second World War and both were forever affected by it all.
I have also become aware of how much impact war has had on the office I now hold. During each of the World Wars, the Lieutenant Governors of the day Mr. Hendrie and Mr. Matthews worked to build and sustain public morale by supporting the troops and their families.
And the impact within the office itself would resonate for decades to come as four veterans of the Great War would become Lieutenant Governors, as would two more veterans of the Second World War.
This history helped forge the ties between the Crown in Ontario and our military that remain strong to this very day. As The Colonel of the Regiment with The Queen's York Rangers and as Honorary Colonel of 25 Field Ambulance, I have had the pleasure of knowing and recognizing the achievements of our military personnel. Moreover, several of my aides-de-camp have served in Afghanistan. And I have had the solemn duty and honour of participating in Memorial Cross ceremonies for the families of Ontario soldiers killed in that theatre.
These personal and institutional legacies have impressed upon me the importance of remembering our military heritage. So to commemorate the First World War centenary, my office has launched two projects aimed at encouraging meaningful reflection on Canada at war, past and present.
Seeing an old war through new art
Among the soldiers sent to the trenches a century ago were some of Canada's preeminent artists. Their task was to capture on canvas those aspects of war that film and text could not describe. In that same spirit, my office is hosting Lest We Forget, an exhibition of WWI-inspired paintings by celebrated contemporary artist . I encourage all to visit the Lieutenant Governor's Suite at Queen's Park over the next year to see his compelling re-imagining of the Great War's defining symbols.
Commemoration through conversation
Few conflicts in our history have inspired as much widespread debate and introspection as the First World War. Its unfathomable cost, controversial causes, and terrifying innovations -- mass mobilization, chemical weapons, strategic bombing -- raised profound questions about the nature of our relationship to war.
Any commemoration of the First World War would be incomplete if we did not revisit the troubling questions it put so pointedly to our ancestors. To that end, I asked several distinguished Canadians the question "What have we learned from war?" We compiled their answers in a book (also titled Lest We Forget), now available to the public, to help us understand what a century of conflict has come to mean for Canadians. Pick up a copy during a public tour of the Legislative Assembly at Queen's Park.
For many of the respondents, the experience of war is deeply personal. Kim Phuc Phan Thi, who famously personified the suffering of the Vietnam War, tells her story of healing and how it sustains her hope for peace. Even after losing three daughters to war, Dr. Izzeldin Abuelaish speaks hopefully about preventing war by promoting greater understanding. And in recounting her violent kidnapping in Afghanistan, CBC reporter Mellissa Fung illustrates how we can find humanity even in our staunchest enemies.
Sally Goddard, whose daughter Capt. Nichola Goddard was killed in Afghanistan, writes poignantly about the dedication and camaraderie of Canada's soldiers. She is joined in her admiration for our troops by the Hon. Roméo Dallaire, who highlights the unique role of youth in both fighting wars and building peace. In fact, it is in former combatants that he sees some of our best potential advocates for reconciliation.
These intimate reflections are complemented by the insights of several well-known scholars and a former Prime Minister. After surveying Canada's past, historian Jack Granatstein draws out five revealing "maxims" of Canada's relationship with conflict. In a similarly rich historical overview, former Chief of the Defence Staff John de Chastelain identifies the conditions under which Canadians have -- and may yet again -- go to war. First World War expert Margaret MacMillan weighs in on the Great War's legacy and highlights its abiding relevance to the present international order. The Rt. Hon. Jean Chrétien adds a valuable experiential perspective drawn from his encounters with war while Prime Minister.
Celebrated Canadian writers Joseph Boyden and Joy Kogawa take a more literary approach. Through powerful imagery and moving prose they offer readers fresh avenues to contemplate war's essential themes.
The Lest We Forget exhibition and its companion book are a fitting first steps in our commemoration of the First World War, and I hope they inspire Ontarians to consider how they may help to ensure that the Great War's lessons and legacy are remembered for another century to come.