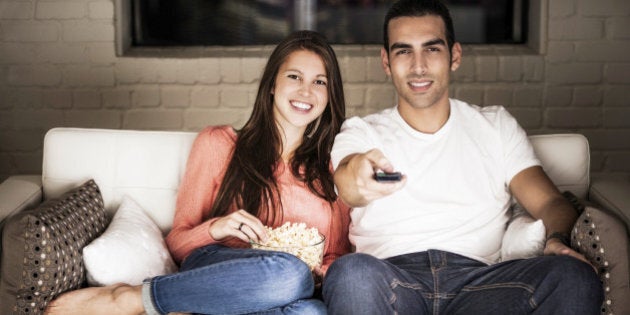 From our morning commutes to the time spent in front of our computer screens at work, we spend hours each day sitting. Numerous studies say doing this is bad for your health, so we're calling for a standing revolution! In partnership with Robax, we highlight common sitting scenarios you should actually be on your feet for.
After a long day of work, you may want nothing more than to plop down in front of the television.
We don't blame you. Although, doing your stretches in between commercial breaks can prevent you from becoming a couch potato.
Having a few good drinks with friends is always fun…
But standing gives you more maneuvering room for fun.
Some people prepare their food sitting down
But you're better off chopping while standing. Dancing while chopping is better.
There is absolutely nothing wrong with curling up with a good book to read.
But you can always choose to be a stand-up person and read in a vertical position.
Gaming has the reputation of being an activity for couch potatoes.
But now there are games that require you to get physical – both on and off screen! Choose a game that keeps you active.
When travelling, take in the sights of your destination while on foot. Roughing it a bit along the way – not only keeps you moving, but will make for the best kind of travel experience.
Robax not only stops pain but also reduces back spasms by relaxing tight muscles. We have your back.
This article may contain information related to exercise and fitness and/or general wellness information. It is not intended as a substitute of any kind for professional medical advice, diagnosis or treatment of a qualified professional as required. Speak to your healthcare professional before making any changes to your lifestyle, or beginning or discontinuing any course of treatment. Never disregard professional medical advice or delay in seeking it because of something you have read in this article.