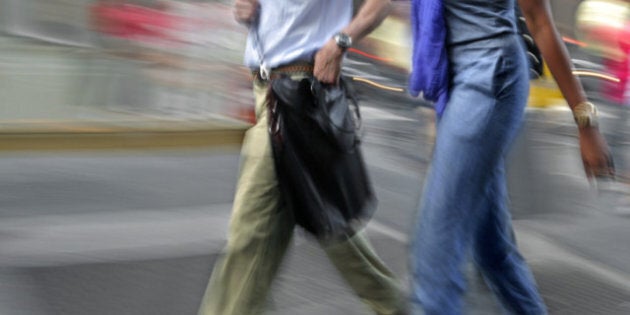 The saying 'opposites attract' may be fodder for dating sites, but if you're talking about love, then you'll find walking in a similar direction leads to an even stronger attraction for married couples.
The discovery of the 'shared-direction effect' comes from a study conducted by a group of Chinese researchers set to be published in the Journal of Experimental Social Psychology this month. The effect suggests that the direction of a commute a married couple takes has a direct impact on the happiness of their marriage.
The study showed that couples who travelled to work in similar directions reportedly had more satisfaction in their marriage compared to their divisive travelling counterparts -- even if the couple left the house at different times or weren't on the same bus, train, bike or car.
Researchers can't pinpoint an exact reason for the stronger bond but theorize that couples who travel together, or perform any action as a unit for that matter, are thought to share similar goals and mutual needs. The theory didn't come easy though.
The researchers broke the extensive study into two parts: one in the United States and the other in Hong Kong. The 419 participants disclosed information about their marriage and commute such as travel time, number of kids and length of the marriage, and indicated the general direction of their commute to work on a map.
Couples then rated the satisfaction of their marriage on a questionnaire and 419 sets of data later, researchers noticed the link between martial satisfaction and a similar direction of a commute but one question remained: why.
So researchers took to phase two of the study and took 80 students in male-female pairings to do a repetitive task such as walking to an exercise room, lifting a weight, returning to a room and repeating the activity.
The couple then had to rate the stranger-turned partner on their performance and the data confirmed what researchers first thought: partners who went opposite directions didn't care much for each other, and those who took similar paths but in opposite directions didn't have a strong link.
What are your thoughts on this study? Do you commute with your partner on a daily basis and how does it impact your relationship? Voice your thoights on the comment section below or tweet us your answers @HuffPostCaLiv.