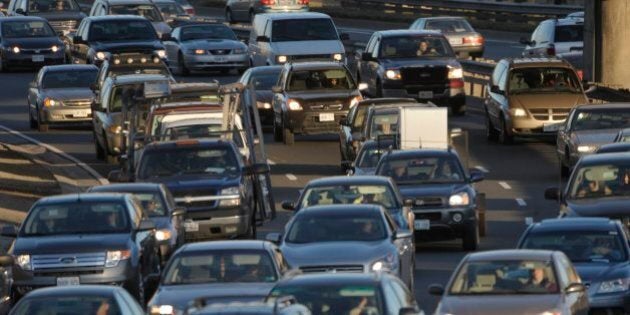 Traffic in Canada is becoming a serious problem. Infrastructure isn't keeping up as the population grows, and commute times are growing.
"Reverse migration from the suburbs to downtown areas [is] one of the most forceful and rapidly emerging trends in both corporate office and residential real estate," PwC said in its report, "Emerging Trends In Real Estate 2014."
So all those cranes dotting the Toronto skyline are no accident.
Story continues below slideshow

The Worst Traffic Congestion In North America
And with no resolution in sight to the "challenging" infrastructure problems, "there will be a continued demand for retail, office and residential space in our urban centres where there is easy access to mass transit," said Lori-Ann Beausoleil, a partner at PwC Canada, in a statement.
In other words, we can expect to see more condos, office towers and retail space near subway and rail stations and other transit nodes — what PwC calls "live/work/play environments."
The report sees another element at play here: Some parts of Canada are literally running out space to build suburbs.
One such place is Greater Toronto, where a greenbelt around the metro area, put into place by the province in 2005, means the region will soon run out of space for new developments.
"All land available for low-rise [development] within the greenbelt will be built out within 10 years," PwC quotes an interviewee as saying.
"Therefore, remaining opportunities will be for redevelopment only. They will favour higher density and mixed-use."
So does that mark the looming end of new single-family homes in Canada's largest metro area? The report notes some developers expect the suburbs to keep growing on the other side of the greenbelt, but PwC pours some cold water on that idea, noting that such long commutes into the city are exactly what people want to avoid.
With supply falling short, single-family homes are becoming prohibitively expensive, and that's exacerbating the trend.
"You can't be in the business when the average man can't afford the average house," a real estate insider told PwC.