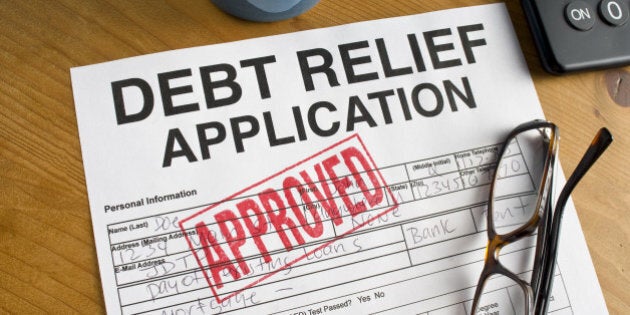 Settle your debts! Stop collection calls! Avoid bankruptcy!
Those are the types of lofty promises made by debt settlement companies that were supposed to be a thing of the past in Ontario as of July 1.
The province's Collection and Debt Settlement Services Act, which places strict limits on how much debt settlement companies can charge financially strapped consumers for their services, has already driven some companies out of business. But industry insiders believe others are skirting the rules by continuing to operate without a licence or partnering with law firms, which are exempt from the new legislation.
The guidelines, which took effect just weeks ago, see Ontario join Alberta, Manitoba and Nova Scotia in taking action against debt settlement companies after an increase in consumer complaints about excessive fees, misleading contracts and failures to deliver the level of debt reduction promised.
The biggest changes to the industry are the act's ban on the collection of fees before a debtor begins paying a creditor, and its strict limits on how much companies can charge consumers trying to settle debts, capping the amount at 15 per cent.
Debt settlement companies operate in a competitive field alongside non-profit credit counselling agencies — which are funded by donations from credit card companies — and bankruptcy trustees, who earn fees of up to 20 per cent of total debt from clients.
The new laws apply only to debt settlement companies, and that has led some debt settlers to change how they operate.
Total Debt Freedom, one of the province's largest debt settlement companies, has partnered with newly formed TDF Debt Advisory Law PC, which shares an acronym, as well as an address, phone service, and senior executive with Total Debt Freedom.
Its website states that, as a law firm, it is exempt from the legislation imposed on the debt settlement companies, including the limits on how much they can charge clients that many debt settlement firms say makes their old business models unfeasible.
Richard Cooper, CEO of Total Debt Freedom, said the decision to spin off one arm of the business into a law firm was made because the new laws make debt settlement "completely cost prohibitive to offer the same level of value and service to the client."
"If anyone wants to pay a professional to settle their debt for them, really the only way to do that now is to hire a law firm," he said, adding that many of his former competitors are going out of business.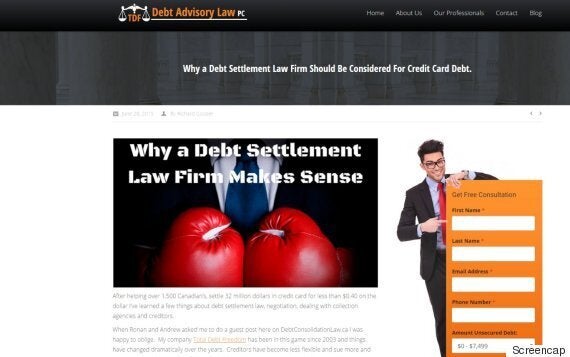 A law firm for your credit card debt? An Ontario debt settlement company has set itself up as a law firm to skirt Ontario's new debt collection and settlement law, which it says is too stringent to allow the industry to survive.
Cooper said he received calls from two separate debt collection companies wanting to sell their practice to TDF because they couldn't afford to operate under the new model.
He said prior to July 1, his firm did not charge upfront fees but did charge about 17 per cent of total debt loads.
The new laws reduce the incentive for agents to work long months to get the best deal possible for their clients, he said, because it simply won't be worth it.
"By delaying the fee and cutting it by one-third," he said, "there's absolutely no way you can offer the same level of service.
"There's very, very small margins in the area of debt negotiations, because there's such high cost."
Cooper said the law firm will sign a contract with the client and set up services, then the debt settlement company will take over execution of the contract, doing the "back end" work of negotiating with creditors.
Such partnerships between lawyers and debt settlement companies won't be able to fly under the regulatory radar for long, said Mark Silverthorn, a lawyer who provides debt coaching services and blogs about the industry.
For one, he said, the law permits lawyers to engage in debt negotiations only in the normal course of business, meaning they might not be able to advertise to attract new clients. Second, the exemption applies only to "a barrister or solicitor in the regular practice of his or her profession or to his or her employees."
Debt settlement companies are a relatively new phenomenon in Canada and — until Ontario's new act went into effect — had not been regulated in that province..
Cambridge Life Solutions — whose spokesman was the avuncular Alan Thicke — became the poster child for abusive practices a few years ago as debtors began to complain that it was driving them further into debt rather than offering the lifeline it promised.
At the height of the debt settlement rush a few years ago, a number of companies made consumers pay their fees first and charged exorbitant monthly fees even if they failed to stop creditors from suing or harassing debtors. Many of these companies migrated north after the United States cracked down on upfront fees in 2010.
Ontario's act was designed to end these kinds of practices by some of these companies, by requiring all debt settlement firms to obtain a licence.
Silverthorn believes, however, that some continue to operate without a licence.
He recently filed a letter of complaint to several provincial regulators about Complete Debt Solutions, whose website appears to offer debt negotiation services, but which does not show up on Ontario's database of licensed entities.
The site's owner, Milton Kaseke, maintains he is not operating illegally because he has been offering his services free to build up a presence in the industry and hasn't received any fees since the site's 2013 creation. He said he is in the process of getting a licence and only then will start charging consumers. The ministry confirmed that he has submitted an application.
A spokeswoman for Ontario's Ministry of Government and Consumer Services said a license may be required even for companies that do not charge.
"Someone providing debt settlement services in Ontario free of charge may still be required to be registered depending on what they are doing," Anne-Marie Flanagan said.
While he said he has sent enrolment forms to some potential customers that do include a clause to agree to a 13 per cent fee, he said has not followed up with any of those customers.
"I have helped thousands of people and I have never taken a penny from anyone," he said.
"In this industry, you need to keep yourself clean, period."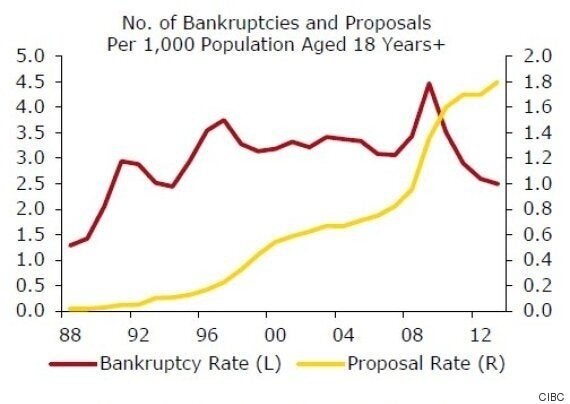 This chart from a May, 2015, report from CIBC World Markets shows consumer insolvencies (bankruptices plus consumer proposals) rising sharply in recent years.
Nearly a month into the new legislation, there are still a surprising number of debt settlement companies operating without a licence, which gives legitimate businesses a bad name, said Nima Taheri of Compliance First Financial Corp., which displays its licence number prominently on its website.
"We'd like to see a lot of guys that are blatantly advertising debt settlement services to be held accountable for not being licensed," he said, adding that he hopes the new legislation will include serious enforcement.
Their business models are starkly different but Taheri, Cooper and Silverthorn all share one lingering concern: Whether the new act will entice collection agencies to engage in debt settlement. They all say this could be a serious conflict of interest.
The Collection Agencies Act officially became the Collection and Debt Settlement Services Act in January, meaning the two services are now regulated under the same act. There is nothing stopping a collection agent, with access to a debtor's credit history, from calling a debtor on behalf of a creditor, then offering to settle other debts as well and collecting fees from both creditor and debtor.
"Piling that into the same legislation as debt negotiations doesn't make any sense," Cooper said, adding that the interests of collection agencies and debt settlement agencies are polar opposites.
Silverthorn points out that the disappearance of some debt settlement companies could leave a void in the market. Consumers got used to the notion that they can settle debts at a discount thanks to onslaught of ad campaigns during the late 2000s.
"If you're a collection agency and entrepreneurial, you could make a lot of money from this."
And collection agencies could benefit from being the first to talk to consumers about their debts, he added.
"When you are signing up to provide services to distressed consumers, the key thing is to be the first person with your oar in the water."
He thinks Ontario will soon follow Alberta's lead to force companies to choose either collections or settlements.
Taheri believes the wording of the act opens a very ambiguous door for collection agencies in terms of their role, but he added that creditors are unlikely to allow the firms they have hired to get as much of their money back as possible to turn around and work with a debtor.
The full impact of the changes won't be known for several months. But with Canadians continuing to pile on sky-high levels of debt, the laws could become more important than ever.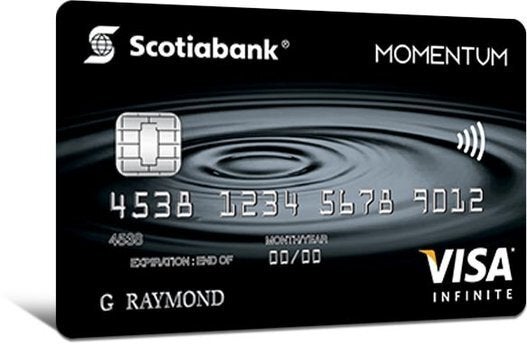 Best Credit Cards In Canada, 2014