It's not just the four joints he's smoked by mid-afternoon. Neev Tapiero is genuinely unconcerned that a slew of new commercial medical marijuana companies could put his underground cannabis club out of business.
The competition may be government-approved — and legal — but advocates for dispensaries and compassion clubs say they serve their members in ways the new players cannot and that will continue to give them a constitutional right to exist.
"If they can find a way to provide cannabis to sick people in a cheaper, easier format than what we do, then I'm all for it," Tapiero said as he rolled a joint in his office at the Cannabis As Living Medicine (CALM) dispensary in Toronto.
"If they have that, we sort of become redundant. But they're nowhere near that."
More than 50 compassion clubs and dispensaries operate in Canada's "grey market."
They exist because of a longstanding legal gulf between the judiciary and the government over patients' access to the drug for medical purposes.
The storefronts allow Canadians looking for access to marijuana for medical reasons to obtain various quantities and strains of unsanctioned weed. Compassion clubs are dispensaries that also offer wellness services, including acupuncture, counselling, nutrition and yoga.
Because dispensaries are not recognized by Health Canada, their offerings are not limited by stringent government requirements under the new Marihuana for Medical Purposes Regulations.
The program, which came into effect April 1, aims to enforce quality control and regulation by taking growing marijuana out of the hands of patients and putting it in the hands of commercial-scale licensed producers.
A B.C. judge, however, recently sided with a patient coalition arguing the new regulations violate the patients' Charter rights to health and liberty. He granted an injunction allowing current patients to keep growing until a final ruling is passed down because the program does not provide adequate access and that some patients will be unable to afford marijuana at the licensed producers' prices.
There have been other growing pains in the nascent industry, including the RCMP seizure of Health Canada-approved shipments to two licensed producers and a recall and suspension of another producer.
The decision and discrepancies between levels of government underscore the legal grey zone that has allowed dispensaries to thrive. That has led law enforcement to turn a blind eye to most of their illicit activities.
"It's clearly not legal, but it's clearly not illegal, because we need a ruling as to the justification under the Charter for the clubs," said York University law professor Alan Young, who won a federal ruling in 2008 stating parts of Canada's medical marijuana laws were unconstitutional.
"If the government program was completely transparent and had remarkable access and affordability, the clubs would not have that grey area zone to work within," Young said.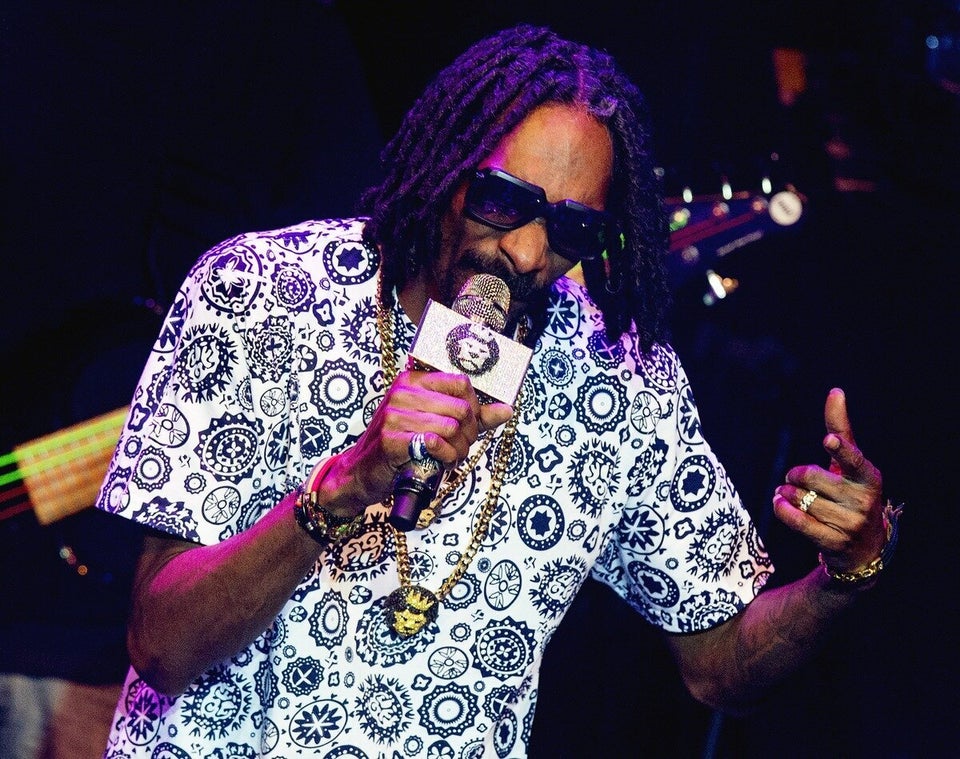 Most Influential People Who've Used Marijuana
Until licensed producers can match the services that dispensaries provide to patients, the illegal dispensaries have a Charter argument for their existence, he said.
While licensed producers are only permitted to sell dried marijuana, dispensaries offer alternatives like capsules and balms that some patients prefer. Dispensary staff can speak one-on-one with customers and sell marijuana on the spot, while licensed producers mostly ship through the mail.
On an early April afternoon about a week after the new federal marijuana rules came into force, Tapiero's employees were busy tending to a steady stream of patients — from those looking for a quick pick-up of their favourite strain to others seeking advice on how to fill out the new government documents.
It isn't easy to get into the secured building, and patients know the procedure well.
First, they knock while holding a photo ID membership card up to the peephole on the door to the unmarked converted home. After approval from a security guard, they wait in a room that might pass as a typical doctor's office except for the glass display of various cannabis edibles and the distinctly skunky, smoky cloud that looms.
Employees greet patients, most by name, then lead them to one of two salerooms to choose as little or as much of their strain of preference. They can choose from 76-ounce Ziploc containers stuffed with various indica or sativa strains grown by trusted suppliers.
The purchase amount — both in terms of cost and weight — is then logged for comparison against inventory at least once a day. The careful bookkeeping is to deter internal theft and in preparation for an audit. CALM has been subjected to both.
Tapiero said he tries to operate the club as legitimately as he can, requiring patients to have either a Health Canada authorization or a note from their doctor saying their marijuana use is for medical reasons. He has even registered for an HST number in case the CRA comes knocking for taxes, even though what he is selling is illegal.
He founded his dispensary, dubbed CALM, in 1996, a year before the Supreme Court ruled that patients must have access to medicinal cannabis. It was a time when newspapers still put the word "medical" in quotes when referring to marijuana, Tapiero said, making air quotes through the cloud of smoke in his office, which is filled with posters from pro-marijuana rallies and lighters and bongs scattered among boxes of files.
The police have mostly left his club alone, but it was raided three years ago after neighbours complained about the smoke. Tapiero was charged with trafficking and held overnight before the charges were dropped.
CALM has served about 4,500 patients, some of whom are "like family," Tapiero says. The regulars come in as much for a willing ear to talk about their dosages, their day-to-day and their pain as for their medicine.
Members have a lot of questions about the new federal marijuana rules. They are worried about switching to the new program and fear it means they will no longer be able to rely on CALM. Some – even those who were authorized under the old program – are finding it difficult to get a doctor to approve them under the new system.
Compassion clubs are also medical marijuana activists working to legitimize themselves as much as possible.
The Canadian Association of Medical Cannabis Dispensaries has laid out a code of conduct for its members that includes requirements to obtain medical documents (not necessarily from Health Canada), enact quality control measures and manage inventory effectively, among other standards.
In addition, the association encourages support services, such as helping the 40,000 patients who use dispensaries to find appropriate strains and to track their side effects and progress.
"We've been just kind of waiting for Health Canada to do the kind of system that we can take part in and that will help our members. We're still waiting for that," said Jamie Shaw, one of the board members of the group.
Despite the clubs' extensive experience, Health Canada has had no interest in gaining insight from them, even after meeting with several dispensaries during consultations ahead of the new regulations.
The federal agency begrudgingly took on the role of overseeing the distribution of medical marijuana in 2001 after the Supreme Court decision. Health Canada is quick to point out it that regards marijuana as an illicit narcotic with no proven medical benefit and, as such, is something that it does not endorse.
Its position on compassion clubs and dispensaries is also at odds with other levels of government.
The Senate lambasted the old Medical Marihuana Access Regulations program more than a decade ago for its lack of consideration of the compassion clubs' experience and expertise. The Senate also criticized the regulations for failing to facilitate access to therapeutic cannabis and for failing to include derivatives such as hashish and cannabis oil. It recommended that Health Canada take measures to encourage the development of compassion clubs and dispensaries.
"The practices of these organizations are in line with the therapeutic indications arising from clinical studies and meet the strict rules on quality and safety," it said in a 2002 report.
"No attempt has been made in Health Canada's current research plan to acknowledge the considerable expertise currently residing in the compassion clubs."
Not much has changed under the overhaul of the program.
The new federal program forbids patients from growing their own pot, but many will not be able to afford the $5-$12 per gram currently charged by licensed providers, he said, leaving more patients to turn to dispensaries.
More dispensaries have opened since the announcement of the new Health Canada rules than in the last decade, Shaw said. He believes the growth could continue under the new system because it puts up even more barriers to access for patients, including higher prices.
That increased cost has already been recognized by one court as an unfair barrier to access.
In addition, patients must buy at least a quantity that will make it worth their while to pay shipping costs and can purchase a maximum of 150 grams, which would cost anywhere from $750 to $1,800 plus shipping.
"A lot of people can't afford the delivery fees and a lot of people can't afford to buy a whole month's supply all at once," Shaw said.
Some patients visit dispensaries every day to ration their dose so they don't get out of control and can buy as little as $10 to $20 worth at a time, the cost of one to three grams (an average daily dose),Tapiero said.
There is also a health cost to consider. A patient who is epileptic and needs treatment immediately cannot afford to wait until it is shipped through the mail, he added.
Compassion clubs see themselves as not only a storefront, but an important community service that gives patients the face time they can't get from doctors, who are for the most part reluctant to consider cannabis as a treatment option.
Although many U.S. states and the Netherlands are moving toward the dispensary model, Health Canada said dispensing is disconcerting to pharmacists, professional licensing bodies, as well as provinces and territories.
Licensed producers may offer customer support by phone or email, but they are forbidden from distributing product to patients through a storefront.
"Shipping is a safe and secure way to minimize the potential of diversion and to ensure the safety and security of our communities," said Sean Upton, a Health Canada spokesman.
He did not specify how shipping through the mail reduces the chances of product ending up on the black market.
The federal regulations do allow patients to pick up their drugs at doctors' clinics, and a physician in London, Ont., is set to become the first in Canada to provide that service.
Only time will tell whether dispensaries will continue to have justification for their existence, as more and more licensed producers get up and running, fuelling price wars and potential changes to how the program operates, lawyer Alan Young said.
"There is great hope that the licensed producer program can really undercut what dispensaries have done in terms of price, but can they undercut dispensaries in terms of quality of service and diversity of product — that's really the big issue for the licensed producers."
If prices are driven down, the most compelling Charter argument for the existence of dispensaries might become their willingness to provide cannabis in alternative forms, such as oils, extracts, concentrates, balms and tinctures, Young said.
Health Canada's new rules allow the sale of only dried marijuana, which patients and doctors say is the most dangerous way to consume the drug because it leaves users with little choice but to smoke it, which is dangerous to their health.
"The only clinical studies on the therapeutic uses of marijuana that have been carried out to date use dried marijuana," Upton said.
The legal future of compassion clubs may lie in providing alternatives to dried marijuana, thanks to Health Canada's refusal to accept those methods of consumption, said Tapiero.
"Health Canada is very resistant to extracts, which is nonsensical, but they've dug in."
Health Canada might allow alternatives to dried plants a few years down the line, when they have the confidence the program is working as they wanted, Young said. It's similar to the way the government first allowed casinos but waited 10 years to make dice games legal when " they felt the gaming industry had some integrity."
"But we're really far away from that right now, because we're in the initial stages of a program that is off to a rocky start," he said.
At the rate it is taking the system to settle, Young said, compassion clubs might not know whether the shakeout will leave them with a constitutional justification until 2015 or 2016.
The courts could force an answer sooner, however, if the owner of a compassion club in Kamloops, B.C., pursues his plans to launch a constitutional challenge to the law, arguing that banning their operation violates patients' rights. A decision would be Canada's first ruling on the legality of dispensaries.