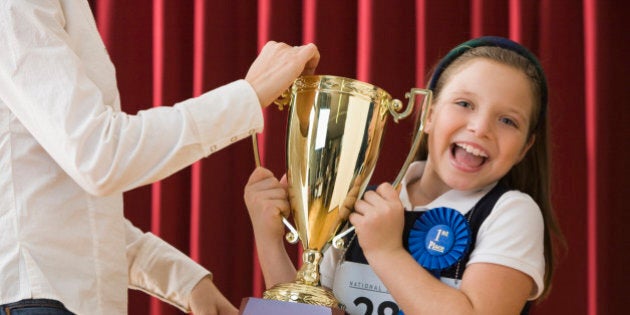 When I was I 10 years old, my dad took me to Wilensky's in Montreal. As we were waiting at the lunch counter, a famous ex-hockey player from the Montreal Canadians came over to us to give my dad a hug. I had no idea who he was. He pinched my cheeks and said, "your dad was one of the great ones." Way before my brothers and I were born, my dad played hockey for the Junior Canadians and was drafted for the Baltimore Orioles. He was a Renaissance athlete: good all around.
One of my fondest childhood memories was going to our local hockey rink and challenging two older boys from my school to a game of pick up. I remember how they snickered at us: a little girl and her dad. Little did they know that my dad was basically a professional athlete, and that I had been skating since around the time I could walk. They underestimated us. We buried them. The competition was like chocolate coursing through my little body: it gave me a high that I remember riding on for days. "Never judge a book by its cover," my dad told me as we walked away from the skating rink. "And never underestimate your capacity to be great."
That sweet buzz known as the competitive edge served me well throughout high school. It gave me confidence and a belief in myself. This is the good side of competition. Following in my father's footsteps, I played every sport known to girl: softball, basketball, synchronized swimming, floor hockey, soccer, ringette, you name it. I played it. When a knee injury stopped my tomboy years short, I shifted gears. I began immersing myself in books and school. I think it was around this time when my philosophy around competition changed. It's not that I lost my edge; but more that I reframed my game. I began to think of competition as something internal, within my own mind. It was less about sinking my competitor than it was about challenging myself to rise to new pinnacles.
Nearly two years ago, I started my own jewelry business. When my girlfriend Tracey asked me if I was going to give away my jewelry by other designers (I have a soft spot for David Yurman, Bulgari and Swarovski), I said I would put everything in a drawer for the time being. Why "upstage" my own line with such ridiculously distracting rivals? I have since changed my mind. I love mixing Sapphô by Kim Smiley with David Yurman. It "ups" my game.
We tend to be so hung up on rising to the top that we fail to realize that being overly competitive can actually push us down. I'm not taking about me versus Yurman. I'm talking about you and I and the people around us: our classmates; our colleagues; the shop next door; and our so-called competition. We will not achieve greatness by pushing others down. On the contrary, true greatness comes to those who elevate others; who lift them up without regard to where it will place them in the hierarchy of the marketplace of life.
What am I saying? To put it concretely, my success will not be adversely affected by telling you that Canadian jewellery designer Jenna Iannelli's company, Valentine Rouge, is really awesome. I won't lose anything by saying that Jon De Porter, another emerging designer in Toronto, really blew me away when we presented together at World MasterCard Fashion Week. My value as a writer will not be compromised by turning you on to the amazing mind of my fellow Huffington Post contributor, Elan Divon. My poetry will not be diminished by telling you about the incomparable beauty of the poetry of Jessica McFarland, or the depth of aphorist Yahia Lababidi's wisdom. My stature as a non-profit professional will not be reduced by beaming about my colleague Janice Benatar, one of the finest fundraisers I know; or by singing the praises of my co-workers Galit Keren and Jennifer Ouaknine-Hazout, who blow me away everyday with their competency, customer service and most of all, their collegiality. My ability as an artist will not be upstaged by sharing that my dear friend Sabeen Lodhi Sabzwari, who taught herself to paint about three months ago, is bursting at the seams with talent.
Elevating others -- rather than seeing them as your competition -- raises you up. This is a recipe for success in school, at work and in life. Don't be concerned with your own rise to the top. Focus on empowering others. Let me illustrate: I recently had the honour to hear philanthropist Jane Weitzman, the wife of shoe maven Stuart Weitzman, speak at an event for United Jewish Appeal in Toronto. When I asked Jane about her best advice to a young entrepreneur, she said: it's really simple: Be nice. Always make sure people are better off for having been in your company. This reminded me of a beautiful sentiment I once read by Mother Teresa who said: "Spread love everywhere you go. Let no one ever come to you without leaving happier."
I made a new friend recently. Her name is Andrea Shlipak Mail. I was introduced to her through a brilliant teacher and a close friend, Adrienne Gold. I learn something from Adrienne every time I see her, and I am finding the same blessing with Andrea. Here's the thing. Both Andrea and Adrienne are scintillating with passion and promise. The best way I can describe their minds would be to say that they are "on fire." But instead of being intimidated by them, I choose to learn from them. This is what I learned from Andrea yesterday: having enough "security within to appreciate and cherish the gifts and talents of others" is inspiring. There is a world of pleasure in championing other people. Just ask Adrienne and Andrea.
Then it dawned on me: how magnificent is the realization that fulfilling ourpersonal potential is inextricably intertwined with helping other people rise to theirs? We should not let our insecurity or feelings of inferiority hold us back. While these feelings are human and natural, there is nothing more sublime -- nothing more powerful and beautiful -- than people who let other people shine. Like spiritual activist and all-around all-star Marianne Williamson writes: "As we let our own light shine, we unconsciously give others permission to do the same. As we are liberated from our own fear, our presence automatically liberates others."